Oh, really?
Tesla & Bitcoin pic.twitter.com/YSswJmVZhP

— Elon Musk (@elonmusk) May 12, 2021

Cripes, who could have seen that coming? The world's pin-up boy for renewable transformation backing out of the world's most environmentally destructive ponzi-scheme.
The funny part about it is, Elon Musk has just increased BTC's chances of survival, and thus marginally decreased the chances of species and Tesla survival.
Why? Because BTC has no future as a normal currency used for the exchange of value in everyday transactions. That is the sole preserve of the sovereign, the source of its taxation powers and, frankly, its power.
Advertisement
Unless HODLers are planning on arming themselves with 21 aircraft carriers to take on the US navy in the near future then nothing is going to change that and any attempt to try will be mercilessly crushed.
To be honest, I'm surprised it has not happened already: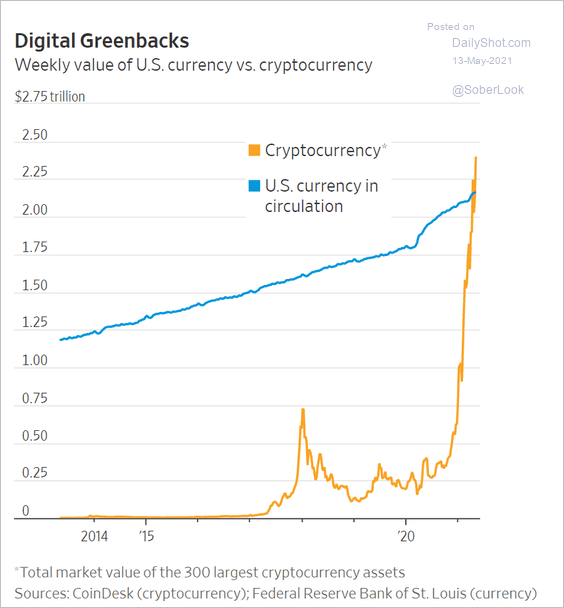 Advertisement
No doubt the state's reticence is partly the result of various ponzi-titans corrupting policy but that does not mean it won't happen. It will. The US SEC was out yesterday with the warning:
The Division of Investment Management ("IM") staff strongly encourages any investor interested in investing in a mutual fund with exposure to the Bitcoin futures market, as discussed below, to carefully consider the risk disclosure of the fund, the investor's own risk tolerance, and the possibility, as with all investing, of investor loss. Among other things, investors should understand that Bitcoin, including gaining exposure through the Bitcoin futures market, is a highly speculative investment. As such, investors should consider the volatility of Bitcoin and the Bitcoin futures market, as well as the lack of regulation and potential for fraud or manipulation in the underlying Bitcoin market. As with any fund investment, investors should focus on the level of risk they are taking on, and the level of risk they are comfortable taking on, prior to making an investment.
The only thing that can save BTC is that it does NOT evolve into an exchange of value currency. Commensurately, if it can persuade enough investors that it is a store of value, like gold, then it can operate as an alternative asset leveraged to the various inflation and deflations of the presiding fiat.
Advertisement
To my mind, BTC as digital gold is almost as pointless as BTC as money, but at least that path enjoys basic political economy logic.
Gold and BTC can then compete over which is worse for the environment!