If you ask Goldman Sachs then rising yields will never hurt equities. If you ask BofA then it is soon. If you ask me then it's neither as inflation peters out first. The excellent Matt King at Citi now adds his two-bob's worth:
Consensus explains the yield backup in terms of rising nominal growth and rate expectations. The implications are benign: stabilization once "too many" hikes are priced in; improving fundamentals supporting risk assets; a still accommodative level of financial conditions. All this would make sense if markets were largely value-driven.

 But investors have not piled into each and every asset class on the basis of cheapness. Analysts' better judgement has been subjugated by relentless inflows; expensive valuations have been explained away in terms of diminishing risk premia.

 As such, it matters that the yield backup owes more to rising term premium than to rising rate expectations. First, it becomes much harder to say when pricing is excessive. Second, rising risk premia are more likely to spark outflows from risk assets regardless of fundamentals. Third, central banks are wont to underestimate the potential for extreme price moves.

…Central banks in general, and the Fed in particular, see the level of financial conditions as being extremely accommodative and hence supportive of their policy targets – but fail to appreciate the extent to which these market levels are dependent on the continuing flow of their purchases, and indeed on herding of a reluctant investor base more broadly. They think investors have been buying risk assets in rational anticipation of reopening, growth and improving fundamentals – not because of the lack of an attractive risk-free alternative. As Larry Summers put it, their focus on macroeconomic modelling now leaves them blind to issues of market microstructure– and in particular to the risk of market moves feeding on one another. As we see it, the Fed in particular has now by virtue of 'trying too hard' painted itself into a corner. Sound more hawkish, and a rise in front-end real yields threatens outflows and a risk asset sell-off. Reiterate the mantra that the bond yield backup is healthy, on the other hand, and you reinforce fears of your being behind the curve –meaning a further rise in longer-dated real yields, risk premia and negative returns will do the same thing. In sum, the trouble with massive debt levels is that for every one auction which goes well, there is always another one just around the corner that risks going badly and

While there may well be a point later this year when it is right to buy back into long-dated Treasuries, gold and other stagnation trades, that requires today's compressed risk premia to turn into tomorrow's price discounts.
In short, King sees 'good news as bad news'. To my mind, the base case is still 'good news is good news' with US fiscal support driving ongoing excellent growth and profits to mitigate high valuations.
Moreover, the outstanding risk case is not too much good news and rising yields (though I expect higher in the short term) but the return of 'bad news is good news' as China begins slowing in H2 and more so into 2023, dropping yields before they get the chance to hurt equities much. UBS makes some more points:
After such a rally, some investors may be concerned about whether the market's gains are sustainable, particularly given the 80-basis-point rally in 10-year US Treasury yields this year that has prompted bouts of market volatility. But history suggests investors need not be concerned by recordhighs:•All-time highs are no barrier to further gains. In fact, based on data going back to 1960, stocks have performed slightly better than average after hitting all-time highs. Our analysis shows that after reaching afresh high, stocks rose another 11.7% in the following 12 months, compared with 11.3% from levels below record highs.
Rising nominal yields and equity rallies tend to go hand in hand. In the past 25 years, there have been 10 periods in which the US 10-year bond yield has risen by more than 100bps. And in all instances, global equities delivered flat or positive returns. Also, the current rise in yields is being driven more by a stronger growth outlook than concerns over monetary policy tightening.
That said, there will be some pretty violent rotations under the surface. For instance, today's non-profitable tech crash will continue while yields rise. We might put miners and EMs in this category too: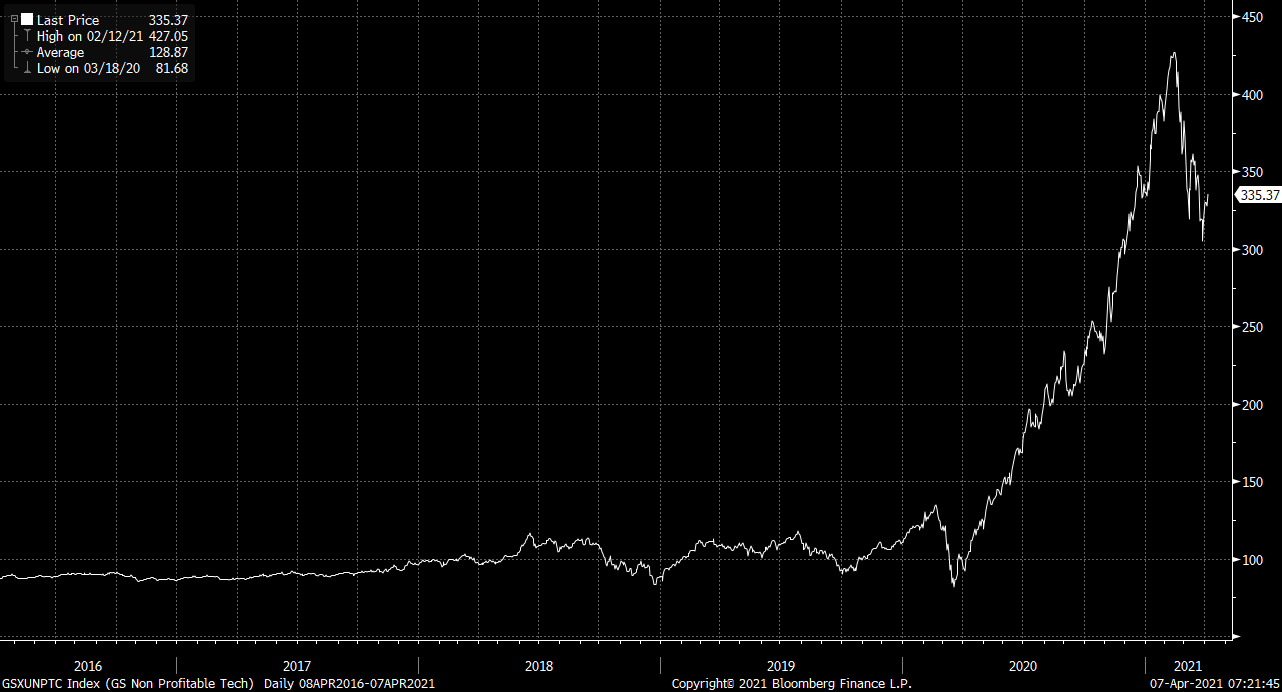 But that does not mean that the entire market gets taken down as the value-rotation continues to real economy-exposed stocks.
If the risk case does play out and forces the Fed back into action, then that will send everybody scurrying back into that bizarro-world last chart!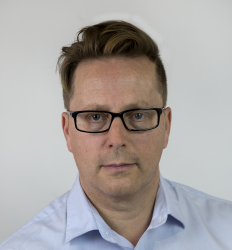 Latest posts by Houses and Holes
(see all)