Via the excellent George Theranou at UBS:
Mar-21 home prices surge 2.6% m/m, fastest since 1988; sales spike ~43% y/y
CoreLogic dwelling prices boomed 2.6% m/m (sa, 2.8% nsa) in Mar-21, the strongest in 33 years since 1988 (after 1.7%); to be up 6.1% y/y (after 3.9%). Prices are a record high level, & up 7% since the COVID trough in Sep-20. By city, Sydney is now strongest (3.5% m/m, 5.3% y/y); but regional areas also lifted further (2.4%, 11.4% y/y). Houses remain stronger (2.9%, 7.3% y/y), but units are also now picking up (1.8%, 2.2% y/y). Supply is very low, with new listings in March 25.5% below the 5-year average – but demand is strong, seeing sales jump ~43% y/y – which is obviously pushing up prices. Feb home loans -0.4% m/m, but still +75% vs May; as investors return strongly Home loan values in Feb-21 surprisingly edged back by 0.4% m/m (UBS: 4.0%, mkt: 3.3%), but followed an upwardly revised spike in Jan-21 of 10.5% (was 8.6%), to a record high level; and Feb remains up an incredible 75% in only 9 months since the COVID trough in May-20. Importantly, this broadened from still strong owner-occupiers (-1.8% m/m, +77% since May) – including first home buyers (-1.6% m/m, +59%) – to investors returning strongly in recent months as well (+4.5% m/m, +70%).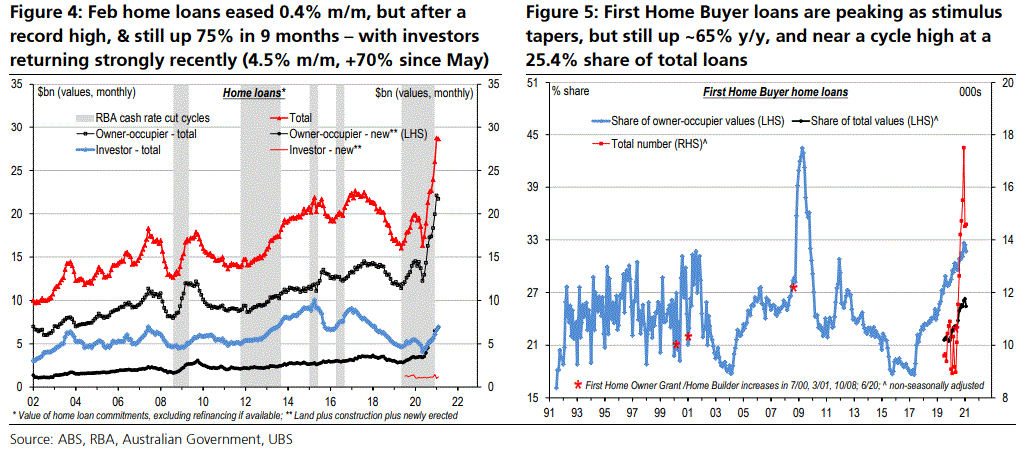 Job vacancies at record high; should see rapid re-hiring post-JobKeeper impact
Job vacancies increased strongly again in the Feb-21 quarter by 13.7% q/q (after 23.3%), to another record high level; and lifted 26.8% y/y, (the fastest since 2010, after 12.0%). The RBA's preferred metric of job vacancies as a ratio of the labour force also leapt higher to a record high of 2.1%, which is >40% above the average since 2009. Hence, at face value this implies an incredibly tight labour market, that is historically consistent with an unemployment rate of ~4%. Given JobKeeper just ended in March, looking ahead we still expect employment to decline by ~100k in Q2, seeing unemployment temporarily increase by ~¼%pt, or up to ½%. However, we still expect rapid 're-hiring', given record job vacancies, and see unemployment drop back in 2H-21 to below its current 5.8% by end-2021, and decline further to ~5% by end-2022.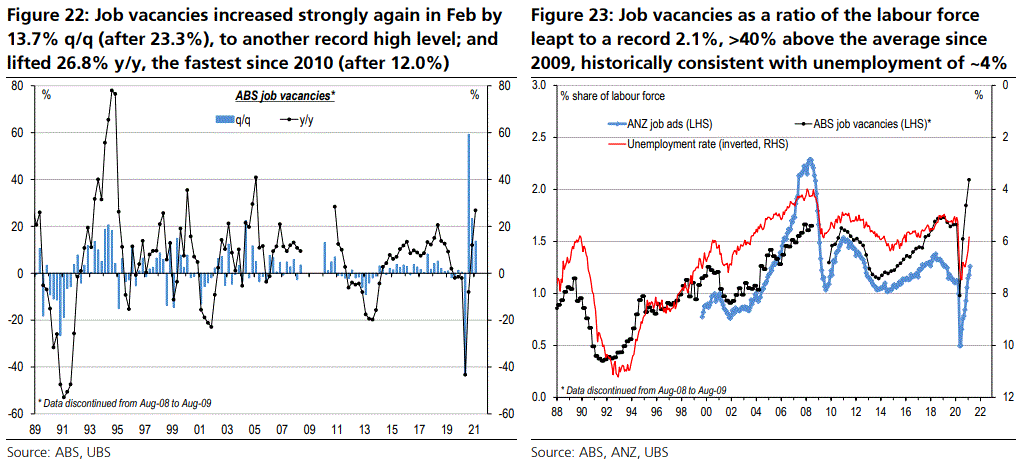 Feb retail -0.8% m/m, but on lockdowns; still +9.1% y/y; Mar should rebound
Retail sales in Feb-21 fell back by 0.8% m/m (revised up from the preliminary -1.1%), after rising 0.3% in Jan-21; moderating the y/y to a still strong 9.1% (after 10.6%). However, the decline in Feb was driven by temporary lockdowns in both WA (-5.4%) and Victoria (-3.0%), while most other States rose. Combined with an 'extra' ~$200bn in deposits since Feb-20 (worth 10% of GDP), this suggests retail should rebound in March, and see Q1 close to flat q/q. Meanwhile, car sales are also tracking to be down q/q. Finally, the Feb trade surplus fell to $7.5bn (albeit after a record $9.6bn). Hence, there remains significant downside risk to our Q1 real GDP forecast of 1.2% q/q (and +0.4% y/y).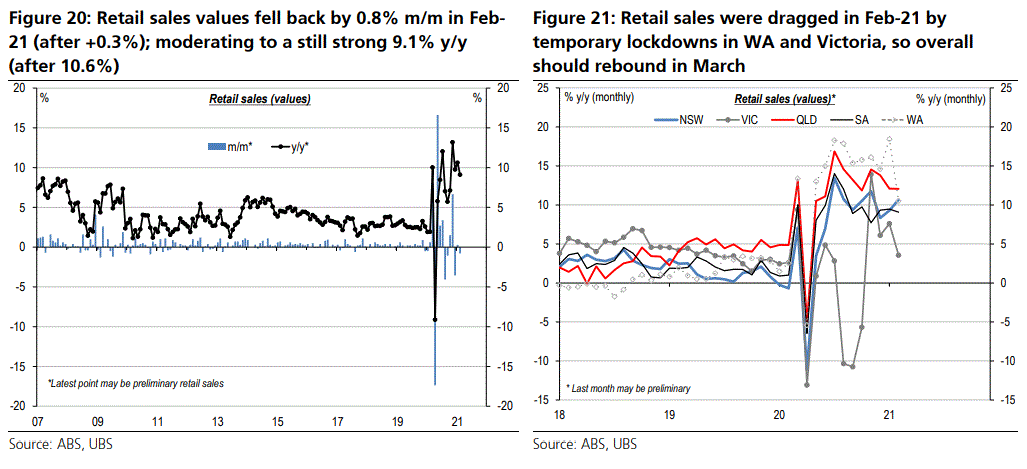 Unless regulators tighten, home prices could spike further to ~15% y/y ahead
Overall, with recent APRA comments suggesting regulators are unlikely to implement macro-prudential tightening near-term (albeit we still expect a shift later this year) – & the RBA reiterating commitment to YCC (which helped lower 3-year fixed mortgage rates to <2%), & no rate hikes for years – we still expect a housing 'up-crash', with: 1) prices booming ~10% y/y; 2) dwelling commencements surging towards 230k in 2021, & 3) housing credit picking up to ~6% y/y by end-21 (was ~4% previously). However, we now see upside risk of prices to ~15% y/y, unless regulators step in. While the end of HomeBuilder (and other fiscal stimulus measures) in March should see some moderation of demand ahead, if the Australian Government also repeals responsible lending laws (as they have flagged), it would provide a further impulse to housing.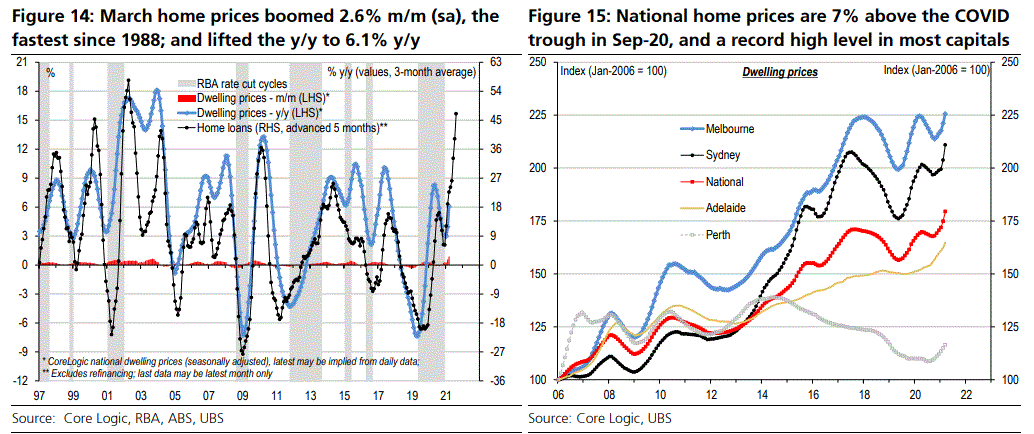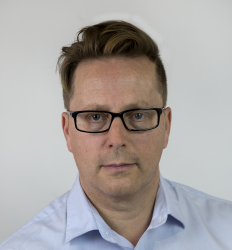 Latest posts by David Llewellyn-Smith
(see all)