Earlier this week, Business Council of Australia (BCA) CEO, Jennifer Westacott, urged the federal government to bring forward its Stage 3 tax cuts, which are currently scheduled to take effect from 1 July 2024.

While the tax cut for those on $45,000 or less is zero, those earning $200,000 or more will get over $9,000 per year. A graph showing the size of the tax cut over an income range from $5,000 per year to $200,000 per year is shown in Figure 1.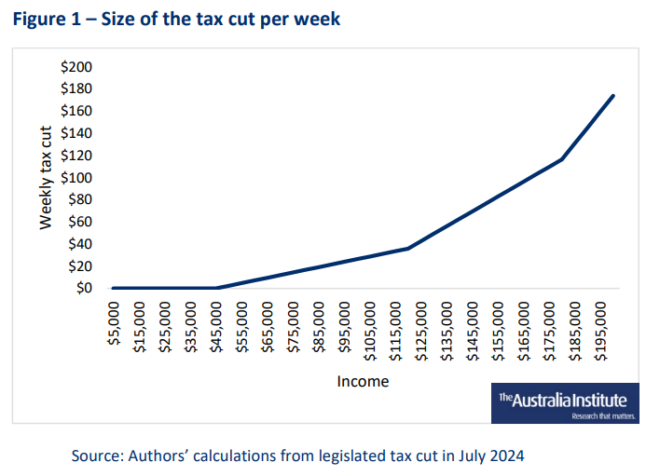 An analysis of the stage 3 income tax cuts shows that high income earners get most of the tax cut.3 More than half will go to the top 10 per cent of taxpayers and 72 per cent will go to the top 20 per cent. Half of all taxpayers only get just five per cent and the bottom 20 per cent will get nothing. The income distribution of stage 3 income tax cuts by decile is shown in Figure 2.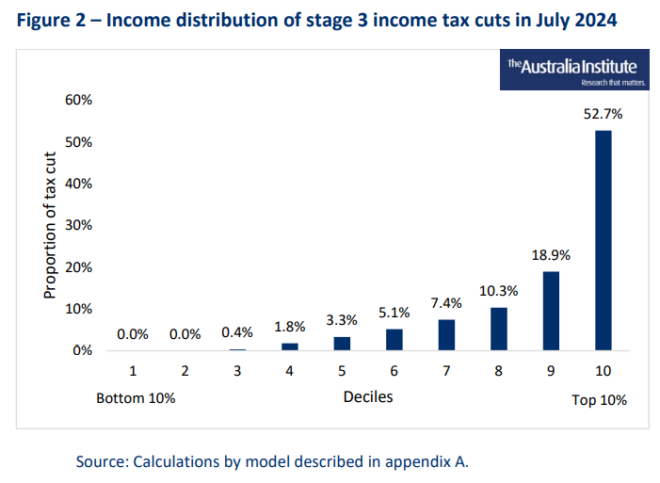 Cutting taxes for high income earners will increase inequality and won't provide much stimulus to the economy, since most of the money will be saved rather than spent.
If the goal is to drive economic activity, then it makes far more sense to lift JobSeeker from its poverty level of $44 a day, as well as invest directly in public services and infrastructure.
The unemployed living below the poverty line would spend nearly every additional dollar they receive. Therefore, raising JobSeeker would stimulate economic activity far more than the stage three tax cuts, while also reducing inequality.
Investing in public works would also stimulate economic activity directly, as well as deliver essential services and infrastructure to all Australians.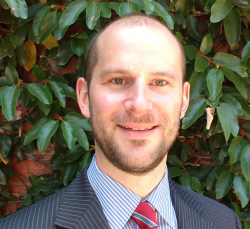 Latest posts by Unconventional Economist
(see all)