Australians need a vaccine for Morrison Government lies. The rollout of the vaccine is getting worse not better but according to our lying PM it's keeping us on pace with everybody else:
Morrison said Australia's rollout is "keeping pace" with everybody else.
We don't need to keep up because we "are different" and have "no death".
You tell me if we are keeping up: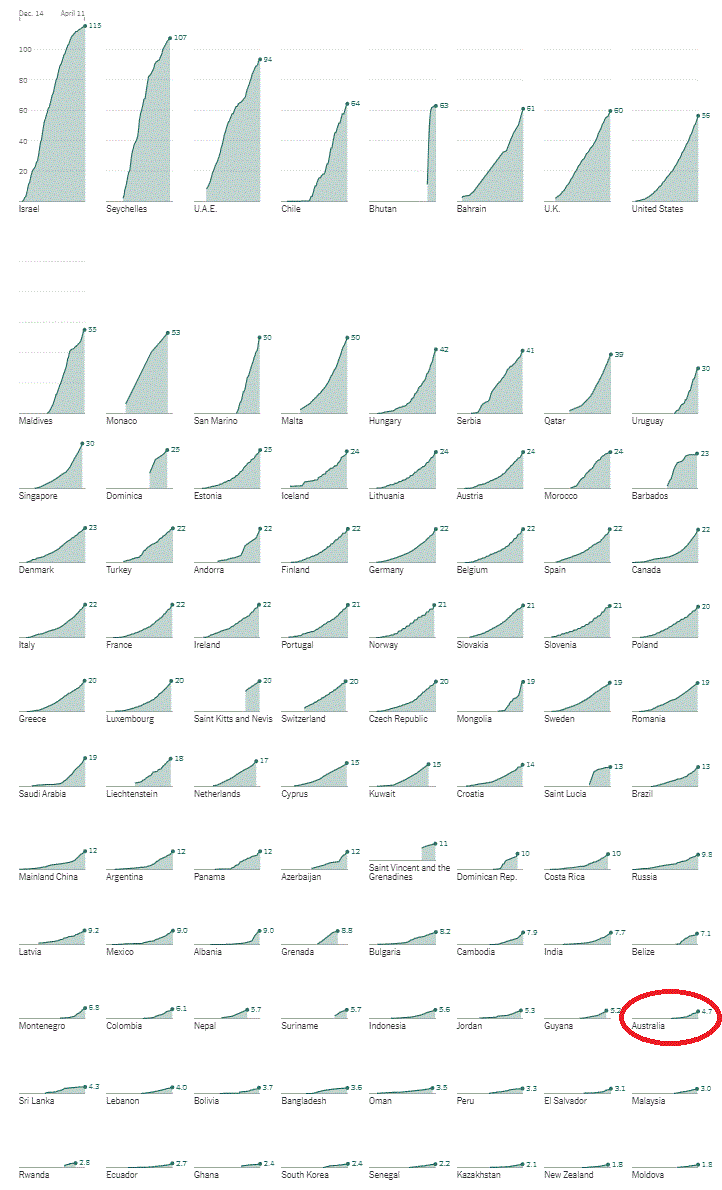 Is keeping up with the Third World really keeping up, I ask you? Races are not won by keeping pace after you've fallen on your face. Worse, by mid-year the AZ hole is going to send us backwards versus everybody else.
Labor is having a field day:
Morrison Government cooked its own goose with an overly narrow procurement policy.
Most other countries have five or six vaccines.
Business now has no certainty to invest.
All true and Labor has the high moral ground having urged greater vaccine diversity from the outset. Worst, having dropped all targets and acquired another 20m Pfizer doses that don't arrive until Q4, today we get this news:
The Morrison Government will not purchase any Johnson and Johnson vaccine.
It is too alike to the existing Astra Zeneca version.
But are they alike? Sure, in terms of the science. But J&J is a room temperature stored, single-dose, vast improvement on AZ. It has already delivered 6.5m does in the US and is the "killer app" of vaccines given it can be jabbed anywhere, any time at a dramatically accelerated pace. In the US you pop into a corner pharmacy and get the thing in a matter of minutes.
The truth is, as usual, Australia is suffering from the overcommitment of the Morrison Government to the one AZ version. It dumped too much money into one basket of eggs and now that it is broken it doesn't want to appear to be tossing it out.
In short, we are now being held hostage by a hapless Morrison Government-run vaccine cartel.
The lies don't stop there, sadly. While Vaccinegate deteriorates, Rapegate isn't going away, either. Having declared that alleged pervert Andrew Laming won't run again at the next election, he may well do so:
While on empathy training, Laming decided he would recontest his seat.
The Nats are moving to block him.
The Morrison Government insists he is a "fit and proper" person to remain in parliament.
It appears that the Morrison Government needs a new outfit for its empathy training. And not just for Mr Laming. He only has an ongoing foothold because the empathy-free PM Morrison won't sack him to the cross-bench, owing to his fear that he would lose his political majority in a by-election.
Meanwhile, the complaint against Christian Porter has reared its head again as Four Corners revealed that senior police kyboshed her chance to make a statement:
A trip by NSW police to SA was approved to take the statement: "SUPPORTED. THIS MATTER INVOLVES A VERY HIGH-PROFILE POI [person of interest] AND A DETAILED STATEMENT IS REQUIRED. THERE ARE CIRCUMSTANCES RELATING TO THIS VICTIM THAT IN MY VIEW REQUIRES 2 X INVESTIGATORS PRESENT."
But the trip was denied later by Deputy Commissioner David Hudson on the basis of COVID concerns.
Expect the combined rape and vaccine debacles to embroil the Morrison Government non-stop until the election.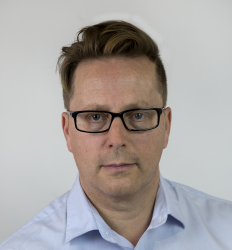 Latest posts by David Llewellyn-Smith
(see all)