By Ross Elliott, cross-posted from The Pulse
The next Census will be conducted in August 2021, by which time you'd expect economic life has largely settled around 'a new normal.' It's pretty clear that when the data is released on place of work, CBDs will probably have fewer people working in them than the previous 2016 Census, and this may last for some years. Should this be cause for alarm? Maybe not.
The term 'Central Business District' has been in use for so long it's hard to imagine a different terminology. But the nature of CBDs are certainly changing – fast. There is much more to central districts than just 'business' (a proxy for legions of white-collar office workers beavering away in office towers) – the CBD is in reality a highly evolved mixed-use centre with a little of everything.
But the 'B' part is apparently in decline while other uses seem to be increasingly on the rise.
Before we speculate on the future direction of CBDs it helps to understand how much "white collar business" there actually is within the central district. The 2016 Census tells us that just 122,486 people went to work in the Brisbane CBD. That includes all occupations, and part timers, casuals as well as full time workers. Of the 122,486, there were 92,118 with full time jobs. Only a portion of these would be defined as office workers.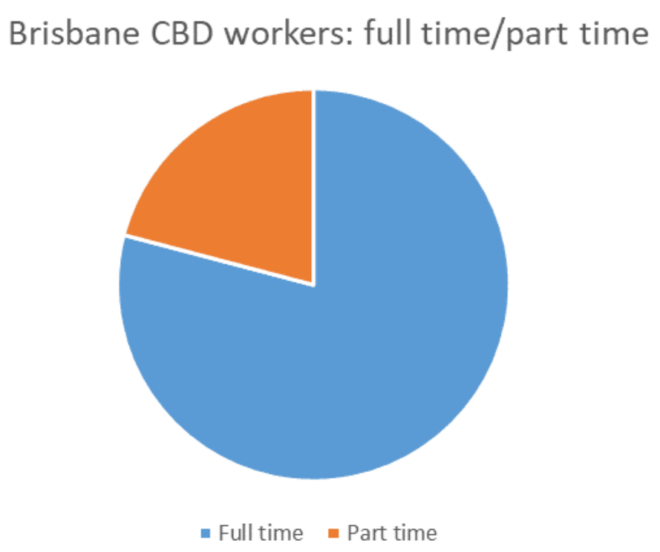 The Census white-collar industry classifications include things like information and media, telecommunications, finance and insurance, rental, hiring and real estate, professional, scientific and technical, administration and support, and public administration and safety. These totalled 80,832 of the 122,486 workers – or two thirds of all jobs by industry. Let's also assume two thirds of the white collar industry workers are full timers: this leave us with around 61,000 full time white collar office workers in the CBD. That's probably undercooked because it doesn't include those who say they work in mining in the CBD (meaning they are probably office workers too). They add around 4,200. Same with electricity, gas and water industries, many of which would be the centralised office component. There's another 800 or so. Ditto perhaps postal and transport, with another 4,700 or so.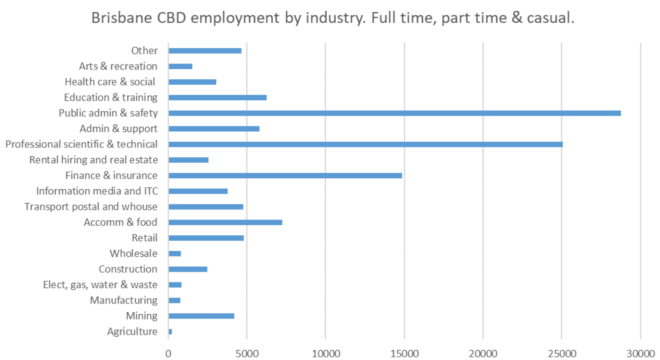 None of this is as exact as we might like, but let's broadly assume around 70,000 to 80,000 full time office workers went to work in the CBD in 2016. That's not a big number so what else is driving the activity?
Residents added 9,460 people (maybe more like 10,500 today). Education was a big contributor – with some 35,900 University students plus a further 6,695 vocational students. They are looked after by 6,265 education workers (already included in the 122,465 workers count). On top of this there are 7,585 hotel rooms, with another 1,000 in the works. At full occupancy, that's a lot of people. Plus day trippers and people visiting for retail or entertainment or dining. Retail trade accounts for 4,804 of the 122, 4486 jobs, many likely part-time, as with accommodation and food service which accounts for 7,246 of 122,486 jobs.
Before we declare death by statistics, it's clear that office workers are not all there is to the CBD: many other industries rely on the office work function for their survival. Just ask any restauranteur or coffee shop owner what life was like during Covid when office workers fled the city office for the home office.
Consensus predictions for life post Covid-19 are that many will ultimately return to the CBD office, but a significant proportion will not. The impact of fewer office workers and its collateral impact on other occupations is why I think the Census results for 2021 will show a decline in total workforce numbers for the CBD.
Before we hit the panic button we need to take into account that CBD jobs growth was already some of the slowest in the region long before Covid. In the five years to 2016, for example, the Brisbane CBD added only 6,354 jobs – a growth of just 5% over five years. The Brisbane region in the same period grew by 112,517 jobs or by 12%. In fact, the further from the city centre, the faster the rate of jobs growth. Suburbia was on the move long before Covid-19 drew attention to the fragile loyalties of the CBD market.
What seems to be happening is part of a longer-term trend, where the "B" in CBD has been changing its traditional location and operational requirements. Some traditional CBD office jobs have moved to the suburbs, and more followed with Covid. But there has also been contraction in traditional white-collar administrative functions, with more centralisation in centres like Sydney. This has taken much of the expansionary heat out of the Brisbane CBD office market. Pre-Covid, total leased space in late 2019 was still below the peak of January 2013. Where it goes next is the burning question.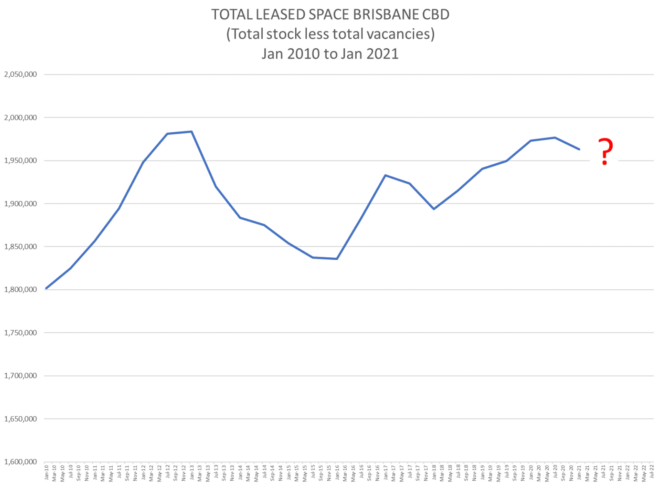 Metropolitan employment is growing faster, thanks in large measure to industries like health and education – which require suburban not CBD locations. So, what's left to drive CBD growth into the future?
If the business 'B' in CBD flattens into the future, that may not be the case for the 'A' of amenity. Nowhere has so much been invested in urban amenity than the city centre. The embarrassment of riches lavished on the city centre has catapulted once third-rate inner city residential addresses to the most expensive in the state, in the space of 25 years. Recent State Budgets have been a very one-sided affair, as the relatively low growth but privileged city centre continues to receive a lion's share of State taxpayer support, while high growth and under privileged areas are starved of capital.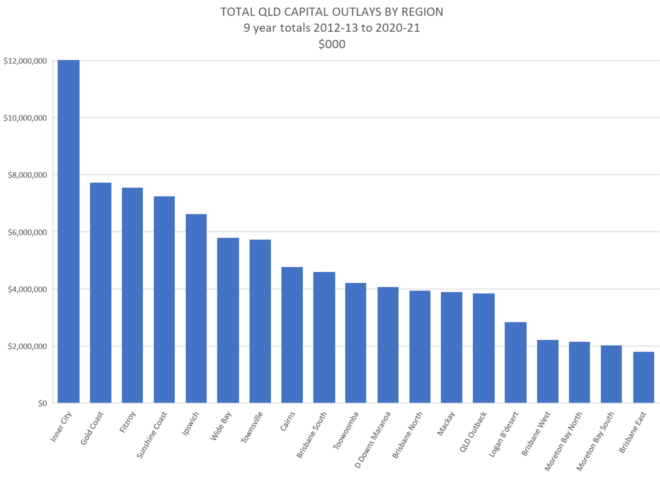 The level of inner city amenity will surely mean a changing role for the CBD as its function morphs from one where office workers would duly trudge in by day and leave by night, turning off the lights as they left, into a 24 hour central district of recreation, entertainment, learning, living and culture. A quick scan of some of the projects underway or proposed confirms that theme – Brisbane Live (a CBD live entertainment venue), Queens Wharf (Casino, shops, hotel rooms), a new CBD campus for Griffith University – these are major projects, which are not reliant on a traditional office worker model.
There will always be office workers – centralised office functions, C-level corporate functions, seats of government administration – many of these things logically belong here. But not all of them. As the CBD evolves, its function is likely to further change from one of centralised administration to one of concentrated amenity – a district that appeals to the wider region and which services a range of appetites from recreation to dining to entertainment to shopping to learning and more. There are jobs attached to all these industries, and just because they don't all wear business clothes, it doesn't mean they're not important.
It might be time to start thinking very differently about what a 'CBD' really is and what will make it tick into the future.