At various times over the past 20 years we witnessed desperate home buyers camp-out at developers' offices to secure new land releases.
Former home builder and MP, Bob Day, explained this phenomenon in his maiden Parliamentary speech in 2014:
"To buy a block of land on which to build their first home, young couples are forced to camp out overnight by rent-seeking land developers and their state government cronies for the privilege of paying an exorbitant amount of money for a measly one-tenth of an acre of former farmland—land that developers and state governments between them managed to convert from $10,000 a hectare to $1 million a hectare. It leaves all other forms of price gouging in its wake".
With the Australian property market experiencing another strong upswing, and the Morrison Government's HomeBuilder subsidy juicing first home buyer (FHB) and new home demand (see next chart), we are once again witnessing buyers camp-out and paying exorbitant sums to secure small parcels of land.
The latest example comes from The Daily Telegraph, which reported that dozens of buyers camped-our for four days in a bid to secure a lot with competition driving land prices through the proverbial roof:
The 40 campers were spread across the vacant lot next to the sales and information centre of developer Harrington Estates. There were also people sleeping in their cars in the nearby parking lot.

A previous land release in the same estate the previous week attracted buyers prepared to camp two nights…

All but three of the available lots sold, with the prices starting from $420,000. The lots ranged from 321sqm to 805sqm…

In Rouse Hill, there were 83 bidders registered for the auction of four lots of land released by Castle Group. The auction attracted a crowd of about 450 people.

The lots sold for about $100,000 above price expectations.
Record low interest rates are making the situation worse via two channels:
Low interest rates have, in many cases, lowered the cost of borrowing below the cost of renting, increasing demand for lots (especially from FHBs); and
Lower interest rates lowers the cost of land banking, encouraging developers to drip-feed lots onto the market.
The end result is cartel-style behaviour by developers, whereby they choke land supply to force up its price and glean fatter profits.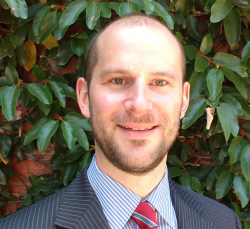 Latest posts by Unconventional Economist
(see all)