See the latest Australian dollar analysis here:
The Australian dollar was crushed by a runaway greenback steamroller last night as US economic data begins to bubble. DXY was rampant as EUR fell:

The Australian dollar was crushed back to the neckline of its head-and-shoulders topping pattern. Though it has still not broken:

Oil was hit and gold smashed:

Metals were all flattened:

Though miners did better, perhaps supported by iron ore:

EM stocks held up:

As did junk:

Despite yield piling higher:

Stocks were flat. Europe is playing catch-up as EUR falls:

The outstanding data of the night was huge leap in US consumer confidence as vaccines deliver their dividend:
So far things have gone exactly as expected as US vaccine, growth, inflation and yield exceptionalism grows. As DXY rises we might normally start to consider all three economic factors taking it on the chin. But there are two very important reasons not to do so yet. The first is this, from Bloomberg:
Biden infrastructure is transformative policy.
It will do roads and bridges but also transform the electricity grid, boost EVs and relieve housing shortages.
Plus it will grow research spending, education at all levels and child care.'
It aims to be high-tech and labour intensive.
In short, it is absolutely magnificent policy that will boost US growth to 4% for Biden's first term, reengage wage rises for working people, and rid us Donald J. Trump.
That aside, it will also deliver the US semi-permanent growth exceptionalism as other developed economies fall behind meaning a strong greenback for years.
The second reason is that China will take this opportunity to resume its own structural reform program to slower, higher value-added and less commodity-intensive growth. This will be immensely deflationary and CNY is going to sink.
But don't just take my word for it. Check out the US-China bond spreads:
As the US leads the cycle and China fades the cycle, delivering a strong DXY, we will see three major market impacts. First EM capital flows will reverse. To wit: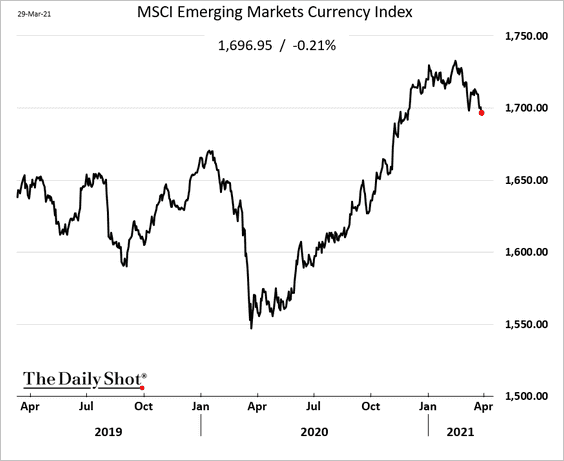 Second, gold and commodities will get hammered. To wit:
Third, small cap and dodgy tech will get slaughtered: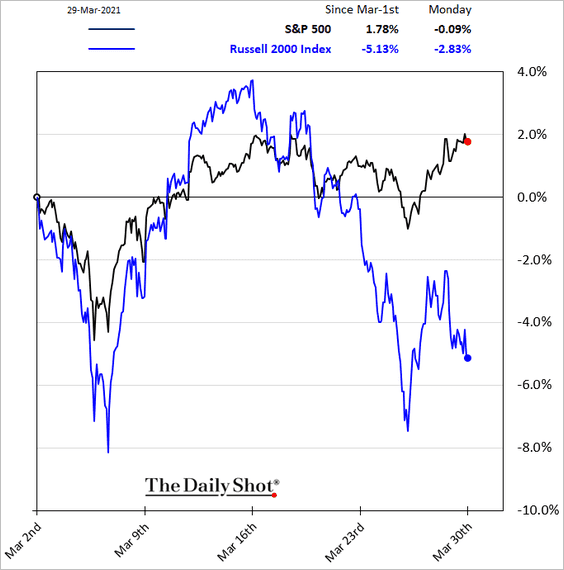 For forex, the risk is that these deflating market themes turn into unruly routs, forcing the Fed to ease even more, even as the US economy thunders.
I'm sure you can see why it would be hesitant to do so given the US is already heading for a very hot run-up. It is better off letting nature take its course with these bubbles and busts which will not impact the economy much.
Unless or until it changes its mind, the DXY steamroller is on the move and the AUD is going to be crushed.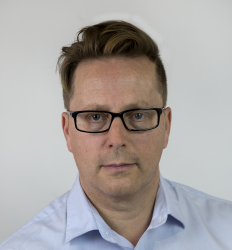 Latest posts by David Llewellyn-Smith
(see all)