Will the RBA upsize QE at ay time? This question was asked by Chris Joye on the weekend. It certainly could though I think it is unlikely. The RBA is too conservative for it. Joye channeled Dr Andrew Leigh again:
QE has lowered yields by 0.3% and suppressed the Australian dollar: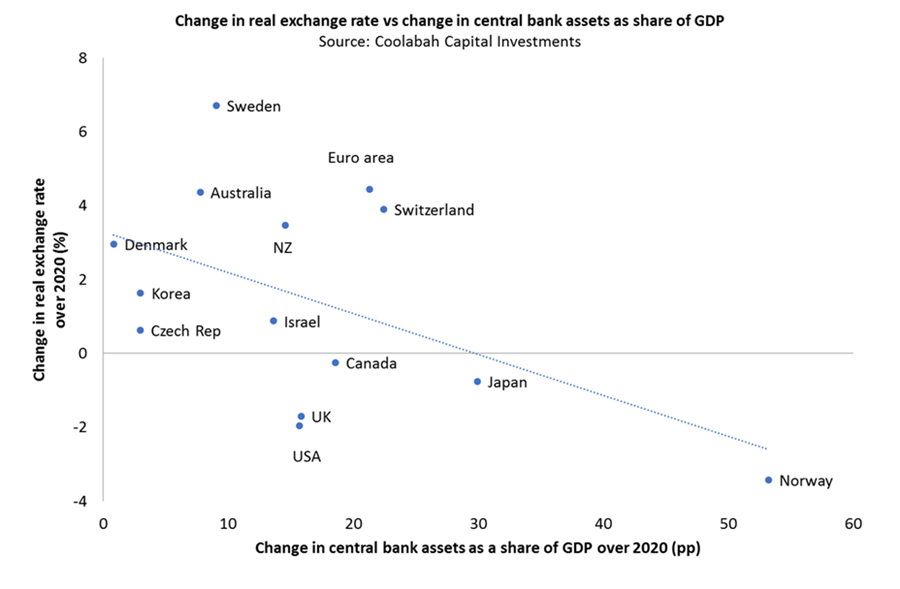 If QE works to lower yields and the Australian dollar then why wouldn't the RBA expand it to bring forward growth and inflation?
It has scope to do it give it remains far behind other economies: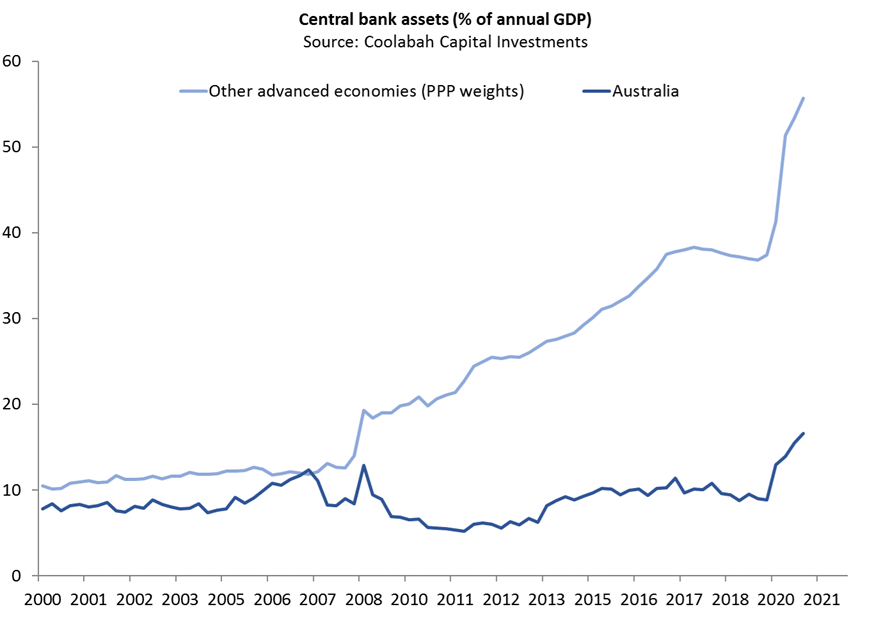 The RBA could get more aggressive at any time.
These are all fair points. But I suspect that the RBA won't get more aggressive for now.
First, because Phil Lowe just said so. Second, because even the newly-minted, super-easy RBA won't lose all of its spots in one go. It is a very conservative edifice.
Still, the outlook is for MOAR QE not less over time. Why? Three reasons.
For now, Australia is enjoying a terms of trade boom thanks to China's trade on itself which is flooding fiscal coffers. That will come off hard in 2022 as China reverts to structural reform and any notion of explicit budget repair among fiscal authorities will collapse with it. At that point, letting the budget fix itself via bracket creep will become an interminable drag on the economy, private incomes and households, jeopardising even tax cuts. Even as the Australian dollar falls, the RBA will face a weakening growth and inflation outlook. Upscaled QE will be vital then.
Following that, by late 2023, the housing boom will have run for three years and be demanding macroprudential tightening as financial stability risks rise. The same housing boom is going to expand already bloated private debt to above 200% of GDP so consumption will also decline.
Again, still MOAR QE will be required as that risk is sat upon in 2024. Ramped-up TFF may also be needed depending upon how successful is macroprudential tightening.
And that's before I even reference three other key inputs. If virus disruptions become a part of normal life, which seems likely, then that's MOAR QE. If not, then the Canberra immigration consensus will throw open the borders and wages be crushed all over again also equalling MOAR QE. Then there is the structural China decoupling, another demand headwind, especially as universities are dragged in. MOAR QE.
Any way you cut it, RBA QE is here to stay and will grow.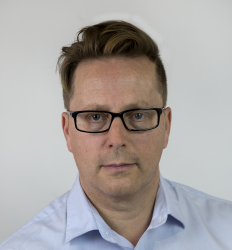 Latest posts by David Llewellyn-Smith
(see all)