It is hard to deny that the Morrison Government's HomeBuilder subsidy has given a much needed 'shot in the arm' to Australia's housing construction industry.
Under Homebuilder, the federal government provided $25,000 grants to underwrite the construction of new homes or major renovations for contracts signed before 31 December 2020.
The scheme was later extended to 31 March 2021, albeit at a lower subsidy rate of $15,000.
Yesterday, the Australian Bureau of Statistics (ABS) released data on the Value of Construction Work Done for the December quarter, which revealed that residential building activity rebounded by 2.7%, arresting more than two years of declines: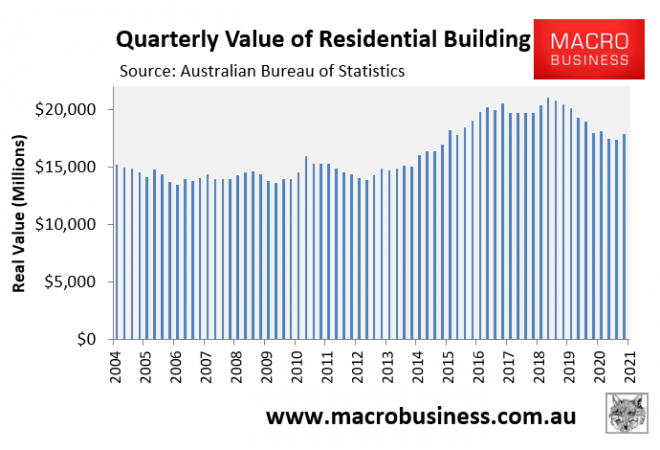 The immediate outlook is also positive given detached house approvals surged to record highs in December: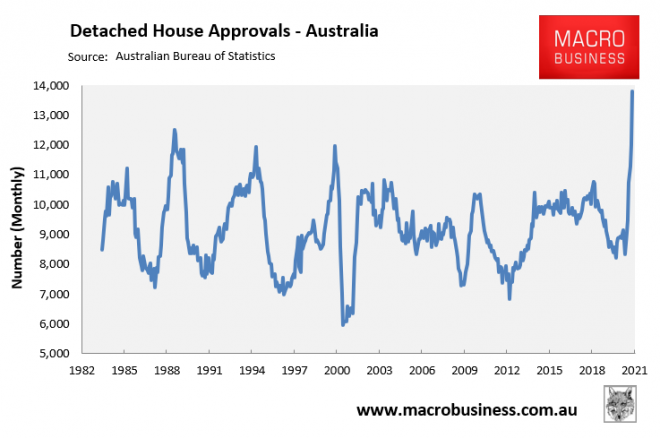 As did construction finance commitments: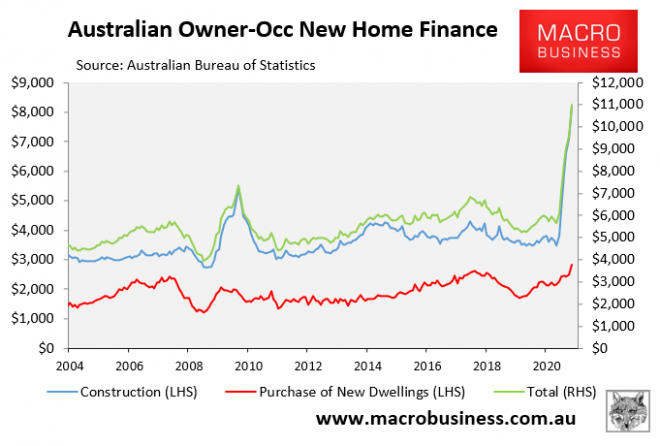 These two datasets alone suggest that the dwelling construction pipeline will remain chock full for the immediate future, which should ensure that residential construction activity continues to grow over the next few quarters.
Indeed, the Housing Industry Association tips a record high 130,000 new detached homes will commence construction in 2021:

The big issue facing the housing construction industry is what comes next? HomeBuilder has obviously pulled forward supply at a time when immigration has collapsed, thus leaving a likely supply glut in 2022.
The only way to fill these homes, and to ensure that the housing industry keeps on building, is via the importation of hundreds of thousands of warm immigrant bodies.
Thus, expect the housing industry to lobby hard for open borders and a mass immigration reboot as soon as the vaccination rollout is complete.
Immigration is the crack cocaine of the building industry.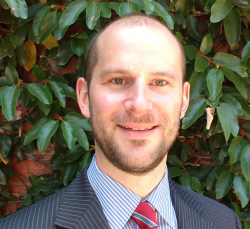 Latest posts by Unconventional Economist
(see all)