Victorian Premier Daniel Andrews' daily media briefing yesterday contained an interesting statement illustrating that he does not have confidence in Victoria's contact tracing system.
When asked by a reporter whether Victoria would end its lockdown as scheduled at midnight on Wednesday, Andrews responded with the following:
"This [lockdown] comes about because you have got to assume that there are even a handful of cases that you don't know about. And that if you are open, they won't finish up with one or two close contacts, they will end up with hundreds of close contacts and they, in turn, hundreds of secondary contacts. It [lockdown] is effective in pulling these things up".
This harkens back to the salient point made by Leigh Sales at Monday's briefing:
"Premier, what do you say today to Victorians who, after 111 days of lockdown last year, might be asking how is it the case that their government still lacks such confidence in your hotel quarantine systems and your contact tracing, that you apparently can't manage two to three cases of COVID a day in a population of about 6.3 million people?…

"They've been well identified and pinned down. Your hospitals aren't in any danger of being overwhelmed. It is a small number of cases".
It's an important point because the NSW Government has successfully managed two virus outbreaks without the need for city or statewide lockdowns, as illustrated clearly in the next chart: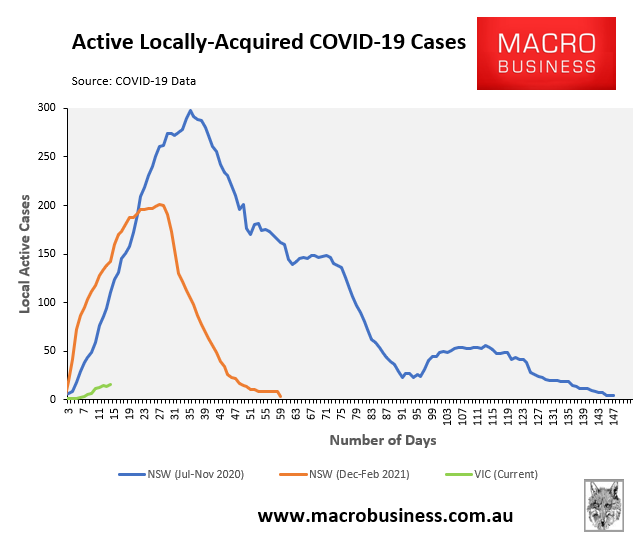 As shown above, NSW's local active cases peaked at 298 during its Jul-Nov 2020 outbreak and at 200 cases during its Dec-Feb 2021 outbreak. Yet both times, the NSW Government put faith in its contract tracing systems to bring the virus under control, which it successfully achieved on both occasions.
Now compare this to Victoria where the state was plunged into another hard lockdown last Friday after only 12 local active cases were recorded – all contacts of the initial Holiday Inn breaches.
The data speaks for itself. The Victorian Government clearly has no faith in the state's contact tracing system. Otherwise it would not have thrown Victorians into another lockdown over "two to three cases of COVID a day".
With Victoria only having 16 local active cases as of Tuesday 16 February, there is simply no reason to keep the state locked down, other than government incompetence.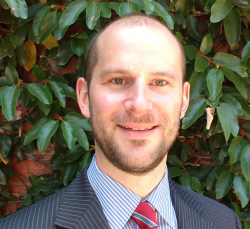 Latest posts by Unconventional Economist
(see all)