For years MB has questioned the odious links between our universities over-reliance on international student fees and university rankings.
Basically, the federal government and our universities created a system that encouraged strong growth in full fee paying international students by:
The federal government granting the world's most generous student visa working rights and opportunities for permanent residency; and
Australia's universities lowering and entry and teaching standards to ensure large number of students qualify to study and pass their courses.
The massive fees earned from rising student numbers (see next chart) was then funneled into research activities aimed solely at lifting Australia's universities up the international rankings ladder, instead of into areas that provided actual tangible benefits to Australian industry and the community.

Since a higher ranking equates to more prestige and is an explicit sign of quality, universities used their ranking as a marketing tool to further bolster international student enrolments, alongside charging higher fees.
David R. Gallagher, the former chief executive of the federal government's Centre of Excellence in International Finance and Regulation, is the latest commentator to question the efficacy of this scam, calling for an inquiry into the Australian university system:
The sector appears to be hypnotically fixated on international rankings, both institutional and linked to scholarly journals. One proof of this is the fact vice-chancellors and deans can qualify for bonus payments based on rankings…

Moreover, rankings mostly reflect research performance, not necessarily the quality of teaching, and it is not uncommon to find that the best lecturers are not necessarily the best researchers.

Adding to this tension is the cost of research being funded with cross-subsidies from the tuition fees of the students who fill the lecture halls.

Enrolments have grown tremendously in the past decade, yet prestige and incentives favour research over teaching. These imbalances cannot be sustained with adequate quality controls in the long term.

For all these reasons, the university sector warrants the scrutiny of a government commission of inquiry.
Gallagher's concerns about the quality of teaching is apt. Data from the Department of Education shows clearly that the ratio of students to academic staff rose significantly across Australia's universities during the long international student boom: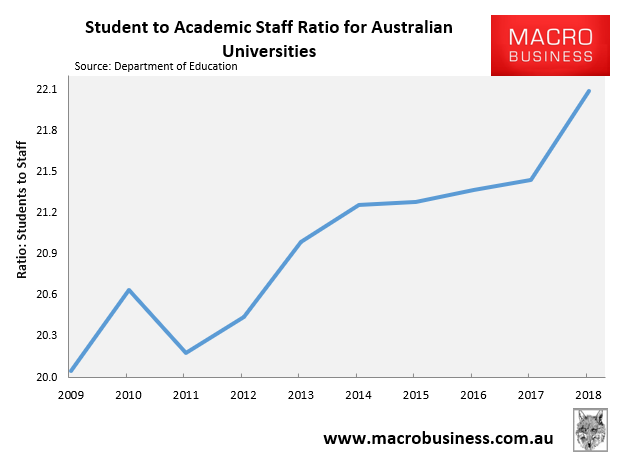 Thus, while universities ploughed the international student billions into research to boost their rankings and executive salaries, actual teaching quality and effort was destroyed.
Operating low-quality degree factories for maximum revenue and to perpetuate the international rankings ponzi scheme was never in the national interest.
Australia needs a thorough inquiry to clean-out the whole stinking university edifice.
University should be about 'higher learning', not 'higher earning'.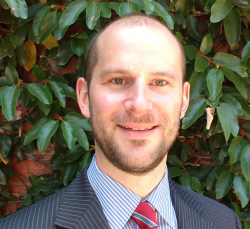 Latest posts by Unconventional Economist
(see all)