Economist Dr Cameron Murray has backed the government's view that the JobKeeper wage subsidy scheme does not need to be extended again. Murray argues that relatively few industries still need government support, and he believes that increasing the JobSeeker payment would be a better option as the financial support would go to people who need it.
The Blueprint Institute's chief economist Steven Hamilton also believes JobKeeper should be phased out on 28 March as scheduled.
From The New Daily:
Economist Cameron Murray said it made "total sense" to withdraw JobKeeper at the end of March.

A post-doctoral research fellow in the Henry Halloran Trust at the University of Sydney, Dr Murray said businesses were already flush with cash and only a few industries still needed support.

He said the turnover test for JobKeeper was "the biggest joke ever" as companies could "choose the time at which expenses and incomes are incurred" and consequently qualify for the payment without suffering an actual drop in turnover.

Lifting the permanent JobSeeker rate would therefore be preferable to extending JobKeeper, as the money would go directly to those who need it.

"I have no worries about [government] debt. I have no worries about inflation," said Dr Murray, when asked why he thought JobKeeper should end on March 28.

"It's just the upwards distribution of wealth."

Equity Economics lead economist Angela Jackson and Blueprint Institute chief economist Steven Hamilton also agreed that the government should end JobKeeper in March.
According to the Australian Treasury, around $143 billion worth of stimulus has been provided, the lion's share of which has come from JobKeeper:

Because of this stimulus, alongside restrictions on spending (due to lockdowns), Australian households amassed a giant war chest of savings over the June and September quarters, with $67.7 billion of disposable income saved in Q2 and a further $60.0 billion saved in Q3: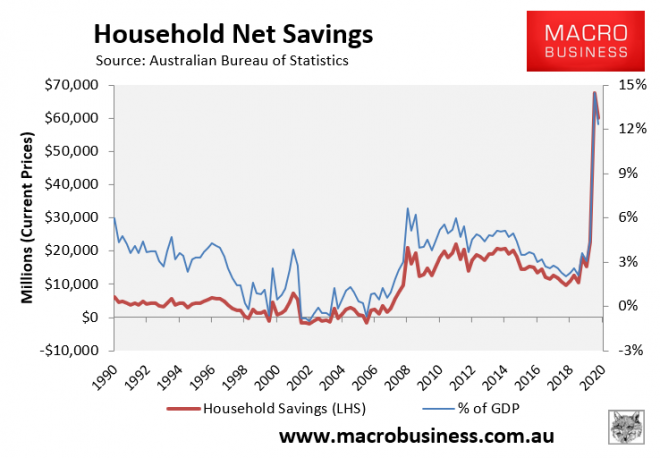 This equates to a whopping 14.5% of GDP (Q2) and 12.3% of GDP (Q3) that has been saved by households.
The next chart, which presents the savings data in rolling annual terms, shows that an unprecedented $165.7 billion of household income was saved in the year to September 2020, 77% of which was saved in Q2 and Q3 alone: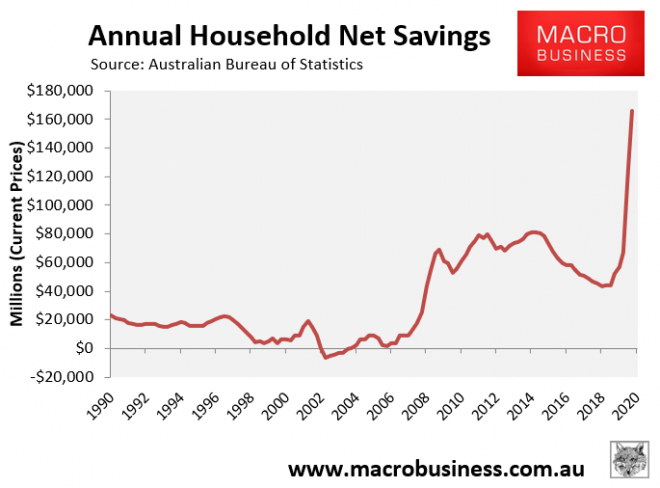 Although emergency support measures will be withdrawn over coming months – namely JobKeeper, the JobSeeker supplement, early superannuation access, and mortgage repayment holidays – there is a massive pent up supply of unspent stimulus in the form of household savings now available to be spent across the economy.
Wages & salary income should also inevitably rebound as the private sector economy recovers post lockdowns, thus transitioning the economy from public support to market driven income.
Therefore, it is difficult to make the case that JobKeeper should be extended, especially in light of the corresponding boom in company profits: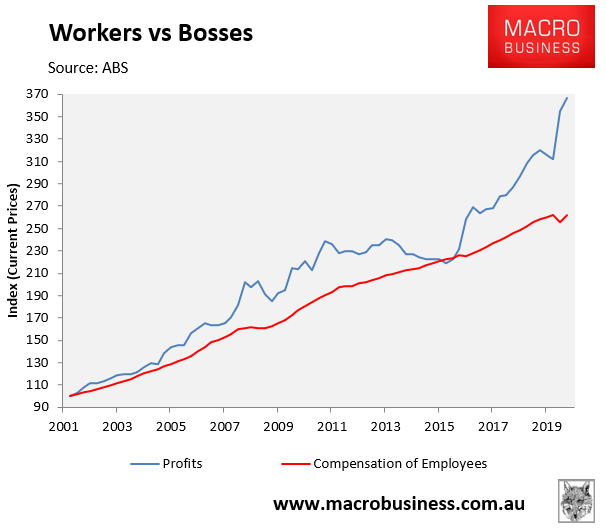 On the other hand, there is a strong case to lift JobSeeker above its base poverty level:

JobSeeker is paid to those that are actually unemployed. Therefore, it is well targeted, unlike JobKeeper.
The Coronavirus Supplement is currently scheduled to be axed completely from 1 April, which would lower the JobSeeker payment to a paltry $565.70 a fortnight, or just $40 a day. This compares to the Aged Pension rate of $860.60 a fortnight, or $61.50 a fortnight.
If this is allowed to happen, millions of Australians will again be thrown back into poverty.
The solution to poverty is actually very simple and is illustrated clearly in the above chart: bring the JobSeeker payment up to parity with the Aged Pension and the poverty line.
There is simply no reason why people on JobSeeker should be paid a lower rate than those on the Aged Pension – many pensioners of whom are wealthy due to owning their home.
Allowing JobSeeker to fall back to its poverty level of $40 a day would also be economically harmful and self-defeating, as it would dampen domestic demand.
It would ensure a slower economic recovery, higher unemployment than necessary, and increased financial suffering and homelessness.
Permanently lifting JobSeeker to parity with the Aged Pension should be a national economic and social priority.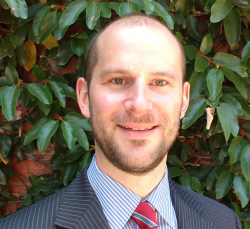 Latest posts by Unconventional Economist
(see all)