Labor's proposed reforms to franking credits, which were taken to the 2019 federal election, were officially scrapped by leader Anthony Albanese over the weekend:
Federal Opposition Leader Anthony Albanese has dumped Labor's policy to overhaul franking credits…

The Opposition Leader said the policy had distracted voters from the party's core messages…

The Coalition targeted the franking credits policy during that campaign, describing the measure as a "retiree tax".

"I can confirm that Labor has heard that message clearly and that we will not be taking any changes to franking credits to the next election," Mr Albanese said.

"I want the focus to be on Labor's positive agenda for Australia's future … a nation where people aspire to personal success, but also have aspirations for their family, their community and their nation."
I cannot blame Labor for dumping this policy even though it made sense. There's no point beating a dead dog.
The fact of the matter is that Peter Costello should never have changed the dividend imputation rules in 2000 to allow the conversion of franking credits into cash refunds for shareholders.
Given the initial goal of dividend imputation was to avoid double taxation – i.e. ensuring that tax gets paid on company profits, but not twice over when paid out as dividends – it made no sense to allow retirees paying zero or minimal tax on their superannuation earnings to then also receive cash refunds for their franking credits. Such a situation is not only inequitable and effectively a subsidy to the (mostly) rich, but the multi-billion dollar cost to the Budget is simply too big to be ignored.
The inter-generational impact of this rort is also clear. As shown by the Grattan Institute, older Australians pay less tax than they did 20 years earlier, despite higher workforce participation and incomes, with the proportion of seniors paying tax almost halving in 20 years, from 27% in 1995 to 16% in 2014: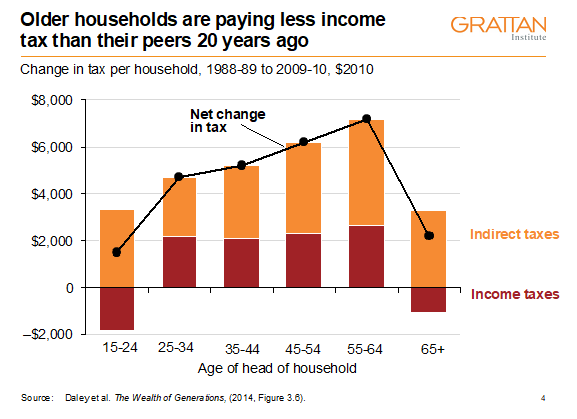 Unwinding Peter Costello's Budget vandalism is proving formidable.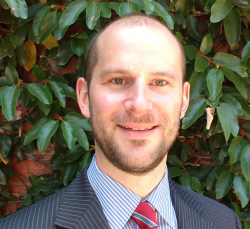 Latest posts by Unconventional Economist
(see all)