The iron ore complex is taking it a little more easy into the new calendar year with seaborne prices and Dalian futures lifting on Monday, as firm demand in steel and positive sentiment after the New Year holiday continued: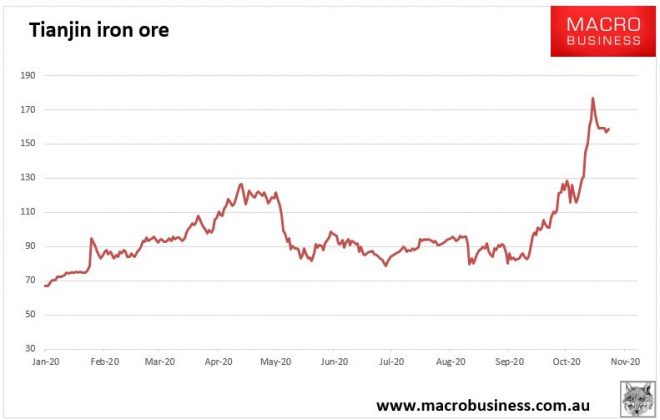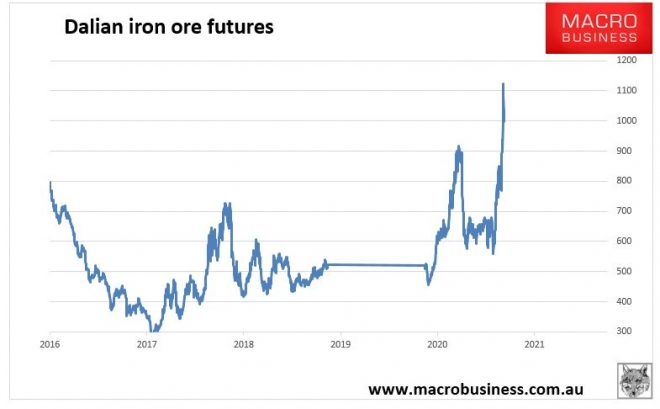 The Chinese are starting to get real about diversifying away from near total reliance on Australian iron ore, with the release of its latest five-year-plan. Via Reuters:
Seeking feedback on a steel masterplan that will form part of the country's 14th Five-Year Plan, MIIT said in a document published on Thursday December 31, that one of its goals was to strengthen the iron ore resources for its giant steelmaking industry, including increasing domestic iron ore and ferrous scrap supplies, along with building a network of overseas mines.

China aims to build one or two globally significant overseas iron ore mines by 2025 to boost supply of the steelmaking ingredient and strengthen its pricing power, the industry ministry said on Thursday.

The plan, which is open for public feedback until Jan. 31, also called for increased supply of other steelmaking mineral resources such as manganese and chrome.

China, the world's biggest steel producer, currently relies on imports for around 80% of its iron ore but it is not known how much of that is from mines overseas in which it holds stakes.

It has domestic iron ore mines with a much lower grade than in top producers like Brazil and Australia, and owns a stake in the Simandou mine in Guinea.

"China will accelerate construction of large iron ore projects in West Africa and Western Australia," the MIIT said, adding that cooperation would also be strengthened with resource-rich Russia, Kazakhstan, Mongolia, Cambodia and other neighboring countries.
Latest posts by Chris Becker
(see all)