See the latest Australian dollar analysis here:
Markets are plain ignoring the political chaos in the US, with the local stock market up nearly 2% and S&P futures up 0.6% as Congress re-convenes.Bitcoin continues its unsustainable but wondrous to behold move higher, hitting the $37000 level overnight and slightly below that level going into the afternoon session. Note the crypto currency has doubled in less than a month, after gapping above $18500 mid December = this will end well of course: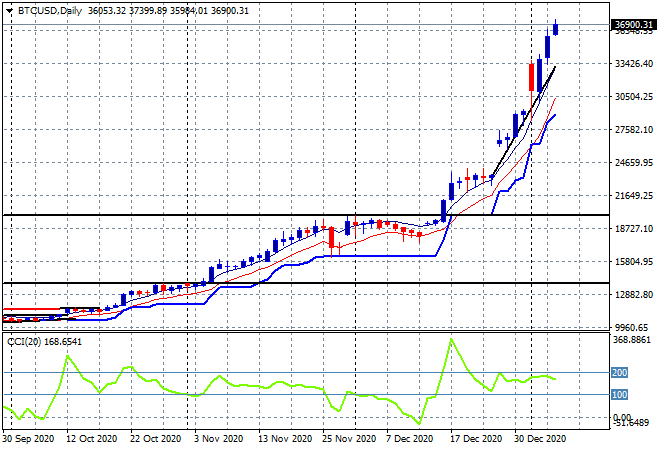 Meanwhile, the Aussie dollar is swimming along, drifting just below the 78 handle that it breached last night. The wide trend channel from mid-December shows its slightly overbought and ready to get back to the low 77's as part of an overall trend as it makes its way up to 80 cents: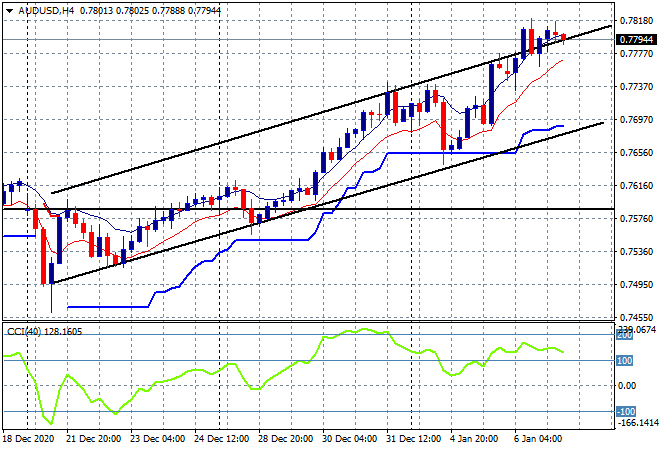 The AFR's latest forecaster round up still has the Pacific Peso pegged at 78 cents versus King Dollar, mainly due to the expectation that iron ore can't go any higher, but also under pressure from more RBA asset buying:
Almost no forecaster is counting on iron ore prices to remain at the elevated levels seen at the end of 2020 in 2021, but nonetheless the outlook for Australia's most important export commodity is favourable.
The impact of ongoing QE on the local currency is likely to be the determining factor in swaying the Reserve Bank to expand its asset buying program this year, some experts say. That adds to anticipation of ongoing quantitative easing (QE) from central banks in the US, Europe and Asia weighing on the value of their respective currencies, and lifting the Australian dollar in turn.

But with COVID-19 vaccines now being distributed in a number of jurisdictions and commodity-hungry Asia on track for strong activity, nine forecasters expect the currency to hit US80¢ or beyond.

Yarra Capital Management's head of macro and strategy, Tim Toohey, thinks US85¢ is a realistic level, while Goldman Sachs' Andrew Boak and HSBC's Paul Bloxham expect to see the Aussie-US cross at US81¢.
It's not out of the realm of possibility to get as high as 85 cents by the end of the year, but the acceleration required is not one that's been recorded before, with the 2017 highs at 80 cents more probable: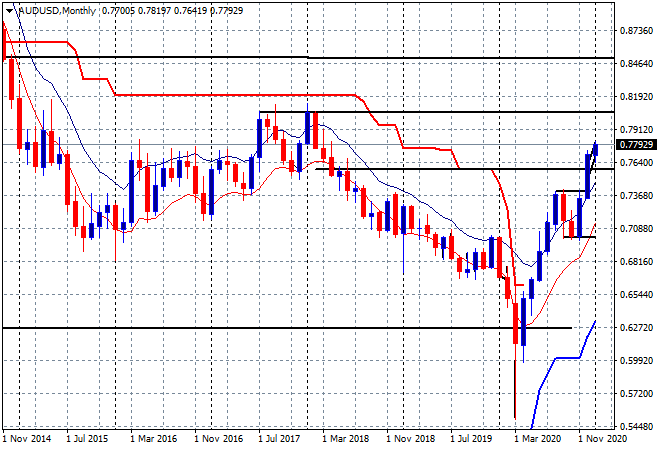 By the way, Pound/Aussie cross is cracking, as I mentioned yesterday: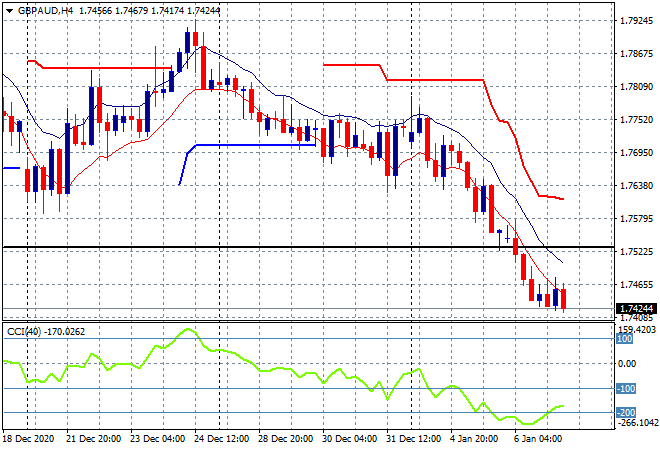 Latest posts by Chris Becker
(see all)