Domain has declared 2020 the year of the First Home Buyer (FHB):
Many first-home buyers entered 2020 fearful they had missed their window to buy, but the unexpected events of the year have prompted the biggest entry-level property buying spree in a decade…

The year started with the rollout of the First Home Loan Deposit Scheme (FHLDS), with the federal government offering 10,000 first-home buyers the opportunity to get into the market with as little as a 5 per cent deposit, without paying lender's mortgage insurance… an extra 10,000 FHLDS places were announced in the federal budget…

Then came HomeBuilder, which could be accessed on top of existing first-home-owner grants and stamp duty concessions and exemptions, adding up to tens of thousands of dollars in savings for eligible first-home buyers…

This, combined with record-low interest rates, a halt in population growth and pullback in investor demand, made an almost perfect window for those with secure employment to buy their first home, said AMP Capital chief economist Shane Oliver.

"All these things added up to something which made it a lot easier for first-home buyers to get into the market," Dr Oliver said. " It's like an almost perfect environment … a perfect day. But there are a few clouds around – the main cloud is that prices are still so expensive…
The proof is in the pudding. FHBs have been taking advantage of the recent softness in dwelling prices, low interest rates and government stimulus, and account for more than 40% of total new housing loans — 10 percentage points higher than the long-term.
average: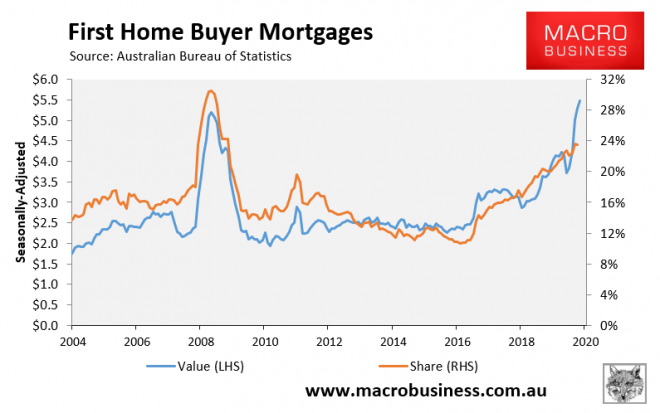 This follows a 49% year-on-year rise in FHB mortgage commitments in the year to October.
The new home market is also booming on the back of surging FHB demand.
The rise in construction finance commitments is unprecedented: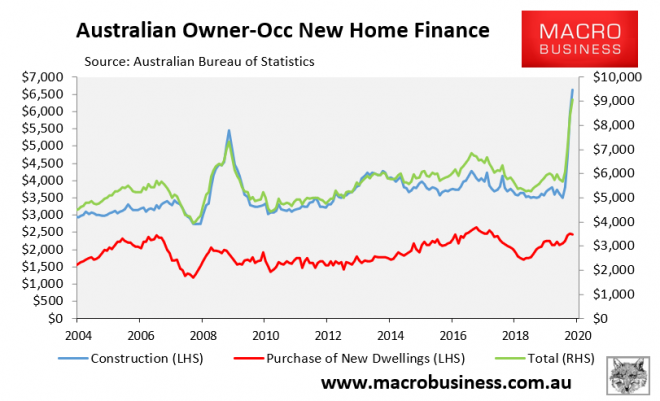 Accordingly, detached house dwelling approvals also shot up to a 20-year high in October: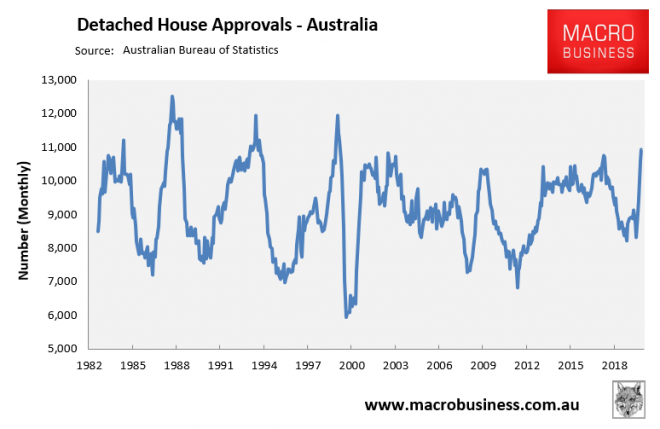 And who can blame them? Generous subsidies combined with super low mortgage rates has driven the cost of mortgage repayments below rental payments: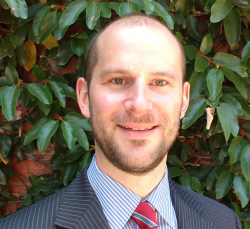 Latest posts by Unconventional Economist
(see all)