The BOM has released its Annual Climate Statement for 2020, headlining the sobering fact that 2020 was the fourth-warmest year on record, with temperature now 1.15 °C above the 1961–1990 average.
Senior Climatologist Dr Lynette Bettio, said that: "The mean temperature for the 10 years from 2011 to 2020 was the highest on record, at 0.94 °C above average, and 0.33 °C warmer than the previous 10 years. Rainfall for Australia was close to average for the nation as a whole at 483.4 mm: 4% above the 1961–1990 average of 466.0 mm."

Daytime temperatures were especially warm for Sydney, Hobart, and Darwin. The annual mean maximum temperature was above average for Perth, Canberra, and Brisbane; close to average at most sites across greater Adelaide; and close to average or slightly below average in Melbourne.

All of the capital cities, except Adelaide, observed warmer than average annual mean minimum temperatures. Nights were especially warm in Sydney, Darwin, Hobart, Canberra, and Brisbane.

Dr Bettio said: "Globally, every year from 2013 onwards has been among the ten warmest on record, with 2016 and 2019 being the hottest (0.85 ± 0.1 °C and 0.81 ± 0.1 °C above the 1961–1990 average respectively) and 2020 was among the top three, despite the onset of La Niña which has a suppressing effect on global temperatures."

Australia had its warmest spring on record in 2020.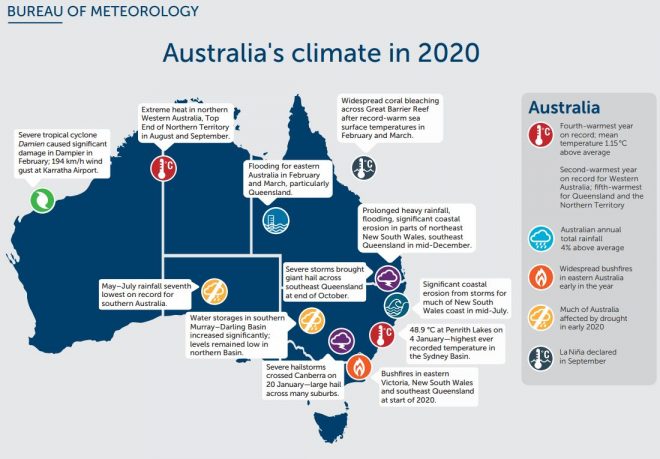 Thoughts and prayers aren't going to cut it this decade, deliberate and swift action needs to accelerate to curb these big changes, as extreme heat events continue to rise. This chart is more frightening than any asset or crypto bubble: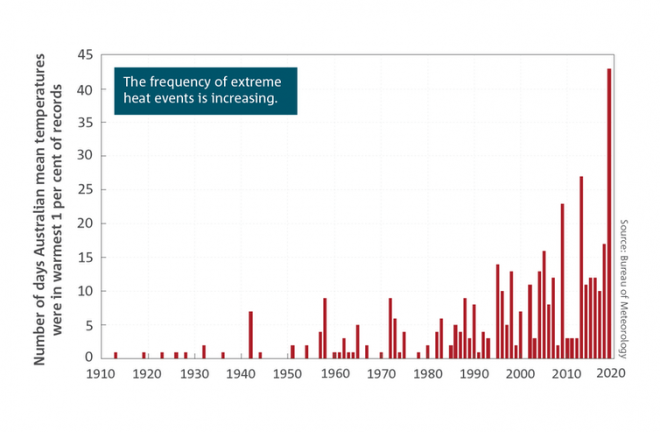 Latest posts by Chris Becker
(see all)