Iron ore prices continued to retract across Chinese exchanges on Wednesday, with Dalian futures hit the hardest – down nearly 10% at one point: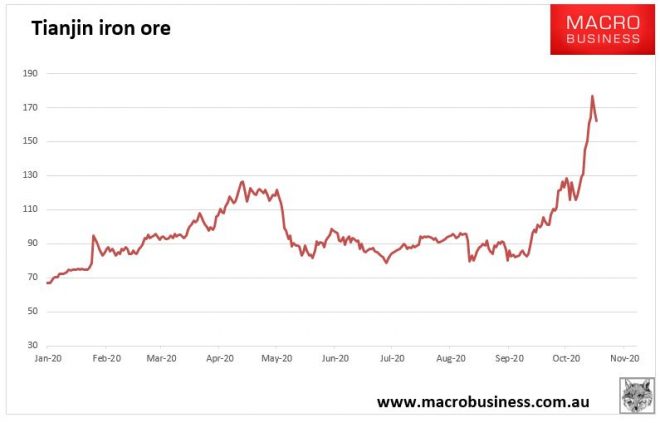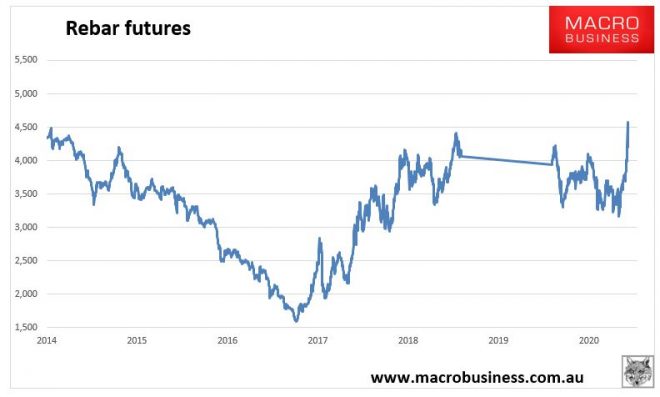 The Dalian market regulator is thinkning about cutting position limits by more than half in the wake of the increased speculation, but this may not be enough as demand continues to peak.
Westpac is out with its latest look at iron ore and its bullish – via AFR:
"The balance of risks for commodities has clearly shifted with robust Chinese growth, global fiscal and monetary stimulus and ongoing supply constraints," the analyst said. "We now expect commodity prices to remain well supported into the second half of 2021." Mr Smirk said iron ore inventories at Chinese ports remain at cyclical lows compared to steel production and imports.

In addition, the price of ore with an iron content of 62 per cent, the benchmark for spot prices, is now trading at a significant premium to domestic Chinese iron ore, another sign of just how strong demand is for imported ore, he also said.

"The margins for [Chinese] steel mills have been supported by rising steel prices which is allowing for the ongoing bidding up of input costs. With steel prices continuing to lift further through December, and steel inventories (at both traders and steel mills) rising only modestly, it appears that strong steel sales will continue to be supportive of high iron ore prices at least into the first half of 2021.

"This does however beg the question, is it enough to support prices around $US180 a tonne into January? So far, it looks as if it is more than enough."

Westpac has lifted its March 2021 forecast for iron ore by 24 per cent to $US130 a tonne from $US105 a tonne. "For end 2021 there is a more modest lift to $US112/t vs $US90/t before and end 2022 is now $US100/t vs $US85/t," Mr Smirk said.
Latest posts by Chris Becker
(see all)