See the latest Australian dollar analysis here:
It's getting towards the end of the trading year but that's not stopping Bitcoin from pushing to ever higher record highs, nearly $24000 this morning after recently bursting through the previous HODL high at just below $20000: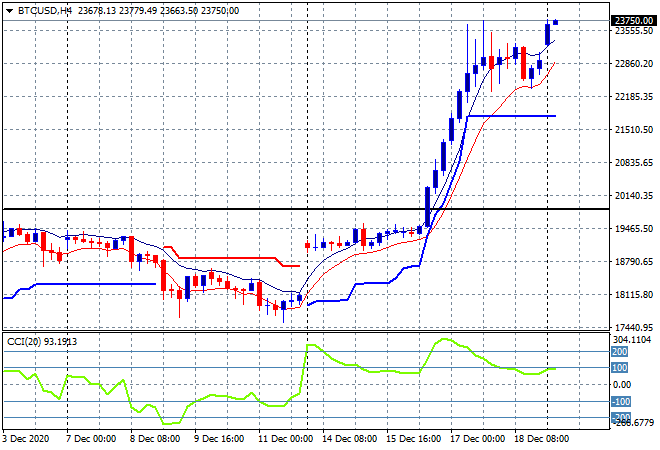 Gold briefly toyed with the $1900USD per ounce level but what bears (sic) watching more closely is still the Australian dollar, with the monthly chart showing it on its way to the 2017/2018 nominal highs, having surpassed the majority of the two year trading range above 73 cents (top black horizontal line):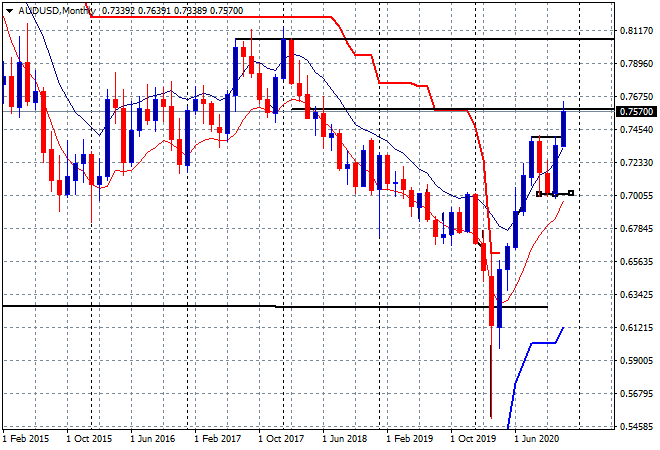 Westpac still thinks it'll go back there and then some, with over 80 cents through 2021 and then the 82 cent level by 2022, as everything is peachy about the next two years, with the vaccine and the economy and you know, the vibe of it all: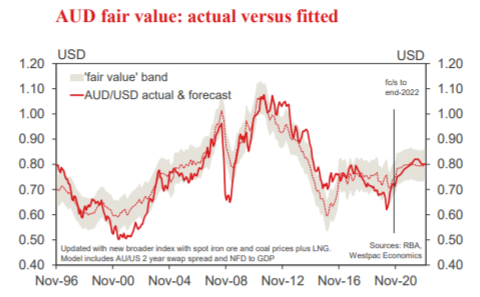 They contend this is being driven by interest rate and QE expectations:
We expect that the Bank will decide to extend the program for a further six months with another $100 billion in committed purchases. Those purchases are likely to be made up of $70 billion in AGS and $30 billion in semi – government securities.

In 2022 we expect the RBA will reduce the QE program to $50 billion per six months (two tranches) and gradually raise the rate for the three year bond target through the year, reaching 0.3% by year's end.
Notably however, the last time the Australian dollar was this overextended following a QE induced risk rally that saw the USD in a similar death spiral was towards the end of 2009, where this kind of blue-sky expectations caused a 10% drop in the currency….before then going ahead another 20% plus on a drive to parity! The difference being there wasn't a worldwide pandemic that seems to be leapfrogging ahead of the various economies, societies and government ability – let alone the scientific community – efforts to combat its spread.
Latest posts by Chris Becker
(see all)