It's taken me years to beat sense into the ACCC. It began to turn a few years ago but now it's 100% on board. At The Australian:
The competition regulator and major gas buyers say Australia's big east coast LNG exporters have nothing to fear from the potential introduction of formal price controls, arguing the move is justified to ensure a fair price for domestic users.

A draft heads of agreement sent to Queensland's three LNG producers refers to a pricing mechanism for the first time, following sustained pressure from Australia's big manufacturers for cuts to their gas costs, The Australian reported on Friday.

The Australian Competition & Consumer Commission recommended the heads of agreement should strengthen requirements around price offers to gas buyers and said producers had no grounds to push back against an LNG netback formula — a local LNG price that takes out the cost of sending gas to Asian customers.

"The feedback I get from the contact I do have with politicians is that something like that will go into the heads of agreement. That's my understanding," ACCC chairman Rod Sims told The Weekend Australian.

"And let's be clear here. We're not setting a price that says you've got to sell it for X dollars a gigajoule. What we're doing — and what we've recommended — is that you undertake to sell gas at the alternative price you could have got by flogging it overseas. So by definition you should be indifferent."

"The only reason you wouldn't be indifferent is you can actually sell it domestically for more than the alternative and you'd rather do that," the ACCC chief said.

"I understand why they'd rather do that but I think it's fair for the government to say, look if you can get $7 or $6 for this gas overseas then that's what you should be getting domestically, rather than taking advantage of the fact that there's not sufficient competition in the domestic market."

…While current LNG netback prices are relatively low given a weaker Asian market, buyers may live to rue pushing for the price link should the market reverse in years to come, according to Credit Suisse.
Rubbish. The ACCC series is based upon Asian spot prices which have been much lower than contract consistently for the past seven years. The reason manufacturers pay more is they are either gouged straight up or yoked to the Brent oil price at a preposterous 14% slope. They're much better off with JKM net-back which will average $6-7Gj: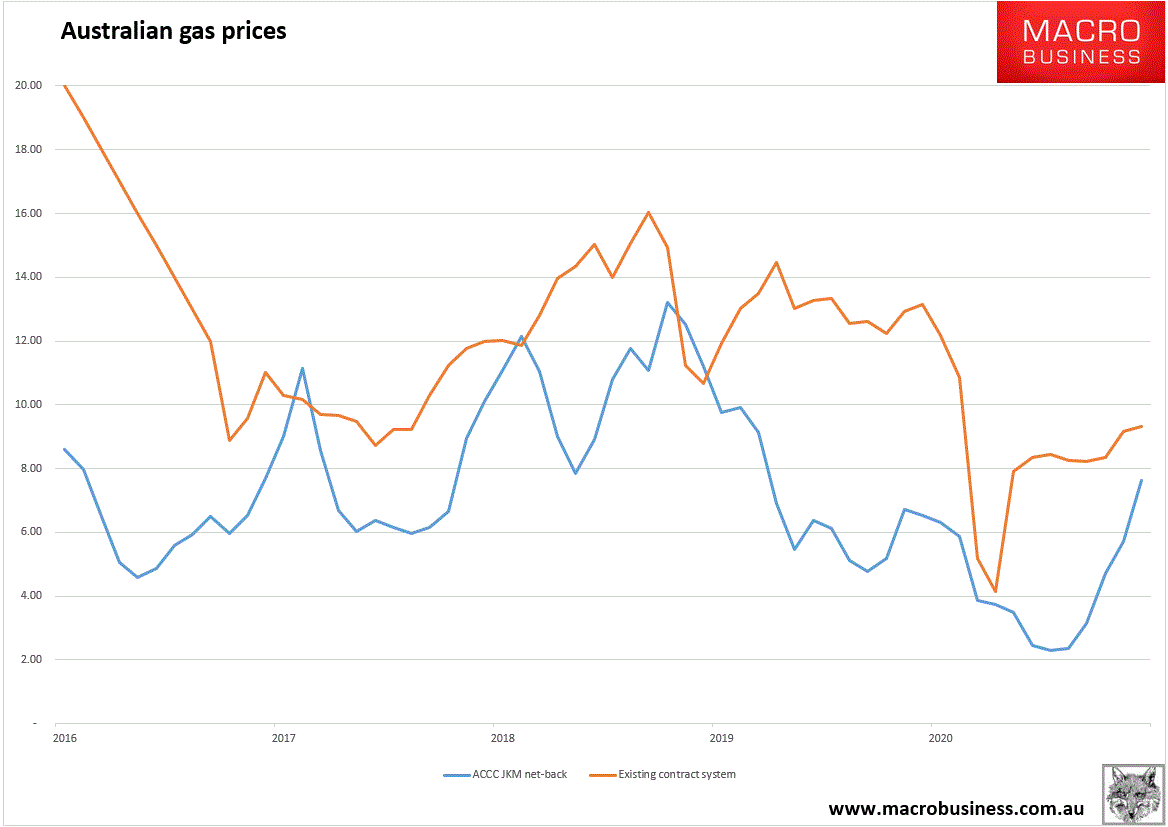 The future of sustained low Asian spot prices is bright amid the huge global glut as new gas flows from Qatar, the US and Africa: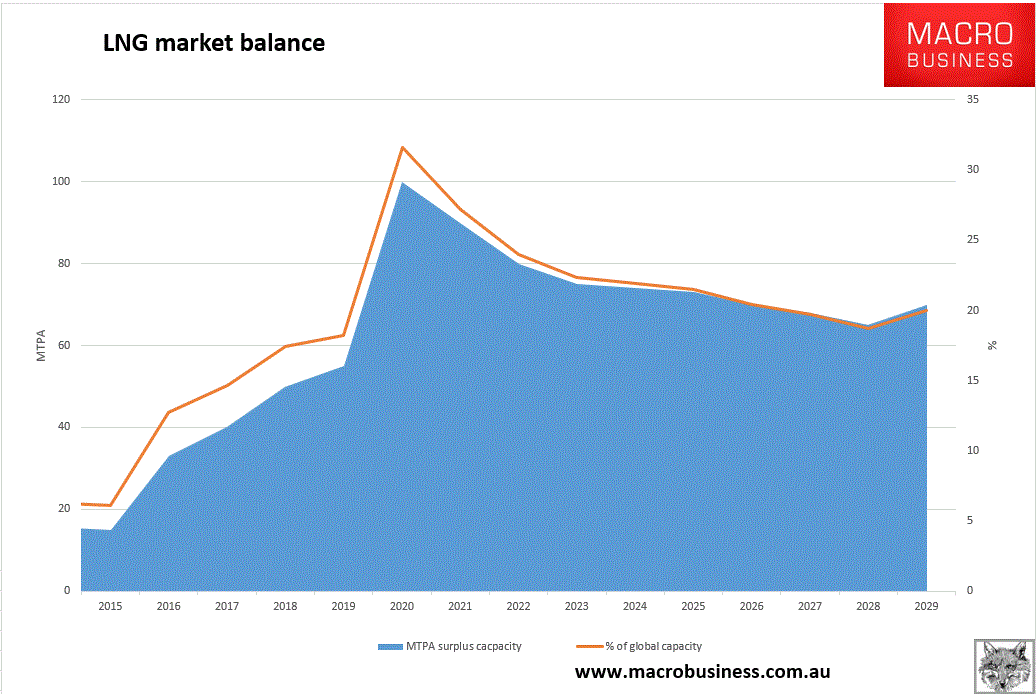 As well, export cartelier, Santos, is happy to sell to the Japanese on this metric today:
Santos has signed a binding long-term LNG supply and purchase agreement with Diamond Gas International, a subsidiary of Mitsubishi.

Under the agreement Santos will supply 1.5m tonnes of LNG from Barossa every year for ten years at a price based on the Platts Japan Korea Marker.
So why shouldn't local buyers expect the same privilege minus the cost of liquefaction and shipping for net-back?
The funny part is, if the Morrison Government does it, it will immediately wipe out its own "gas-led recovery" with Narrabri in particular so marginal it will never go ahead. Do it!
Why now after all of these years of cartel captured policy? I suspect that the Morrison Government has finally realised that we need an industrial base to fight China.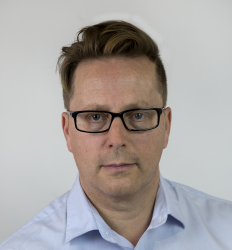 Latest posts by David Llewellyn-Smith
(see all)