Down to three from seven over a decade. Via Yahoo:
BP Plc will cease fuel production at its 65-year-old Kwinana refinery in Western Australia, citing low margins and tough competition from Asia, and will transition the facility into an import terminal.

The U.K. company's move will leave Australia with just three remaining refineries, with the future of those also in doubt after the demand destruction caused by Covid-19 hit an industry already struggling to stay profitable. The government in September announced a package of measures to support the refiners, including a potential production payment to recognize their strategic role in supporting the nation's fuel security.

"The continued growth of large-scale, export-oriented refineries throughout Asia and the Middle East has structurally changed the Australian market," said BP's Australia country head Frédéric Baudry in a media statement. "Regional oversupply and sustained low refining margins mean the Kwinana refinery is no longer economically viable."
Previously from Domain:
For many Australians the Federal government's plans to spend $211 million building some very large fuel tanks, and on subsidies for local oil refineries, will mean very little. It sounds like just one more infrastructure building, job creating, project being rolled out as part of the post-COVID-19 recovery plan.

On the other hand another, much smaller, group of leaders in defence and fuel dependent sectors and industries will be very happy indeed. That is because a long term deficiency in Australia's preparations for catastrophes such as international terrorism and even the outbreak of war, is being addressed.

The $211 million spend, to be formalised in the forthcoming budget, will begin moving this country towards compliance with its international fuel security obligations, as set out by the International Energy Agency, for the first time in many years.
And this:
The town of Winnie in Texas, close to the border with Louisiana, is a very long way from Australia – more than 8000 kilometres as the crow flies.

It's an unremarkable place. Two freeways bisect its main street – itself a four-lane highway – that is lined with a branch of Texas First Bank, iconic diner Dairy Queen and a scattering of car dealerships, liquor stores and churches.

Yet, quite suddenly, Winnie has become central to Australia's security and resilience in the face of a future crisis.

It's not the town itself. But a few miles to the south east, in an area known as Big Hill, where the vast Texan flatlands become pockmarked with clearings.

These are entrances to a huge underground network of storage tanks that can hold up to millions of barrels of oil to be used in times of dire need.

It's one of several sites that make up the US's Strategic Petroleum Reserve (SPR), designed so the country doesn't run out of fuel should the unexpected happen. And in the past few months the Australian Government has scooped up almost $100 million of that fuel to "boost the nation's long-term fuel security".
Why worry? From ASPI:
The federal government has largely left energy security to be determined by the self-interest of industry bodies and has been happily convinced by the arguments of economic liberals who—conveniently leaving aside the oil crises of the 1970s—claim that we haven't had any supply problems, so we won't have any in the future.

More recently, analysts have tried to simultaneously square the exigencies of energy security with those of climate change, generally advocating solutions such as electric vehicles, which don't address the risks in today's hydrocarbon economy as much as urge its replacement.

But the maritime security environment has changed. Australia's key trading lanes cross an increasingly contested Indo-Pacific—sea lanes we must defend with a petrochemically powered navy. China has given sustained and serious attention to the risks associated with its seaborne oil imports, particularly the chokepoint at the Strait of Malacca. It is easy to imagine China wishing to turn its 'Malacca dilemma' into a dilemma for everyone else.
And Air Vice-Marshal John Blackburn AO:
The people of Australia expect the Defence Force and the nation's critical infrastructure to operate not just when the markets are functioning normally, but when there is a problem. There are are significant issues with our energy systems that should concern us all; unfortunately, the analysis of our energy security and resilience is inadequate and the management of energy security has been outsourced to the market. The idea that we are at peace and "business as usual" is the appropriate model where the markets can manage all aspects of our critical infrastructure and supply chains is clearly out of date.

Energy security is a vital component of national security and an increased level of Government control / leadership with respect to energy security is warranted. A 5th Generation Defence Force needs a 5th Generation energy system; so does our Nation. The discussion of these issues is not just for our politicians; it is our collective responsibility to discuss these issues and to tell our politicians what we need to have done and not wait to just complain after our energy systems fail.
Ah yes, Scotty from Marketing. Tough on borders and national security.
At least for the thirty days that it takes for us to run out of oil when blockaded by an unfriendly power.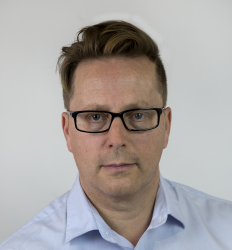 Latest posts by David Llewellyn-Smith
(see all)