Via Goldman:
President-elect Joe Biden will likely have to work with a Republican Senate majority, limiting his ability to implement the Democratic fiscal agenda. Nevertheless, we expect a $1 trillion stimulus package, potentially enacted before his inauguration on January 20. This is less than half of what we might have seen under a Democratic sweep, but it should suffice for a small positive fiscal impulse to US growth in coming quarters.

More important for the growth outlook is the second wave of coronavirus infections that is now sweeping the United States and especially Europe, where governments have already reacted with renewed partial lockdowns. This has led us to downgrade our Q4/Q1 GDP estimates on both sides of the Atlantic; in fact, we now expect the European economy to contract significantly in Q4. These revisions have brought down our 2021 global GDP forecast to 6.0% (vs. consensus of 5.2%) and the near-term risks remain on the downside.

But just as the global economy rebounded quickly (albeit partially) from the lockdowns in the spring, we expect the current weakness to give way to much stronger growth when the European lockdowns end and a vaccine becomes available. Assuming the FDA approves at least one vaccine by January and mass immunization of the general population starts shortly thereafter, as we expect, growth should pick up sharply in Q2. The apparent lack of scarring effects from the earlier GDP plunge is consistent with this view.

The DM central banks are likely to steer a dovish path for the next several years. Even under our forecast of a strong growth rebound, labor market conditions will normalize only gradually and inflation looks set to remain below central bank targets. We expect the Fed, the ECB, and the Bank of England to wait until 2025 before hiking rates; besides, the ECB looks set to deliver additional QE next month.

Our growth forecasts in the emerging world in 2021-22 are mostly above consensus. The main exception is China, where output is already back to pre-pandemic levels, credit is growing rapidly, and fiscal policy remains very expansionary. Policymakers look set to react by easing off the accelerator, which should result in a modest sequential growth slowdown.
I am trying to suppress a nervous giggle as I read this. Look especially at Exhibit 4. Now, check out this chart: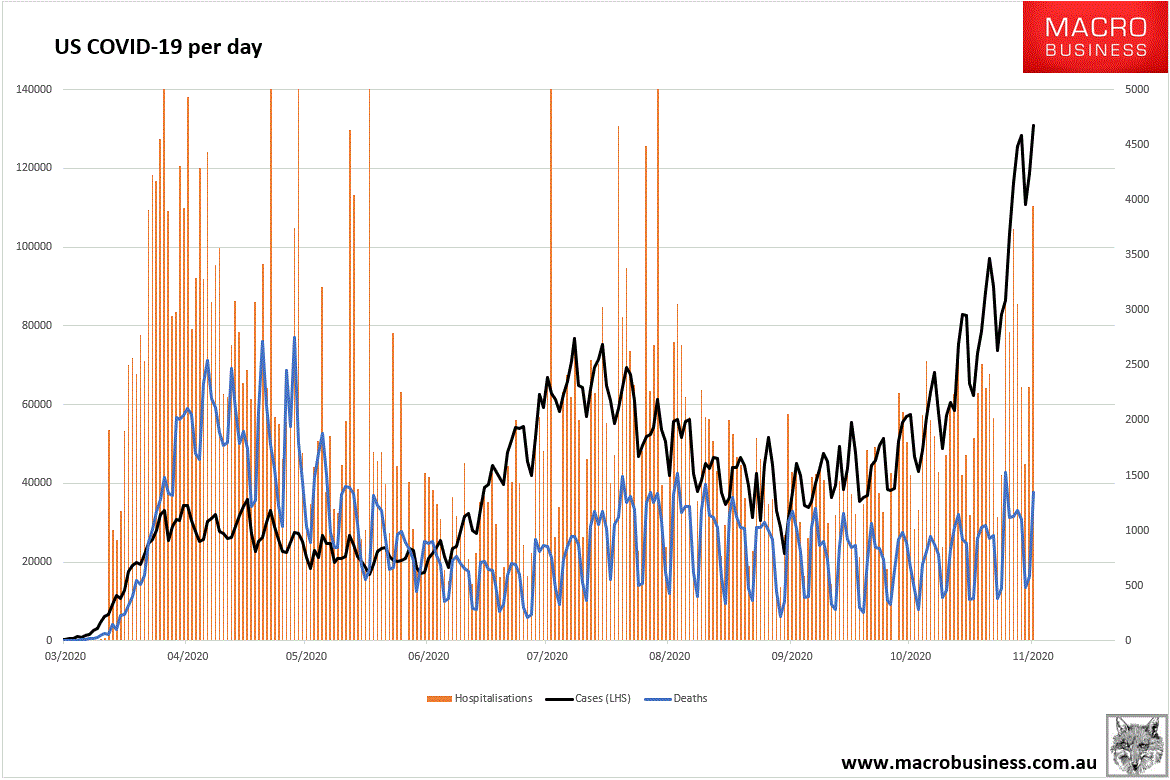 Goldman has incorporated almost no growth blow to Q4 or Q1 in the US when both are obviously coming, either via officials or the natural equilibrium of virus containment that occurs as the private sector shuts as more people die.
I will add that, in my view, Donald Trump's rage at the American people is going to express itself via doing nothing on the virus. This is the path of least resistance for his anger.  Indeed, I expect him to run interference on any attempts to ameliorate the pandemic by the incoming Biden Administration. That means almost no official action on the pandemic at the federal level before February and local actions will be inhibited.
But that does not mean no action. It means that the US is about to be gutted by the virus. And when hospital capacity is overwhelmed in the near future and the mortality rate skyrockets, the private sector will shut down all by itself. This is the natural equilibrium of the virus we have seen through successive waves as people, you know, aim to survive.
What this means is that the sell-side is yet to incorporate the coming blows to earnings over the next two quarters before we even reach the vaccines. That puts today's explosive value rotation on a short leash, at least until markets can be reassured that the US third wave is contained in some measure again.
Clearly, this set-up may present opportunities in the months ahead for those looking to position for the subsequent "vaccine-shaped recovery".
Don't take my word for it. Star hedgie of the pandemic, Bill Ackman:
Hedge fund manager Bill Ackman has put on another bet that companies will struggle to pay their debts, just eight months after he cashed in a $2.6bn profit from a similar trade at the start of the pandemic.

"I hope we lose money on this next hedge," Mr Ackman said. "We're in a treacherous time generally and what's fascinating is the same bet we put on eight months ago is available on the same terms as if there had never been a fire and on the probability that the world is going to be fine."

…Mr Ackman said he remained optimistic about the economy over the long term, saying that it was likely to see a "robust recovery", but he predicted the next few months would be "a challenging time".

Pershing Square placed its new bet against corporate credit on the day that Pfizer and BioNTech released positive trial data on their Covid-19 vaccine, causing markets to take a sudden bullish turn.

The news was "actually bearish", however, Mr Ackman said, because it was likely to make people more complacent about wearing masks and less likely to view the virus as a threat.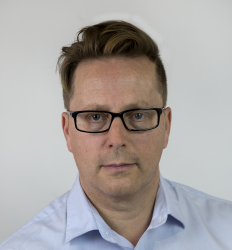 Latest posts by David Llewellyn-Smith
(see all)