I reported on Monday how Stephen Kirchner – Program director for the United States Studies Centre at the University of Sydney – has urged the Australian Government to open the immigration floodgates to help the economy recover from the COVID-19 pandemic.
After reading Kirchner's full report yesterday, I was gobsmacked by the falsehoods put forward regarding Australia's 'skilled' migration program, which Kirchner wants the government to uncap:
Australia will experience a permanent loss of population and productive potential because the government assumes no future make-up of lost NOM, but this is a policy choice that could be offset with a more liberal approach to immigration in the future.
Restoring and then exceeding pre-pandemic levels of NOM will be essential to economic recovery…

The pandemic affords an opportunity to rethink the immigration policy and planning framework. The government's pre-pandemic reduction in the planning cap on permanent migration from 190,000 per annum to 160,000 should be set aside indefinitely as non-binding in the short run and too restrictive in the long run…

The government should link immigration and population growth to both pandemic recovery and national security imperatives to increase public support against a backdrop of elevated unemployment…

Australia is likely to face growing skills shortages amid increased international competition for skilled workers. Like the temporary migration program, the skills-based permanent migration program should be uncapped for those meeting its eligibility criteria, with market-determined wages and labour demand then regulating net migration flows…

The United States, United Kingdom, Canada and Australia normally receive around 70 per cent of high-skilled migrants to the OECD, with the United States taking close to a half share for the OECD and one-third of high skilled migrants globally. With the United States closing its doors and Australia potentially a close substitute for the United States for prospective migrants along many dimensions, a more liberal approach to immigration in Australia could be expected to attract immigrants either rejected or deterred from the United States…

The aftermath of the pandemic affords an opportunity to experiment with uncapping the permanent skilled and family-based migration programs to support the recovery in NOM. The skilled occupations list and other criteria for permanent migration visas could be maintained, but without quantitative limits on visa numbers. Qualitative criteria could also be relaxed while NOM is below pre-pandemic levels. The current skills classifications need to be updated and broadened in any event…

In the long run, the government should allow the size of the permanent migration program to self-regulate based on current and prospective labour demand and the level of wages in the targeted skill and occupational categories. Rising wages due to shortages in segments of the labour market will attract, while falling wages reflecting excess supply will deter prospective immigrants, although the absolute level of wages relative to overseas may dominate wages growth in attracting prospective migrants.

The market is more likely to send the right signals about prospective shortages or a surplus of skilled workers. The temporary migration program already operates on this basis, albeit with a floor on wage rates. Qualitative criteria would still serve to limit overall migrant numbers, but without arbitrary caps.

Following recovery from the pandemic, Australia is likely to face skills shortages amid growing international competition for skilled workers…

Experience with Australia's uncapped Temporary Work Skilled Visa program shows that skilled migration increases the wages of native workers and induces native workers to specialise in occupations with a high intensity of communication and cognitive skills. Uptake of the visas correlates with economic activity, with visa numbers self-regulating based on economic conditions. It should be noted that firms are required to pay foreign workers a minimum salary equal to at least that of comparable native workers.
Sadly, RBA Governor Phil Lowe spouted the same propaganda yesterday, while also shedding crocodile tears over poor wage growth and high unemployment:
Australia needs an influx of skilled migrant workers to get the economy powering again after the coronavirus pandemic, the Reserve Bank says.

Speaking at a forum on Monday night, RBA governor Philip Lowe said Australia would have to look offshore to fill jobs due to the major slump in domestic population growth caused by hard international border closures, which could stay until at least the end of 2021…

"The fast population growth of recent decades has been a major factor shaping our economy," Dr Lowe said in his speech to the Committee for Economic Development of Australia.

"It has underpinned our relatively fast growth in GDP (gross domestic product) compared with other advanced economies"…

Dr Lowe said wage growth and price pressures would remain subdued while unemployment was above 6 per cent.

"It does, though, seem highly probable that one of the marks the pandemic will leave is an extended period of higher unemployment than we have become used to. Addressing this is an important national priority," Dr Lowe said.
Clearly, neither Kirchner nor Lowe have bothered to examine the actual empirical data on Australia's 'skilled' migration program contained in the Department of Home Affairs' Continuous Survey of Migrants. This report shows unambiguously that Australia's purported skilled migration system is actually a low-skilled, low-wage visa scheme used by employers to undercut local workers:

As shown above, migrants have significantly worse labour market outcomes than the general population. Specifically:
The median annual full-time earnings of migrants was $16,500 (22%) below the general population in 2017;
The median annual earnings of migrants was $5,900 (10.2%) below the general population in 2017; and
The unemployment rate of surveyed migrants (12.6%) was more than double the general population (5.5%) in 2017.
Even if we focus on the skilled stream only, both median earnings and unemployment is far worse than the general population:

These are shocking results. The skilled stream accounts for 60% of Australia's permanent migration program. They are purported to be highly qualified and brought into Australia to overcome so-called 'skills shortages'.
These 'skilled' migrants should, therefore, be paid well above the general population, which comprises both skilled and unskilled workers, as well as have very low unemployment.
The fact that 'skilled' migrants are paid less, and suffer higher unemployment, is a damning indictment of Australia's purported 'skilled' immigration system, and is bonafide proof that it is undercutting local workers.
Australia's 'skilled' temporary visa system is equally bad.
The Temporary Skilled Migration Income Threshold (TSMIT) has been set at an abysmally low $53,900, which is well below the median Australian wage of $1,100 per week ($57,200 p.a.), according to the ABS:

This TSMIT wage floor was $3,300 (6%) below the median income of all Australians ($57,200) in August 2019, which includes unskilled workers.
Thus, the TSMIT has also incentivised employers to hire cheap migrants instead of local workers, as well as abrogated the need to provide training.
Like in Australia, the Economic Policy Institute revealed systemic rorting of the US' temporary skilled H1-B visa, and recommended significantly lifting the wage floor pertaining to these visas:
The highest priority for H-1B reform is fixing the prevailing wage rule. The new wage-level data presented in this report make clear that most companies that use the H-1B program—but especially the biggest users, by nature of the sheer volume of workers they employ—are exploiting a flawed H-1B prevailing wage rule to underpay their H-1B workers relative to market wage standards…

The data in this report show the top 30 H-1B employers are in fact hiring H-1B workers to fill a very large number of routine (Levels 1 and 2) positions that require relatively little experience and ordinary skills… employers have all but disinvested in workforce training, in part because of the disincentives created by ready access to lower-paid H-1B workers…

The data presented in this report indicate that all H-1B employers, but especially the largest employers, use the H-1B program either to hire relatively lower-wage workers (relative to the wages paid to other workers in their occupation) who possess ordinary skills or to hire skilled workers and pay them less than the true market value of their work. Either possibility raises important policy questions about the use and allocation of H-1B visas.

By setting two of the H-1B prevailing wage levels so low relative to the median and not requiring that firms pay at least market wages to H-1B workers, DOL incentivizes firms to earn extraordinary profits by legally hiring much-lower-paid H-1B workers instead of workers earning the local median wage…

DOL should promulgate regulations and/or issue administrative guidance that sets the lowest (Level 1) wage to the 75th percentile for the occupation and local area, and requires that wage offers to H-1B workers never be lower than the national median wage for the occupation. Requiring and enforcing above-median wages for H-1B workers would disincentivize the hiring of H-1B workers as a money-saving exercise, ensuring that companies will use the program as intended—to bring in workers who have special skills—instead of using H-1B as a way to cheaply fill entry-level positions.
Rather than giving Australian businesses unfettered access to 'skilled visas' and crushing wages, all skilled migrants (both temporary and permanent) should instead be required to be employer-sponsored (given their far better employment outcomes – see above charts) and paid at least at the 75th percentile of earnings.
This would ensure that the skilled visa scheme is used sparingly by businesses to employ only highly skilled migrants with specialised skills, not abused by businesses as a tool for undercutting local workers and eliminating the need for training.
More broadly, returning to pre-COVID levels of immigration (or higher) would be detrimental to Australia's productivity and living standards.
Allowing Australian firms to grab cheaper migrants instead of paying higher wages to local workers will necessarily discourage these firms from innovating and adopting labour saving technologies, which would boost the economy's overall productivity. It would also prevent creative destruction by enabling low productivity firms to remain in business.
By contrast, stemming the flow of low-wage migrants would force the least productive firms to contract and go bust, transferring workers, land and capital to more productive businesses. In turn, this would raise average productivity across the Australian economy.  Moreover, all firms, observing higher wages, would invest more in labour saving technologies and restructure to lift productivity.
There is a reason why construction firms, farms and manufacturers in advanced nations usually involve a handful of workers operating heavy machinery, whereas in low-wage developing countries these are manned by many workers doing manual labour. The higher cost of labour in advanced countries forces these firms to invest in labour saving machinery, which lifts overall productivity.
Returning to mass immigration would also worsen Australia's chronic infrastructure bottlenecks and congestion, further lowering productivity. And it would worsen Australia's current account, since Australia would import far more and the nation's immense mineral wealth (and primary exports) would be diluted among more people.
On the last point – the current account – notice below how Australia's two biggest migrant magnets of Sydney an Melbourne drove gigantic trade deficits during the prior 15 years of high immigration?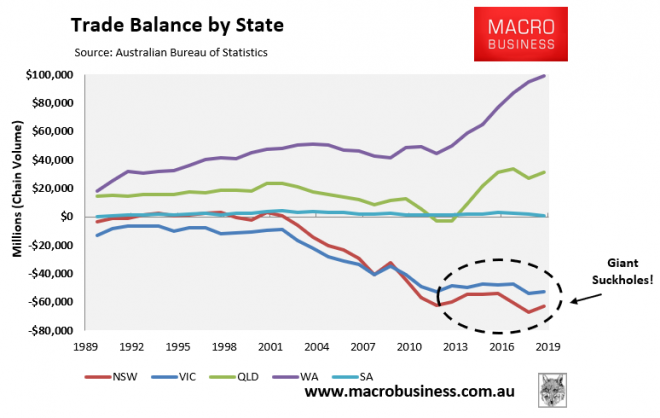 This is not a coincidence.
Essentially, all of the extra migrants that piled into these two cities over the past 15 years barely lifted exports, since these cities don't actually produce much that is tradeable. By contrast, imports skyrocketed via more purchases of consumer goods like flat screen TVs, cars, furniture, etc. These net imports must be paid for, either by increasing the nation's debt or by selling-off the nation's assets. Australia has been doing both.
The fact is, running a mass immigration policy promotes 'dumb' growth, concentrated in urbanisation and household debt, and associated sectors benefit (think Big Property, Big Retail and banking). It reduces liveability as it crush-loads infrastructure and benefits a small number of elites over the many, thereby increasing inequality.
In short, following Kirchner's and Lowe's prescription of mass immigration will stifle Australia's productivity, worsen the unemployment queues and further depress wages, smashing Australia's working class.
The mass immigration policy needs to be junked for the sake of productivity, liveability and equality. Instead, policies that focus on productivity enhancement and competitiveness should be the focus as they lower debt while boosting incomes per capita, and are more meritocratic.
On this front, Australia's policy makers should follow the lead of the Nordic countries – Sweden, Denmark, Finland and Norway. They are renowned as being among the wealthiest, happiest, best functioning nations in the world with the highest living standards. They also achieved this success without mass immigration-driven population growth:

The world has 7.6 billion people. Australia doesn't need to import them to sell to them. This is not what clever countries do.
It's time Australia's economics fraternity acknowledged these facts.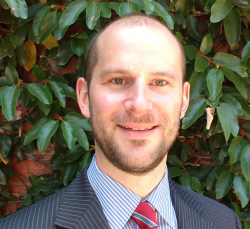 Latest posts by Unconventional Economist
(see all)