Latest polls. At the headline:

Battlegrounds:

Betting:

What if the polls are as wrong this week as they were in 2016? Biden wins, by 538:

With the virus still gutting Trump's interior heartland, it looks over for the White House: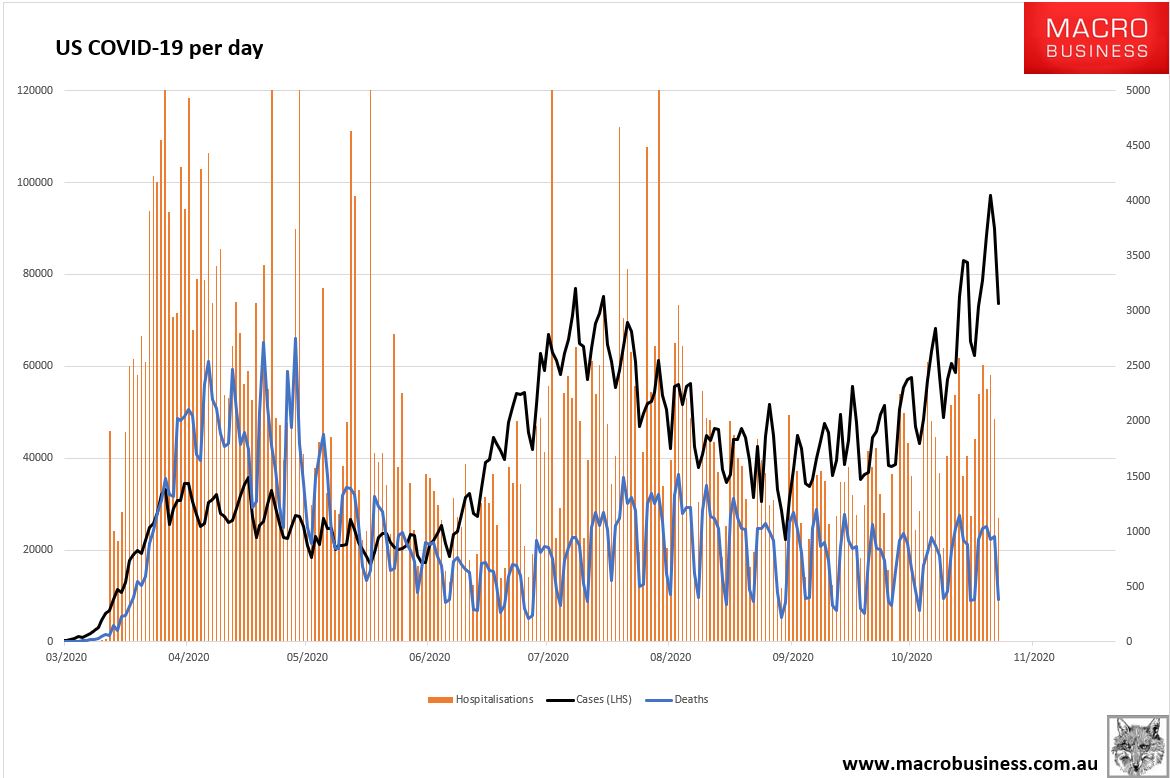 More interesting is the senate which has a less complete overlap between swing states and virus:

Not so clear.
The markets and the economy worst-case option of Biden in the White House and Republicans in the Senate is live.
Here is your election cheat sheet from Reuters:
Blue Mirage

Florida and North Carolina allow election officials to begin processing mail-in ballots weeks before Election Day, and the results of those counts are expected to be released as soon as polls close on Nov. 3. If both states follow that schedule, it is likely that Biden will appear to be ahead initially, as the latest Reuters/Ipsos opinion poll shows that people who already have voted in Florida and North Carolina support the Democratic challenger by a more than 2-to-1 margin over the president.

In both states, a majority of people who plan to vote in person on Election Day support Trump.  A blue mirage is not expected to last long in either state. Experts say they expect Florida and North Carolina to finish counting most of their mail-in and in-person ballots before the end of the night.

Texas, Iowa and Ohio – which Trump won easily in 2016 but polls show could be competitive this year – also allow early processing of mail ballots, so could show a similar blue mirage, according to experts. All three states are expected to finish counting most ballots on Nov. 3.

Red Mirage

In Pennsylvania, Michigan and Wisconsin, mail-in ballots cannot be counted until Election Day. While Michigan did recently pass a law that allows many cities to start processing mail-in ballots, such as opening ballot envelopes, the day before the election, they cannot begin to count votes. Because mail-in ballots typically take longer to count than ballots cast in person, the initial results could skew Republican. Then, some experts say, expect a "blue shift" as election officials wade through the piles of mail-in ballots.

Pennsylvania and Wisconsin may be slowed by their lack of experience with high volumes of mail-in ballots. About one in 20 votes in the two states were cast by mail in the 2018 congressional election, compared to a quarter of Michigan's votes and about a third of Florida's.

Pennsylvania's vote counting could go on for days. Democrats in the state recently won a victory in the U.S. Supreme Court to allow officials to accept mail-in ballots up to three days after the election as long as they are postmarked by Nov. 3.

"Something I'm prepared for on election night is for Pennsylvania to look more Republican than it may actually be, whoever ends up winning the state," said Kyle Kondik, a political analyst at the University of Virginia's Center for Politics.

Ballots in Wisconsin and Michigan must arrive by Election Day, although litigation is under way over whether the states should count ballots that arrive late if postmarked by Nov. 3.

Expect to wait for Arizona

On election night in 2018, Arizona Republican Martha McSally appeared to be on the road to victory in the state's U.S. Senate race, telling her supporters she was going "to bed with a lead of over 14,000 votes." Six days later, McSally conceded the race to Democrat Kyrsten Sinema as election officials tallied hundreds of thousands of mail-in ballots, including many from the Democratic-leaning metropolitan areas of Phoenix and Tucson that were handed in at voting centers on Election Day.

Arizona officials said they hope it will take less time to count ballots this year as Maricopa County, which includes Phoenix, has upgraded its equipment and added an extra week to handle early mail-in ballots. But if the race is close, it could still take days to fully count the votes. That would be "an indication of things going the way they're supposed to," said C. Murphy Hebert, a spokeswoman for the Arizona Secretary of State. "The process is complex, and we would just invite folks to be patient."

* * *

The risk of a contested election

As is becoming clear, it is possible if not probable that we don't have a result of the election on November 4th. The economic implications will depend on the reason and duration of the delay. We see three scenarios:

Benign: Results are delayed due to counting backlogs given the large number of absentee and mail-in ballots but a result is expected within days.
Painful: If the count is close, it could result in a dispute about ballot validity and lead to a recount at the state level. C
Crisis: Either side refuses to accept the results, leading to a legislative battle and a high degree of government dysfunction

According to Bank of America, the outcome of the election will impact the economy through two critical dimensions: confidence and stimulus expectations.

An uncertainty shock

Uncertainty about result of the election could mean the following: 1) businesses delay hiring and investment; 2) households may increase precautionary savings; 3) financing costs could rise due to market stress or concern over credit losses. Since the global financial crisis, there has been increased attention on the impact of uncertainty on the economy with substantial research coming out of academia and the Federal Reserve System. One of the most commonly referenced measures of uncertainty is the Economic Policy Uncertainty (EPU) index from Baker, Bloom and Davis.

In a recent paper, Baker, Bloom, and Davis (2015) quantify the impact that uncertainty can have on the economy, using their news-based EPU measure. Using a VAR model, they found that a 90 point increase in the EPU index would lead to a peak GDP drag of 1.2pp. To put that into perspective, the news-based EPU index spiked to a high of 504 in May (on a monthly average basis) from a February level of 216 – a 288 point increase (Chart 3). Fortunately, uncertainty has come back down to 290 as of September, but this is still a net increase of 74 points.

It may not be that simple, however. Research by Jackson, Kliesen, and Owyang (2018) at the St. Louis Fed found that there are nonlinear effects of uncertainty. In order to trigger the nonlinearity of this model, uncertainty must rise above recent historical highs – as such, the potential damage from an election uncertainty shock will be lessened so long as the EPU index does not surpass the prior peak. Based on our read of the literature, if the EPU jumps half way back to the COVID peak as a result of a contested election, it could theoretically drag down GDP growth in 1H between 1-1.5pp. But this could be tempered by the fact that it is following a highly uncertain event, so there is already some degree of uncertainly already priced in. It also depends on how long the shock persists; presumably it would fade early next year. As such, we would assume something smaller than what the models imply, perhaps in the order of a 0.5-1.0pp hit to 1H GDP growth, all else equal.

The drag to the economy from heightened uncertainty would show through as a hit to confidence –confidence measures are still depressed with a modest improvement in business confidence. These confidence measures are vulnerable to the potential double whammy of a contested election + increase in the spread of the virus.

The story for stimulus

The first order impact of the election will be on the trajectory for additional stimulus. Here are our expectations:

Biden win + Democratic Congress ('Blue wave'): $2.0 – 2.5tr in stimulus, including additional funds for the COVID health response. Passed right after inauguration.
Biden win + divided Congress: $500bn – 1tr in stimulus. Passed after inauguration but with some delay. There is also some chance of continued gridlock in this scenario.
Trump win + divided Congress ('Status quo'): $1.5 – 2.0tr in stimulus. Passed in the lame duck session because neither side gains an advantage by waiting for a new government to form.

Needless to say, a clear victory could accelerate stimulus negotiations. This is particularly the case if it returns the status quo so neither side has a reason to delay. The two sides are not that far apart — both agree on additional unemployment insurance (around 100% replacement income which is about $300-400 additional/week) and aid for small businesses. They disagree over state & local aid and liability protections for businesses but these appear surmountable hurdles. It is even possible that stimulus is passed in the lame duck session with a status quo result.

The worst case scenario, and one which could lead to a 20% drop in markets according to BofA, a scenario of a Biden victory with a Republican Senate could make it harder to get any package through, creating a risk of sustained gridlock. By contrast, a "Blue Wave" would make a stimulus package very likely by February, one that is likely in excess of $2tr. Under any election result, there will be much more clarity on the path for fiscal stimulus with a fading of the uncertainty shock.

In the event of a contested election that looks like either scenario 2 or 3, the political environment creates a challenge for additional stimulus. Markets will likely become discouraged about the prospects for compromise. However, there is a threshold. If markets sell off violently and the economic data deteriorate, we could see Washington facilitate the passage of stimulus even in a highly contentious environment.

To summarize, BofA believes that an election result of status quo could lead to an earlier passage of stimulus (in lame duck), a "Blue Wave" makes a stimulus package very likely but only after inauguration and a highly contested election would likely create an impediment to stimulus but if the markets and economy deteriorate, an emergency stimulus could be triggered. A clear victory would be a net positive for the economy as it reduces some of the negative risk from higher uncertainty. A Blue Wave likely means greater stimulus which thereby provides the greatest near-term boost to the economy.

The Fed wild card

If there is not a result and financial conditions tighten due to a contested election, BofA believes the Fed's credit facilities will once again be needed. The Fed could consider easing terms to facilitate the flow of credit. The Fed could also ramp up the QE program, buying Treasuries and MBS at a faster rate, as well as corporate credit as needed, particularly if it sees concerns over market liquidity. Ultimately the focus could be on credit (MBS and corporate credit) versus USTs in a risk-off scenario. Or as BofA recaps, "the Fed has tools and will use them."

Legislation

The timeline for legislation action will depend on who controls the Senate. If there is a Blue wave, we can assume there will be parallels to the first 200 days of Presidents Obama and Trump in which both had a united Congress. When Obama took office in 2009 he faced an economic collapse from the Global Financial Crisis requiring immediate passage of stimulus. Indeed, the American Recovery and Reinvestment Act was passed on January 28, 2009, just 9 days after the inauguration. He then tackled his number one legislative priority – health care reform – but the Affordable Care Act wasn't signed into law until March 2010. Similarly, Trump still faced obstacles in passing the Tax Cuts and Job Act, which was signed into law on December 22, 2017. Thus, even with a sweep, we therefore think it is reasonable to assume that the legislative agenda won't be realized until early 2022

The Biden-Harris team has proposed a detailed agenda including increasing spending on child care and education, health care, retirement, disability benefits, R&D, infrastructure and climate change among others. This would be partly financed by increasing taxes on high-income households and corporations. According to the Committee for a Responsible Federal Budget (CRFB), Biden's spending programs would total $10.65tr over a 10 year period but would be offset by tax revenues of $4.3tr and $750bn in savings from immigration reform (Table 5). The CRFB also come up with a potential path under a Trump second term, although they admit that there is more guesswork. They find that there would be a $5.1tr increase in spending with the bulk focused on infrastructure of $2.7tr. Tax policy would also be deficit negative, costing $1.7tr.

Depending on the political environment, the economy might receive another boost in early 2021 from legislative changes. However, despite potentially a large price tag, it is unlikely to provide the same jolt to the economy as the COVID-related stimulus. The policies focus on the medium term, particularly infrastructure spending and education reform. The most fiscal restraint will likely be under a scenario of Biden and a divided Congress while the easiest path to fiscal expansion should be under a Blue wave.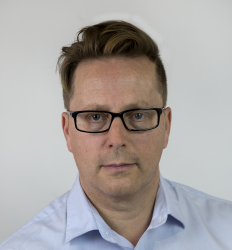 Latest posts by David Llewellyn-Smith
(see all)