Shadow education minister Tanya Plibersek says the federal government should use "every tool at its disposal" to achieve full employment.
Plibersek has used a Sydney Institute speech to argue that an official target for full employment should include both the private and public sectors. She also said action needs to be taken to address the problem of job insecurity, noting that the issue has been highlighted by the coronavirus pandemic.
From The SMH:
"Low wages mean less aggregate demand in the economy; which means less buying and selling, which means less recruiting and hiring," she said. "It means people don't have that extra five bucks in their pocket to buy a coffee in the morning"…

"Falling wages are a recipe for a slower, more painful recovery, and a much less equal country on the other side," Ms Plibersek said. "We're already seeing this in the economy. As the Treasurer admitted, the unemployment rate has again 'ticked up', immediately following cuts to JobKeeper, JobSeeker and other financial supports. We shouldn't accept years of lingering unemployment and underemployment."
This is a sensible stance from Labor.
Final demand collapsed by around 8% in the June quarter to levels not seen since 2007: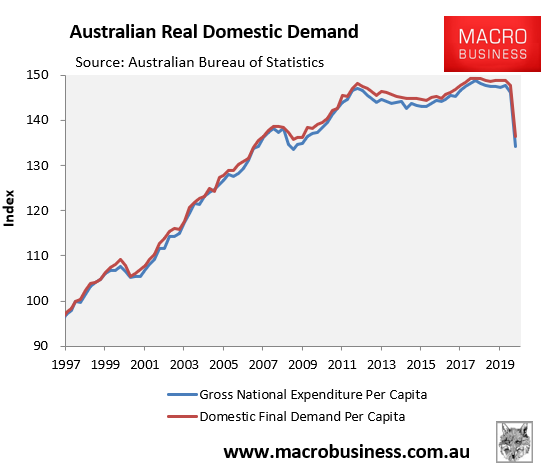 The private sector bore the brunt of this decline, with private demand collapsing by 11.4% in the year to June versus 6.3% growth across the public sector: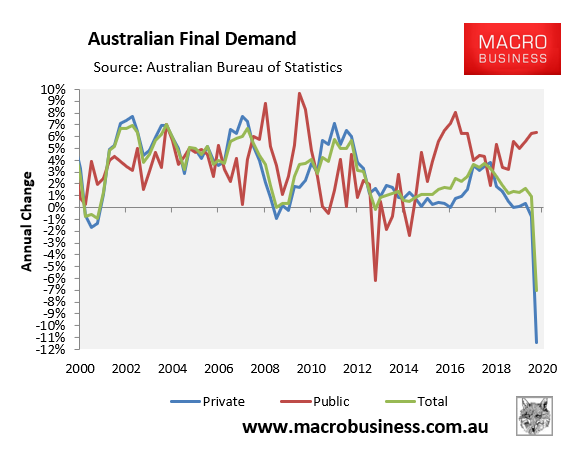 Both household consumption (-12.7%) and private fixed capital formation (-7.6%) collapsed, partly offset by growth in public consumption (+7.5%) and public investment (+1.8%):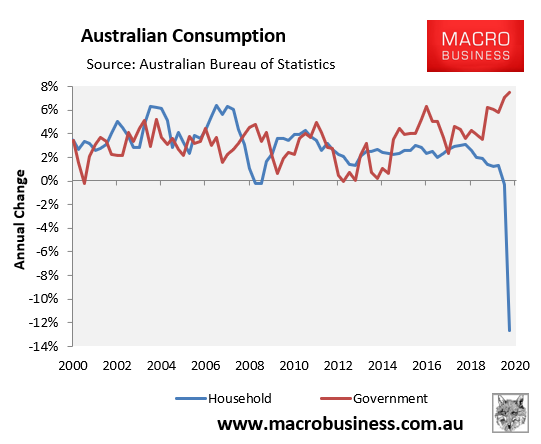 To really hammer the points home, the next chart shows contributions to final demand rather than growth rates. As you can see, all private sector components of final demand – i.e. household consumption (-7.2%), business investment (-0.7%) and dwelling investment (-0.6%) – collapsed in the year to June. By contrast, public demand contributed 1.5% to final demand: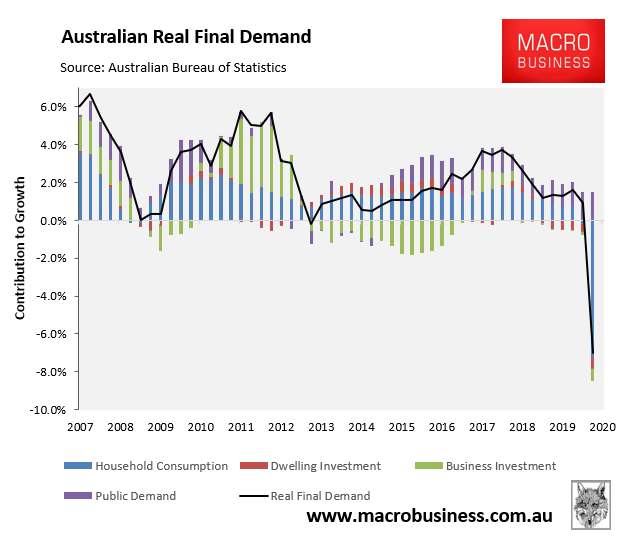 Finally, private sector workers have been slaughtered, with aggregate compensation of employees in the private sector falling 3.6% in the June quarter versus 1.4% growth across public sector workers: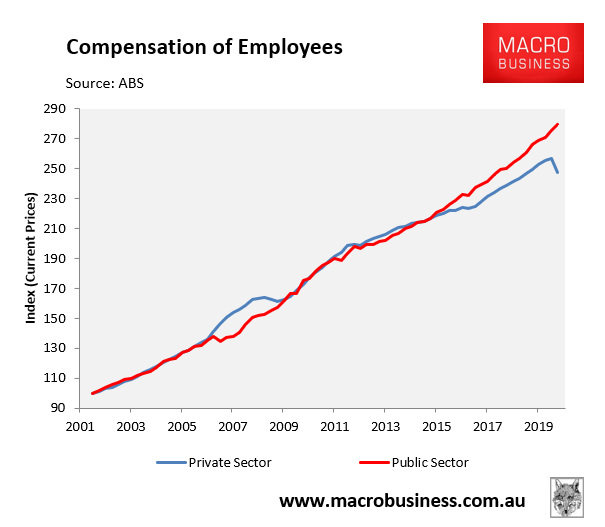 With borrowing rates so low (negative in real terms), there is little cost in the federal budget borrowing large to fill the demand deficit and driving Australia towards full employment.
The federal government simply must fill the demand hole, both via income support to the unemployed (i.e. permanently lifting JobSeeker), as well as through traditional Keynesian stimulus like public building works and infrastructure.
Otherwise, the Australian economy will face a longer and deeper downturn than necessary with stubbornly high unemployment, widespread business failures, and increased homelessness.
That said, achieving full employment will require Labor to abandon its support of mass immigration and a 'Big Australia'.
Allowing never-ending waves of migrant workers into Australia will only worsen the labour oversupply, reduce worker bargaining power, increase unemployment, and crush wage growth.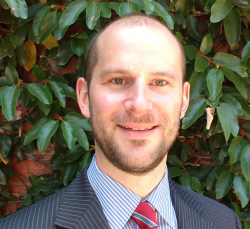 Latest posts by Unconventional Economist
(see all)