Thankfully it appears that Donald El Trumpo is going to fail in his bid to steal the US election. But the attempt throws up an interesting question. What kind of leader is he and where does he fit in the history of political ideology?
We know that El Trumpo is a classic populist. That is, he pretends to be of the people while enacting policy that is most often against the people. Trump's two signature policies fit this bill.  First, his corporate tax cuts which seriously intensified inequality. Second, his China tariffs which made goods more expensive while delivering little gain for workers (which is not to say that his attacks on China were not thoroughly welcome). We should also leaven this view with his excellent immigration policies (destructive human grandstanding events aside) which did help US wages by limiting foreign labour.
Fascism also leans towards strongmen leaders that create cults of personality that attack "elites" such as scientists. In this aspect, Trump qualifies with bells on given his anti-science stands on climate change and the virus which have both been immensely destructive to all Americans.
There is often (but not always) a racial element to fascism which El Trumpo kind of encapsulates in the darker arts of dog-whistling and racial baiting.
Another key feature of fascism is the command and control economy so Trump clearly does not qualify on that front. Yet it also includes oligarchy, integration of public and private rentiers working together for their own interests over that of the collective, on which front Trump does qualify.
The key dimension of fascism is, of course, the undermining of the democratic process in favour of a dictatorship, which is El Trumpo to a "t". But successful fascists use quasi-militias or brownshirts to intimidate to achieve this end. Trump's angry grannies that have spent too long on Facebook do not qualify:
#TCFCENTER: From the inside, the heavy thudding of rhythmic banging against the glass after the boxes were taken down.

Chanting is echoing in the hall.

Inside: Workers are quietly, diligently counting. @NBCNews pic.twitter.com/IQZd6wKWiF

— Steve Patterson (@PattersonNBC) November 4, 2020
Finally, Fascists control the military. They create martial states in which the military and civilian government are inseparable. Once this is achieved, they typically follow up by stacking the judiciary.
So, is El Trumpo a Fascist? As I said before the election, I thought the US would be OK not because El Trumpo would not aim for a fascistic coup but because he's too inept to pull it off.  He does not have control of his brownshirts (such as they are), he does not have personal (as opposed to POTUS) control of the military and the judiciary although conservative is not captured.
In other words, El Trumpo is a failed fascist. More con than don. More in the mold of…say…Silvio Berlusconi than Benito Mussolini.
And thank god for it. Because what is most clear when I look at those pictures of angry grannies tapping on the windows of electoral offices, it becomes incredibly easy to imagine how a smarter operator could topple a democracy even as potent as that in the US. Simply call the election a fraud then storm the electoral offices and despoil the vote yourself to prove it.
Voila, civil war, and the need for a hardman crackdown to restore order.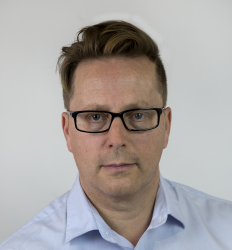 Latest posts by David Llewellyn-Smith
(see all)