Fixed-rate loans dominate the UK mortgage market, accounting for around 90% of home loans. By comparison, 70% to 90% of property borrowers in Australia opt for variable interest rates.
However, National Australia Bank CEO Ross McEwan believes that the trend toward fixed-rate loans will continue to gather pace and they may soon account for about 30% of the local mortgage market.
This comes as Australia's major banks are under scrutiny after reducing interest rates for fixed home loans and leaving variable rates unchanged following the Reserve Bank of Australia's (RBA) latest official interest rate cut.
From The Australian:
"It [fixed rates] could be more than 30 per cent (across the banking sector) … but I wouldn't fear that"…

"The reality is that this market is moving more toward fixed rates for certainty, it was about 10 per cent of the (NAB) book I think you'll see it quite quickly getting to 30 per cent … we are seeing that in the (new mortgage) flows"…

NAB has the lowest four-year fixed rate among its main rivals. That is after it announced an 81 basis points cut to its four-year fixed mortgage rate to 1.98 per cent per annum.
Significant growth in fixed rate mortgages is a certainty.
The RBA's indicator lending rates for October revealed that the gap between average discount variable mortgage rate and the 3-year fixed mortgage rate had ballooned to 1.26%: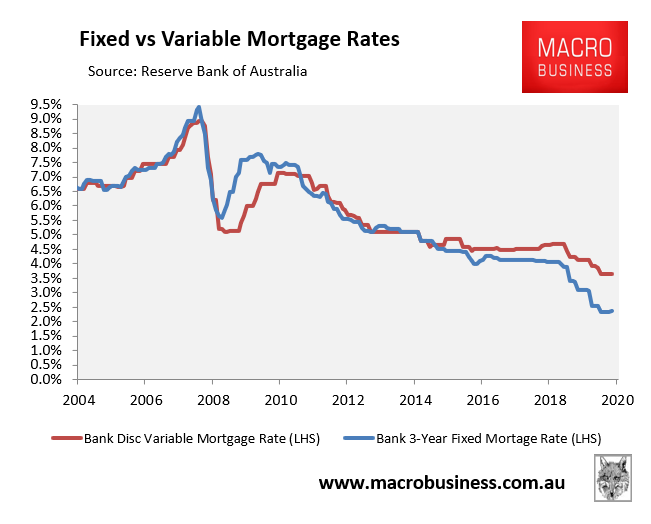 The major banks passed this week's 15 basis point reduction in the RBA cash rate on to fixed rate mortgages, but left variable rates unchanged. Therefore, the gap between fixed and variable rates has widened even further.
With fixed mortgage rates below 2% available from some lenders, borrowers would be crazy not to take advantage.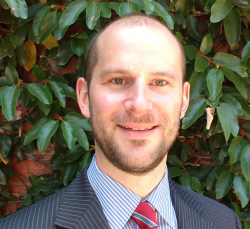 Latest posts by Unconventional Economist
(see all)