So far, US institutions have done well. But there are worrying signs that El Trumpo is hanging on. Via Nine:
President Donald Trump's personal lawyer has confirmed proceedings have begun to sue over alleged "fraudulent ballots", claiming people will be "shocked" by the findings.

Rudy Giuliani tweeted that the Trump campaign has "sued to invalidate hundreds of thousands of fraudulent ballots in the Western District of Michigan".

"First PA (Pennsylvania), the Michigan will go to Trump," he tweeted.

"Affidavits will be published tomorrow. You will be shocked."

No evidence has been sighted.
NYT is emphatic:
Election officials in dozens of states representing both political parties said that there was no evidence that fraud or other irregularities played a role in the outcome of the presidential race, amounting to a forceful rebuke of President Trump's portrait of a fraudulent election.

Over the last several days, the president, members of his administration, congressional Republicans and right wing allies have put forth the false claim that the election was stolen from Mr. Trump and have refused to accept results that showed Joseph R. Biden Jr. as the winner.

But top election officials across the country said in interviews and statements that the process had been a remarkable success despite record turnout and the complications of a dangerous pandemic.
But this is a propaganda war. WaPo shows how easy it is to distort things:
A Pennsylvania postal worker whose claims have been cited by top Republicans as potential evidence of widespread voting irregularities admitted to U.S. Postal Service investigators that he fabricated the allegations, according to three officials briefed on the investigation and a statement from a House congressional committee.

…Hopkins, 32, told investigators from the U.S. Postal Service's Office of Inspector General that the allegations were not true, and he signed an affidavit recanting his claims, according to officials who spoke on the condition of anonymity to describe an ongoing investigation. Democrats on the House Oversight Committee tweeted late Tuesday that the "whistleblower completely RECANTED."

Hopkins's allegations, without his name, were first aired last week by Project Veritas, an organization that uses deceptive tactics to expose what it says is bias and corruption in the mainstream media. Hopkins agreed to attach his name to the allegations late last week. He was instantly celebrated by Trump supporters.

Project Veritas founder James O'Keefe on Saturday hailed Hopkins as "an American hero" on Twitter. A GoFundMe page created under Hopkins's name had raised more than $136,000 by Tuesday evening, with donors praising him as a patriot and whistleblower. The fundraising page was removed by GoFundMe after this story was published Tuesday, a spokesman for the platform said.

"Your donations are going to help me in the case I am wrongfully terminated from my job or I am forced into resigning due to ostrizization [sic] by my co-workers," the page states. "It will help me get a new start in a place I feel safe and help me with child support until I am able to get settled and get a job."

A spokesman for GoFundMe, Bobby Whithorne, said in a statement that the money raised on the site was "not disbursed and Hopkins never had access to the funds."

Separately, on Monday Project Veritas announced it was offering a "$25,000 reward" for "first hand election fraud tips in Pennsylvania." Late Tuesday, O'Keefe claimed to have recordings of agents questioning Hopkins and said that he was pressured to sign a document he did not understand.
What could possibly go wrong with that? The guy has flip-flopped again:
RECORDING: Federal agents "coerce" USPS whistleblower Hopkins to water down story. Hopkins doubles down…

Agent Strasser: "I am trying to twist you a little bit"

"I am scaring you here"…" we have Senators involved…DOJ involved…reason they called me is to try to harness." pic.twitter.com/tK2JPu6Wqm

— James O'Keefe (@JamesOKeefeIII) November 11, 2020
The campaign is clearly to swamp everything with garbage:
WATCH: @kayleighmcenany runs through the shocking allegations of voter irregularities revealed in 234 pages of signed and sworn affidavits.

"These are real and anyone who cares about transparency and integrity of the system should want this to proceed to the discovery phase." pic.twitter.com/hesu7C9y77

— Trump War Room – Text TRUMP to 88022 (@TrumpWarRoom) November 11, 2020
There's more going on under the surface, at CNN:
President Donald Trump and his allies in the administration are dislodging officials across the government and burrowing loyalists into agencies in a way that could make them difficult for President-elect Joe Biden to remove next year.

The moves following Trump's loss to Biden, which the President has thus far refused to accept, appear to be an effort to shape the government to Trump's liking on his way out the door, while also impeding Biden's transition to power. Biden's transition has yet to officially start because the Government Services Administration, the obscure agency that runs the transition process, has not formally accepted Biden as the winner.

Since the election, more than a half-dozen senior officials across the government have either been fired, demoted or resigned.

The biggest name so far has been former Defense Secretary Mark Esper, who Trump fired by tweet on Monday. A day later, the Pentagon's top policy official, James Anderson, resigned and was replaced in an acting capacity by controversial retired Brig. Gen. Anthony Tata, whose confirmation was jettisoned amid bipartisan opposition earlier this year. The Pentagon's Undersecretary for Intelligence Joseph Kernan also resigned Tuesday, along with Esper's chief of staff, Jen Stewart.

One defense official said of the moves, "This is scary. It's very unsettling."

"These are dictator moves," the official said.
I doubt that El Trumpo has support in the military and, so far, it appears the American public is holding up as well, via News:
A new poll shows almost 80 per cent of America's believe Joe Biden was fairly elected as the next US President, suggesting Donald Trump's voter fraud claims aren't gathering as much support as he had hoped.

A Reuters/Ipsos national opinion survey, which was run by Edison Research from Saturday afternoon to Tuesday, found 79 per cent of US citizens surveyed believe Mr Biden won the election.

Of the other responses, 13 per cent said the election has not been decided, three per cent believe Mr Trump won and five per cent said they didn't know who won.
But you can also pick your poll with all sorts of rubbish being published on social media.
So, what happens now? At The Guardian:
The electoral college meets on 14 December to cast its vote for president and nearly every state uses the statewide popular vote to allocate its electors. Joe Biden is projected to win far more than the 270 electoral votes he needs to become president. His victory doesn't hinge on one state and he has likely insurmountable leads in Michigan, Nevada, Wisconsin, Pennsylvania and Arizona.

There is a long-shot legal theory, floated by Republicans.


before the election, that Republican-friendly legislatures in places such as Michigan, Wisconsin, and Pennsylvania could ignore the popular vote in their states and appoint their own electors.

Federal law allows legislatures to do this if states have "failed to make a choice" by the day the electoral college meets. But there is no evidence of systemic fraud of wrongdoing in any state and Biden's commanding margins in these places make it clear that the states have in fact made a choice.

"If the country continues to follow the rule of law, I see no plausible constitutional path forward for Trump to remain as president barring new evidence of some massive failure of the election system in multiple states," Richard Hasen, a law professor at the University of California, Irvine, who specializes in elections, wrote in an email.

"It would be a naked, antidemocratic power grab to try to use state legislatures to get around the voters' choice and I don't expect it to happen."
American institutions will hold up against what is basically the mother of all sore loser tantrums but it's quite unsettling nonetheless.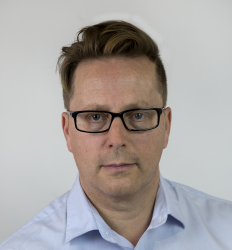 Latest posts by David Llewellyn-Smith
(see all)