The Australian Construction Industry Forum (ACIF) has forecast that construction activity will fall by 3.2% in 2020-21 due to the impact of COVID-19. Construction work in the accommodation sector is tipped to fall by 34%, while a 23% decline in entertainment and recreation projects is expected.
However, the ACIF expects an increase in construction work in the industrial property, health and aged-care sectors. Activity in the residential construction sector is expected to remain subdued for several years, but growth in home renovations is forecast.
From The AFR:
[ACIF] warns that the depressed housing cycle is baked in to the economy for a couple of years – due to lower numbers of dwelling approvals that are only now normalising – and this will prevent construction from returning above the previously-forecast $230-billion-level before 2023.

"The big story is that it will take until 2022-23 for most of these changes to play through," said Kerry Barwise, ACIF's consulting economist.

"It will take a while for those green shoots to translate into a boost on the ground building houses"….

ACIF's predicted 3.2 per cent decline in activity this financial year alone – from $232 billion worth to $224.7 billion worth – will result in the loss of 42,000 construction jobs, mostly in Victoria, NSW and Queensland.
Construction was already a major drag on the Australian economy in 2019-20, with total gross fixed capital formation falling 5.5% year-on-year, driven by a 7.6% decline across the private sector as Depressionberg allowed public to taper off: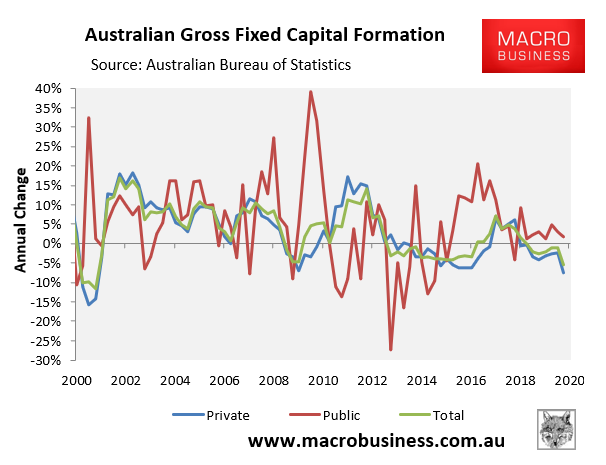 Thus, the forecast 3.2% decline in construction activity in 2020-21 would further drag on jobs and growth, stifling Australia's economic recovery.
As we've said many, many times, the difficulty with the construction growth model is you have to increase dollar amount and floor area every single year or you are shrinking. It is the rate of change that matters to growth and jobs not the absolute amount.
Because Australia has spent a decade running such spending up it is becoming increasingly difficult to even hold a high plateau, let alone grow it.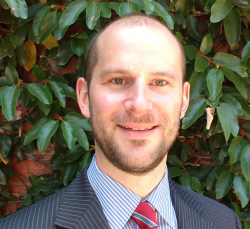 Latest posts by Unconventional Economist
(see all)