The secretary of the Australian Treasury, Dr Steven Kennedy, wants to see Australia's immigration level return to pre-pandemic "usual" levels, claiming it is essential to boost the "dynamism" of the economy:
"It would be good to see Australia's migration return to our previous levels but it has to be done with management of the virus."

He said there was a lot of dynamism to be gained for the Australian economy through a vibrant migration program.

The immediate priority in terms of international flights is getting Australians home, but then looking at students, business travellers and skilled migrants.

Dr Kennedy said the government was giving active thought to safely scaling up migration.

"We have to take these things one step at a time because of the level of uncertainty that's in front of us.

"But then, as the government has made clear, they will look at building the program more back to its usual levels."

He said productivity would also be key to economic growth, but it was still unclear how the coronavirus shock would affect it.
There was nothing "usual" about Australia's pre-COVID level of immigration: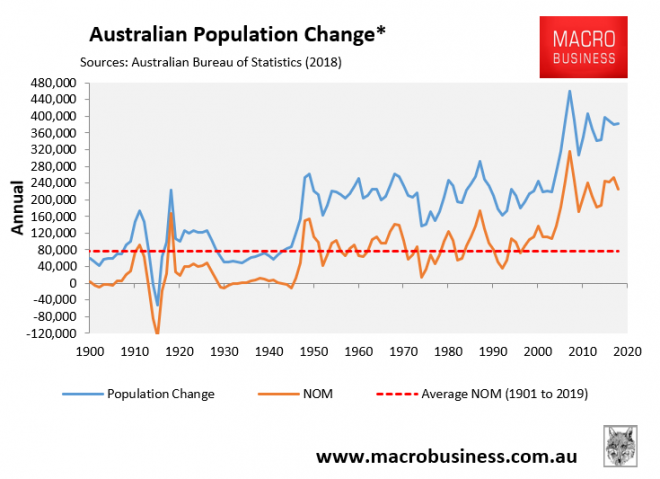 The past 15 years of extreme net overseas migration (NOM) was clearly an aberration from Australia's historical norm.
It is also clear that this extreme NOM was deleterious for Australia's productivity and living standards.
The Department of Home Affairs' Continuous Survey of Migrants report shows that migrants have significantly worse labour market outcomes than the general population:

In particular:
The unemployment rate of surveyed migrants (12.6%) was more than double the general population (5.5%) in 2017;
The median annual full-time earnings of migrants was $16,500 (22%) below the general population in 2017; and
The median annual earnings of migrants was $5,900 (10.2%) below the general population in 2017.
Even if we only focus on the skilled stream, both median earnings and unemployment are far worse than the general population:

Therefore, according to the actual empirical data provided by the federal government, Australia's mass immigration program unambiguously increased unemployment, suppressed wages, and reduced average hours worked – all bad outcomes for the economy.
Australia's productivity has also been negatively impacted by high immigration.
Allowing Australian firms to grab cheaper migrants instead of paying higher wages to local workers has necessarily discouraged these firms from innovating and adopting labour saving technologies, which would boost the economy's overall productivity. It also prevents creative destruction by enabling low productivity firms to remain in business.
Stemming the flow of low-wage migrants would force the least productive firms to contract and go bust, transferring workers, land and capital to more productive businesses. In turn, this would raise average productivity across the economy.  Further, all firms, observing higher wages, would invest more in labour saving technologies and restructure to lift productivity.
There is a reason why construction firms, farms and manufacturers in advanced nations usually involve a handful of workers operating heavy machinery, whereas in low-wage developing countries these are manned by many workers doing manual labour. The higher cost of labour in advanced countries forces these firms to invest in labour saving machinery, which lifts overall productivity.
Lower immigration will also reduce another major drag on Australia's productivity: infrastructure bottlenecks and congestion. And it will improve Australia's current account, since Australia would import far less and the nation's immense mineral wealth (and primary exports) would be shared among less people.
On the last point – the current account – notice below how Australia's two biggest migrant magnets of Sydney an Melbourne have driven gigantic trade deficits?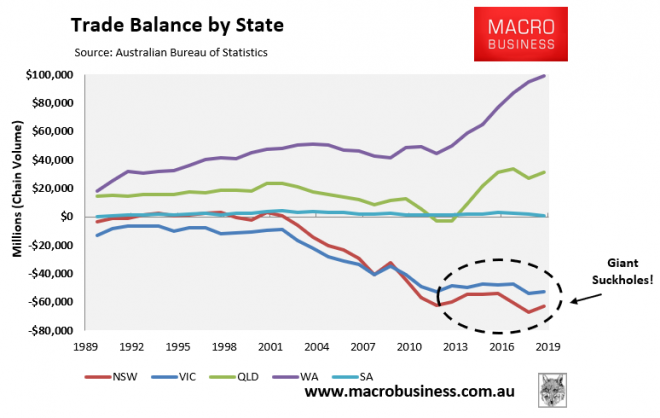 This is not a coincidence.
Essentially, all of the extra migrants that flooded into these two cities over the past 15 years barely lifted exports, since these cities don't actually produce much that is tradeable. By contrast, imports skyrocketed via more purchases of consumer goods like flat screen TVs, cars, furniture, etc. These net imports must be paid for, either by increasing the nation's debt or by selling-off the nation's assets. Australia has been doing both.
The truth is that running a mass immigration 'Big Australia' policy promotes 'dumb' growth, concentrated in urbanisation and household debt, and associated sectors benefit (think Big Property, Big Retail and banking). This has its limits, as we have seen in debt stress everywhere and declining liveability, as it benefits a small number of elites over the many, thereby increasing inequality.
But it's not the preferred model of growth. Far from it. Productivity enhancement and competitiveness are a far better model over the long run as they lower debt while boosting incomes per capita, are more meritocratic.
Returning to the mass immigration 'Big Australia' policy post COVID will only further stifle productivity, worsen the unemployment queues and further depress wages, smashing Australia's working class.
The policy needs to be junked for the sake of productivity, liveability and equality.
The Australian Treasury needs to get with the program and dump its Three-Ps policy (population, productivity and participation) in favour of Two-Ps (productivity and participation).
Treasury should instead follow the lead of the Nordic countries – Sweden, Denmark, Finland and Norway. They are renowned as being among the wealthiest, happiest, best functioning nations in the world with the highest living standards. They also achieved this success without mass immigration-driven population growth:

The world has 7.6 billion people. Australia doesn't need to import them to sell to them. This is not what smart countries do.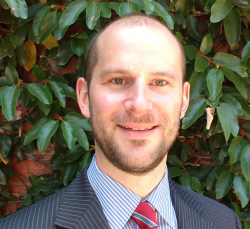 Latest posts by Unconventional Economist
(see all)