See the latest Australian dollar analysis here:
DXY was down last night:

The Australian dollar is uber-bid once more:

Oil was firm and gold weak in the circumstances:

Metals are in heaven:

Miners to the moon!

EM stocks to the moon!

Junk is fine:

US yields lifted:

Stocks too:

Via the ABC:
US drug manufacturer Moderna has released data that shows its experimental COVID-19 vaccine was 94.5 percent effective, based on interim data from a late-stage trial.

Moderna's interim analysis was based on 95 infections among trial participants who received either a placebo or the vaccine. Its findings were not published in a peer-reviewed journal paper.

Of those, only five infections occurred in those who received the vaccine, which is administered in two shots 28 days apart.

This makes the company the second US manufacturer to report results that far exceed expectations, following Pfizer's announcement of promising vaccine test results last week.
That's pretty much all she wrote for markets. The rest is a simple falling DXY triggering the usual commodity and AUD bid.
It's an old if useless habit to record the risks so humour me. Europe is getting on top of the virus as it runs wild in the US:

The entire Atlantic economy is shutting down one blow at a time with the US still ahead as even recalcitrant states see hospitals overwhelmed:

That's bullish because it means more stimulus, except that there isn't any fiscal in the US and Europe has reached an impasse as well.
But that's still bullish because central banks will come to the rescue and, conducted by fakeflation maestro Goldman Sachs, DXY is going tumble next year: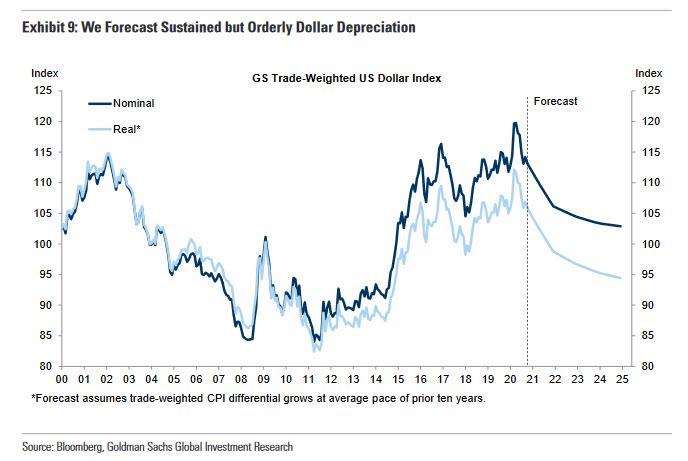 Suspended capitalism at work. How it will be restored is a mystery. Perhaps with a very short cycle and recession.
So, I agree that DXY is going to fall next year and that is going to pressure commodities and the AUD higher at the margin. However, China is going to slow and real demand for dirt soften so iron ore especially I see as weak. This will likely be accompanied by a topping CNY. Australia's Chinese decoupling will continue as well.
At some point, these things will matter again so I do not see the Australian dollar shooting to the moon in 2021.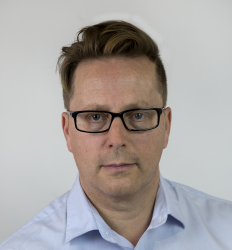 Latest posts by David Llewellyn-Smith
(see all)