On Friday, the Australian Bureau of Statistics released services trade data for the 2019-20 Financial Year, which revealed that education exports from China plunged by 14.2%. However, this was almost fully offset by strong growth in education exports from India (+19.2%) and Nepal (+12.6%), with total education exports falling by only 0.7% over the year: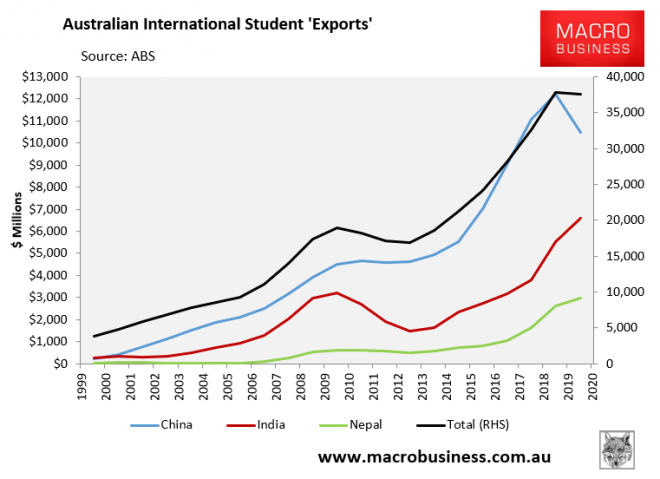 This mirrors the Department of Educations enrolments data for September, which revealed that Chinese enrolments fell by 10.1% year-on-year, mostly offset by a 6.4% rise in Indian and a 6.5% increase in Nepalese enrolments: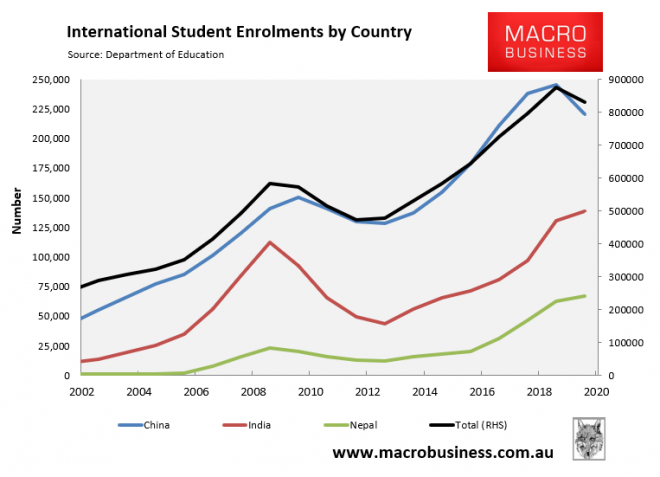 India (108,203) also overtook China (108,155) to become Australia's biggest source of international students, according to the Department of Home Affairs' latest student visa report, following a 14.3% surge in enrolments in the year to June 2020:

These results suggest that Australia's education industry has reached deep down the quality barrel to juice enrolment numbers.
Last year's Four Corners expose on Australia's international student trade was scathing of the quality of students coming from the Indian sub-continent and reported widespread academic misconduct, plagiarism, and high failure rates.
The below correspondence from Murdoch University Professor, Benjamin Reilly, highlights the problems, with the strong growth in Indian students badly eroded pedagogical standards:
"In semester one 2018 we experienced a surge in new international students into some postgraduate courses. This surge increased sharply in semester two 2018, with several hundred new students, mostly from the Punjab region of India, enrolling in a small number of postgraduate courses.

"While some were OK, many do not have the language skills to study at a postgraduate level and have thus been unable to participate in class or complete assessments for the units legitimately.

"Hence we now have a much larger number of academic misconduct issues, supplementary assessments and outright failures than we have previously experienced in the units in which this cohort has enrolled"…
Fellow lecturer and academic misconduct investigator, Dr Duncan Farrow, expressed similar concerns:
"Perhaps the most telling statistic of them all: 48 of the 80 students admitted to the MIT in semester one this year had at least one academic misconduct finding against them," he wrote.

"Not only was there a huge increase in numbers of misconduct cases but additionally the investigations were more difficult due to the poor language capabilities of many of the students involved.

"I have just reviewed the results for students from the Punjab region in BSC100 Building Blocks for Science Students and it is depressing. Of the 52 students in this category, 12 have passed the unit outright — a pass rate of less than 25 per cent.
New Zealand reported problems with large numbers of Indian students arriving primarily for the purposes of gaining employment and permanent residency:
In 2016, at the height of an export education boom, 11,024 Indians came to New Zealand on student visas.

Most came from the remote, rural Sikh-majority Punjab province, lured by promises made by unlicensed education agents and illusory sales pitches by tertiary institutions and our government that New Zealand offered a straightforward "pathway to residency"…

Half of all overseas students arrive here via an agent. And while immigration agents in this country must be licensed, offshore education agents are not. That means there's no regulation of the promises they make…

Students will often borrow against land or homes to finance their study, but in some cases, says Malkiat Singh, agents construct sophisticated financial arrangements to skirt Immigration NZ inquiries into students' finances…

Tertiary education recruitment from India has reached such an extent that many business courses will have an entirely Indian cohort. Some, says McClymont, will have a Hindi translator in the classroom…

Bhavdeep Singh laughs at the business courses he studied. "The education I was getting here I can compare to like my tenth grade school"…

The Indian students who come here tend to be poorer than from other countries, study at lower-quality establishments and need employment quickly…

"Every student who comes from overseas spends 30 grand on their studies – and nobody is going to spend that if they're not going to get residency at the end."
It's a similar story for Nepalese students, with education experts warning that dodgy agents have sold the dream of gaining work rights and permanent residency:
The number of education agents – or recruiters – operating in Nepal has leapt from a few hundred to more than 3000… About half the Nepalese students enrolled in vocational education and training or English language courses.

The trend has alarmed higher education experts, who warn it is unlikely the students can genuinely afford to study in Australia, and are likely involved in exploitative work to pay for their tuition…

Andrew Norton, professor of higher education policy at the Australian National University, said the Nepalese influx should be "red-flagged" by the Department of Home Affairs.

"Nepal is a country with a not-very-large population and it is very poor," he said. "You have these basic questions of how so many people can afford to come to Australia and afford education here"…

Professor Norton said Nepalese international students had "an extremely high number" of secondary applicants on their visas, "suggesting to me that maybe they're bringing in their spouses to work"…
Tim Colebatch has also questioned why so many poor Nepalese students have flooded into Australia:
Deregulation has allowed universities to selectively lower their standards to bring in more fee-paying foreign students, even when they fail to meet the thresholds for English language skills or academic achievement…

This is not the first time immigration from Nepal has surged. A decade ago, we saw a scam with training visas, in which "students" from India and Nepal came for training courses in Australia, then quickly vanished into the workforce. The scam saw net immigration set record levels in 2008–09, before then immigration minister Chris Evans shut it down. But most of those who came stayed on here.
Students from these two nations are clearly gaming Australia's education system for backdoor immigration. And this is being facilitated by our higher education industry, which has slashed entry and teaching standards to accommodate them, and have effectively become agents and 'middle-men' to Australia's immigration system.
RIP entry and pedagogical standards.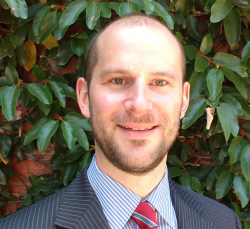 Latest posts by Unconventional Economist
(see all)