See the latest Australian dollar analysis here:
DXY was down Friday night:

The Australian dollar up:

Oil fell. Gold pulled back from the cliff:

Metals are powering on:

Miners firmed:

And EMs stocks:

EM junk is signalling risk on:

Treasuries softened:

Stocks lifted:

Markets are still happy to ignore the virus as it rips through developed markets and lockdowns intensify. There are some signs that the European lockdown lite is slowing cases but over the weekend more tightening was announced across a bunch of countries:

The economic fallout is increasingly obvious:

But the US is not even trying as El Trumpo enjoys his revenge.  There the virus is running wild and free across the prairie, doubling every two weeks with hospitalisations and deaths set to soar: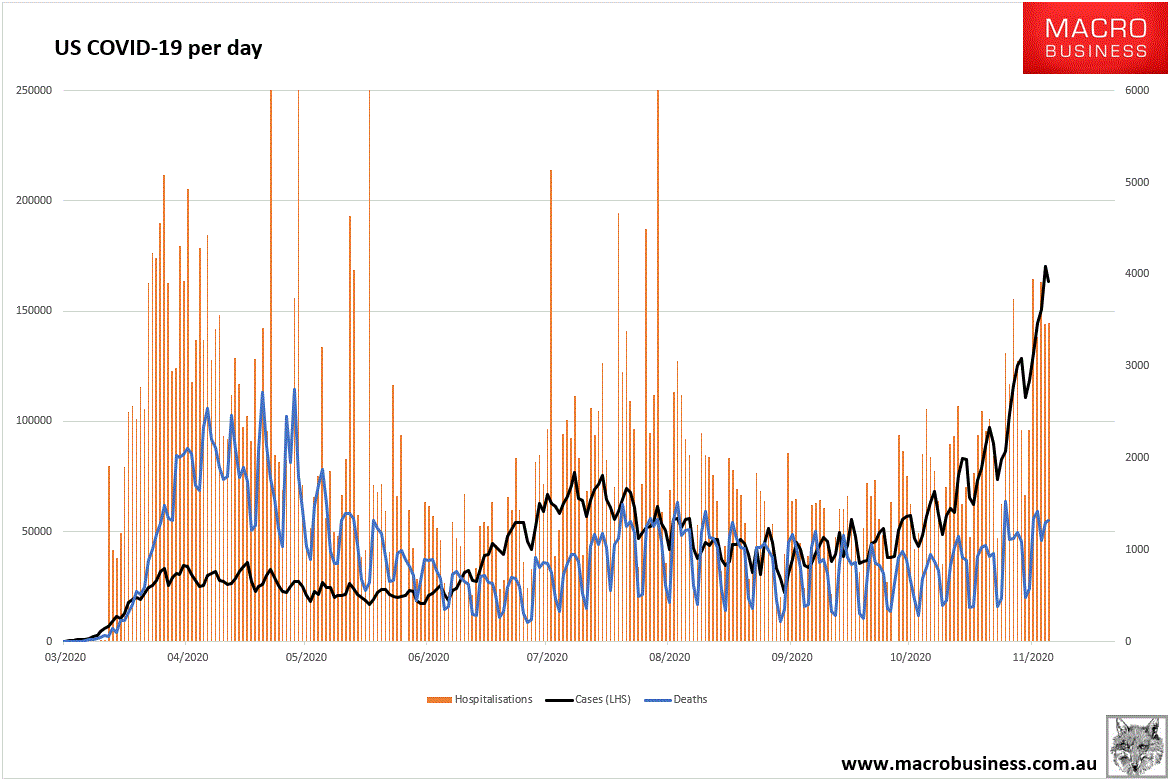 Failure to do anything means the economic harm has so far been limited though it is mounting:

El Trumpo's revenge is beautifully illustrated in North and South Dakota:
South Dakota reported a record 45 deaths Saturday. Deaths lag infections by weeks or months — and the number reported Saturday represented almost 8% in a single day of the total 615 fatalities reported.

Governor Kristi Noem has opposed mask mandates and any other anti-virus measures, despite that her state has been among the worst-hit in recent months. On Friday, she said she would not enforce any national measures put in place by a Biden administration. The same day, Governor Doug Burgum of North Dakota, who had also resisted anti-virus measures, announced a mask mask mandate and other restrictions.

North Dakota broke another record for new infections, 2,278, the day after Governor Doug Burgum reversed course and imposed a statewide mask order and other anti-virus measures.

The Republican governor, long reluctant to impose restrictions even as North Dakota became one of the hardest hit states, announced the mask mandate along with other measures Friday night in a video, noting that hospital capacity was straining and that the state had crossed the "tragic milestone" of 700 deaths. Hours were limited for bars and restaurants, capacity for events was reduced and winter sports were paused.
Anti-science Trumpian states can hold out only so long as death reaps a booming harvest. Expect them all to capitulate before long. The biggest issue for the entire Atlantic is this:

We're only mid-November!
Buoyed by vaccines for 2021, markets are still seeing off the unfolding disaster of today even as it drags down, precipitously, the baseline for an earnings recovery. So long as valuations do not enter your calculus then buying the dip makes some sense in these terms.
Still, I can't see how the Australian dollar can rise while a shock of such magnitude transpires. I'm expecting volatility to continue with a downside bias for now. That said, the Fed meets this week and a dovish surprise as fiscal stagnates is possible which would lift the Aussie.
Next year, as the Atlantic economies rebound, is a much better bet for a stronger AUD.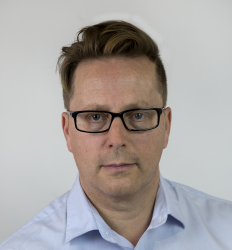 Latest posts by David Llewellyn-Smith
(see all)