As summarised earlier, the Australian Bureau of Statistics (ABS) today released its labour force report for October, which registered a 0.1% rise in the official unemployment rate to 7.0% but a 1.4% increase in jobs: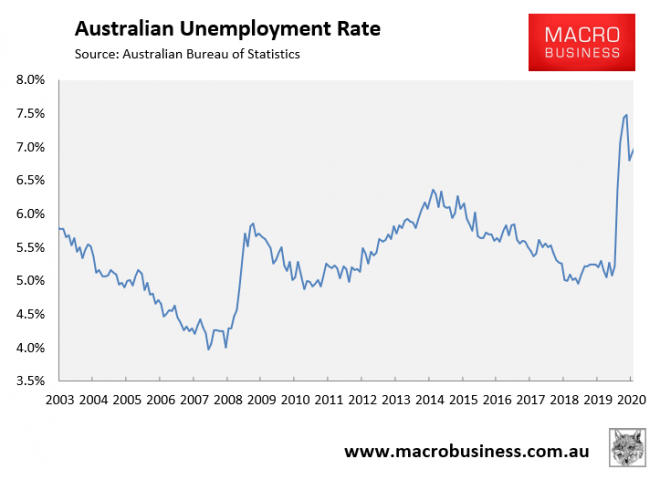 Full-time jobs surged by 97,000 and part-time employment by 81,800: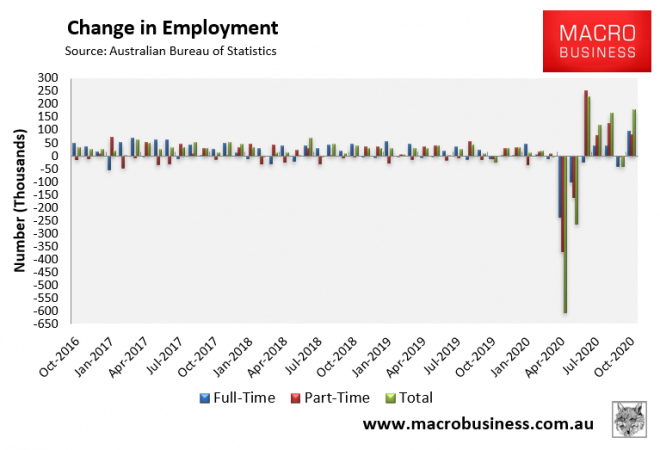 The participation rate rose by 0.95% to 65.81%, which is why the unemployment rate rose despite strong jobs growth: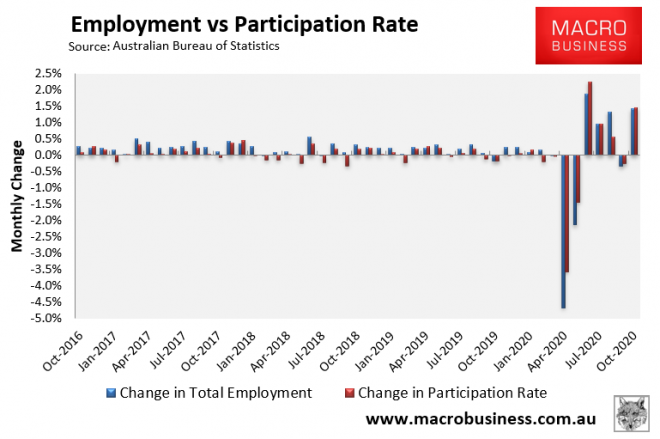 Total employment has rebounded 5.3% from its May low, and remains only 1.7% below its February peak: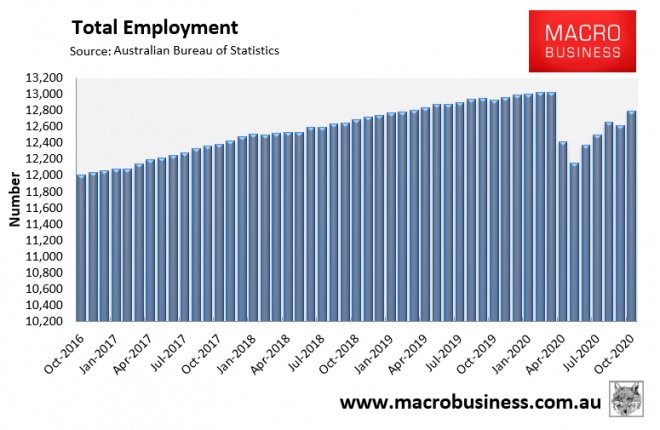 Full-time employment has rebounded 1.6% from its June low, but remains 2.7% below the February peak.
By contrast, part-time employment has rebounded 15.0% from its May low and is now 0.3% above its February peak: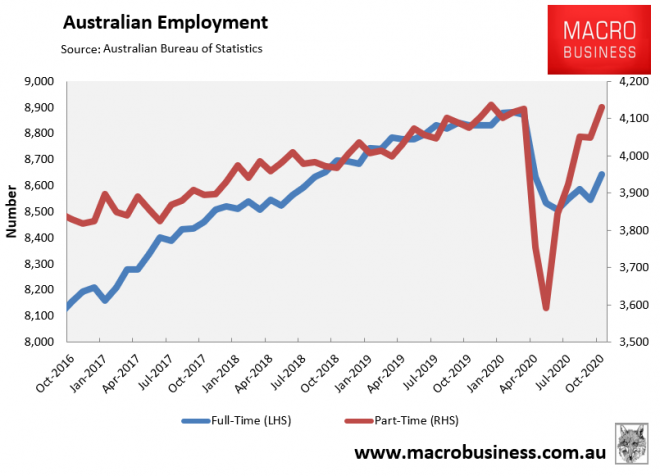 Employment losses since the pandemic began remain broad-based, but worst in VIC and NSW, whereas the smaller capitals are travelling nicely: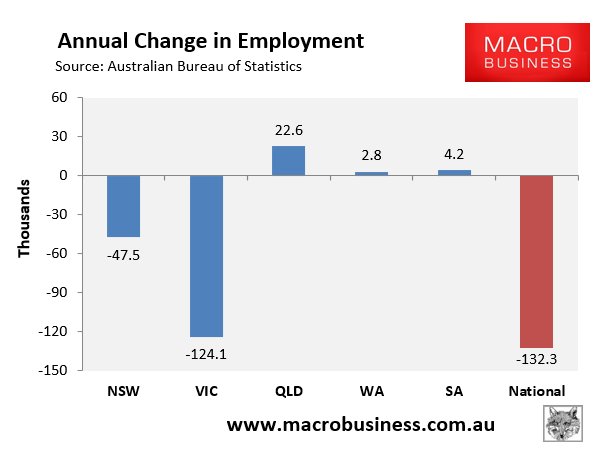 NSW has the lowest unemployment despite losing jobs, whereas Tasmania has the highest: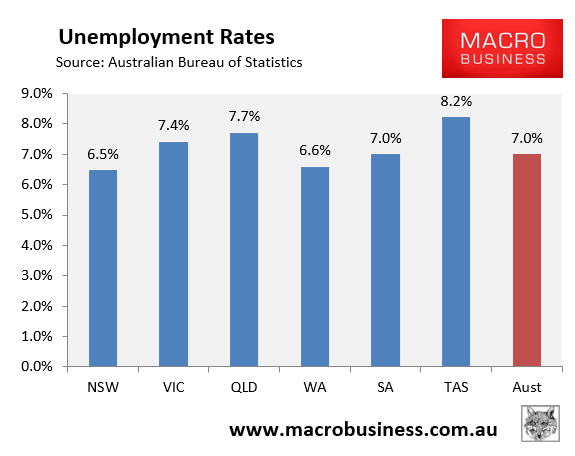 Most importantly, aggregate hours worked rose 1.22% in October but remains 3.8% below its March peak: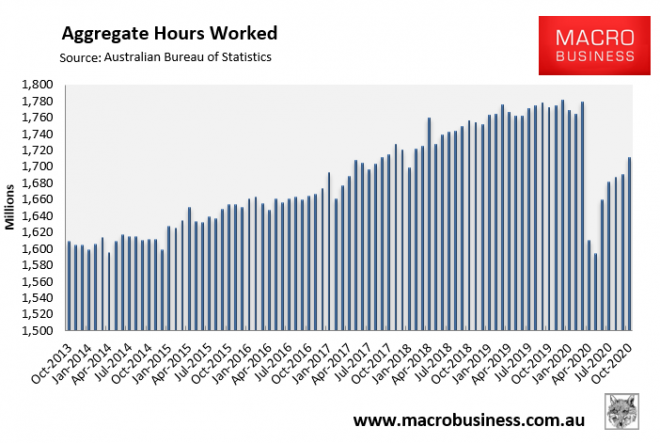 Average hours worked collapsed to a fresh record low: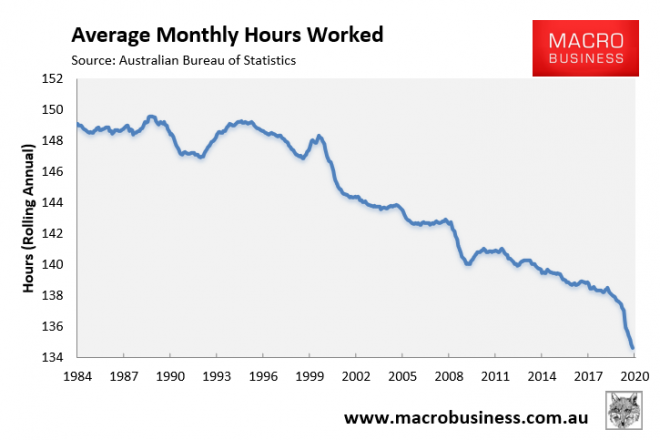 The next chart shows the broad-based changes across the Australian labour market over the past year: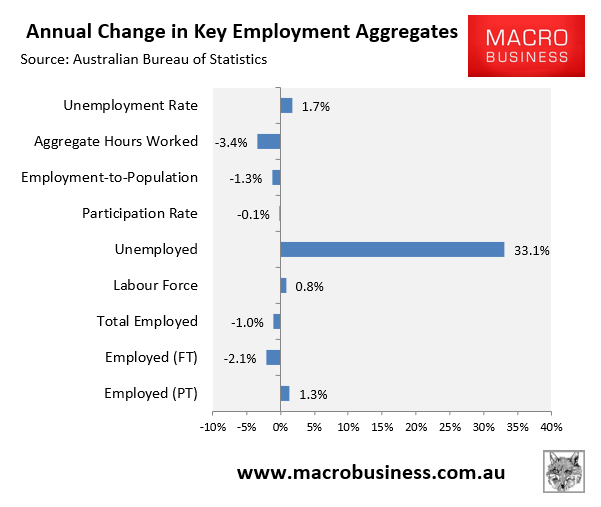 Finally, the underemployment rate fell 1.0% to 10.4%, whereas underutilisation fell 0.9% to 17.4%: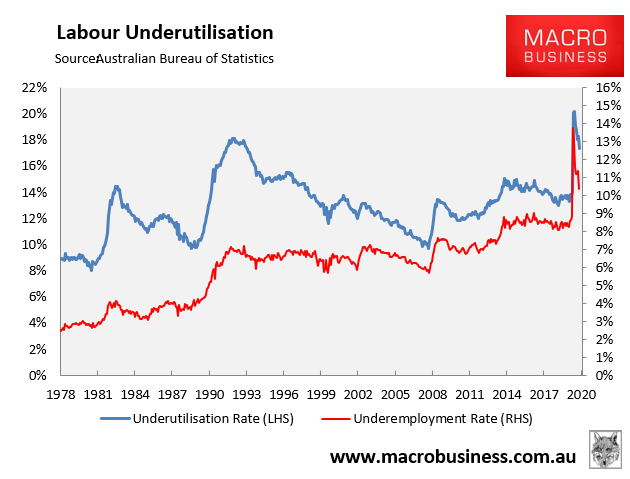 The ABS' official unemployment rate should be taken with a teaspoon of salt given it is obfuscated by the millions of Aussies receiving JobKeeper.
Those receiving JobKeeper, but not working, are not counted as unemployed. Thus, the true unemployment rate is worse than reported by the ABS and way below Roy Morgan's alternative estimate:

It is also at odds with the ABS' weekly payrolls series, which claims jobs were tracking 3.0% below their 14 March level after minimal improvement in October:

That said, aggregate hours worked is the more important indicator of how the labour market is tracking as it is not obscured by changes in the participation rate nor JobKeeper. This posted a solid bounce in October and shows that the labour market is genuinely recovering.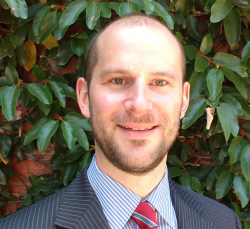 Latest posts by Unconventional Economist
(see all)