More bad news for El Trumpo overnight with The Economist endorsing Joe Biden:
Our cover this week  sets out why, if we had a vote, it would go to Joe Biden. The country that elected Donald Trump in 2016 was unhappy and divided. The country he is asking to re-elect him is more unhappy and more divided. After almost four years of his leadership, politics is even angrier than it was and partisanship even less constrained. Daily life is consumed by a pandemic that has caused almost 230,000 reported deaths amid bickering, buck-passing and lies. Much of that is Mr Trump's doing and his victory on November 3rd would endorse it all. Mr Biden is Mr Trump's antithesis. He is not a miracle cure for what ails America. But he is a good man who would restore steadiness and civility to the presidency. Were he to be elected, success would not be guaranteed—how could it be? But he would enter the White House promising the most precious gift that democracies can bestow: renewal.
The latest polls are unmoving for El Trumpo. Headline:

Battleground:

Betting:

538 is at 89%:

Then there is the virus: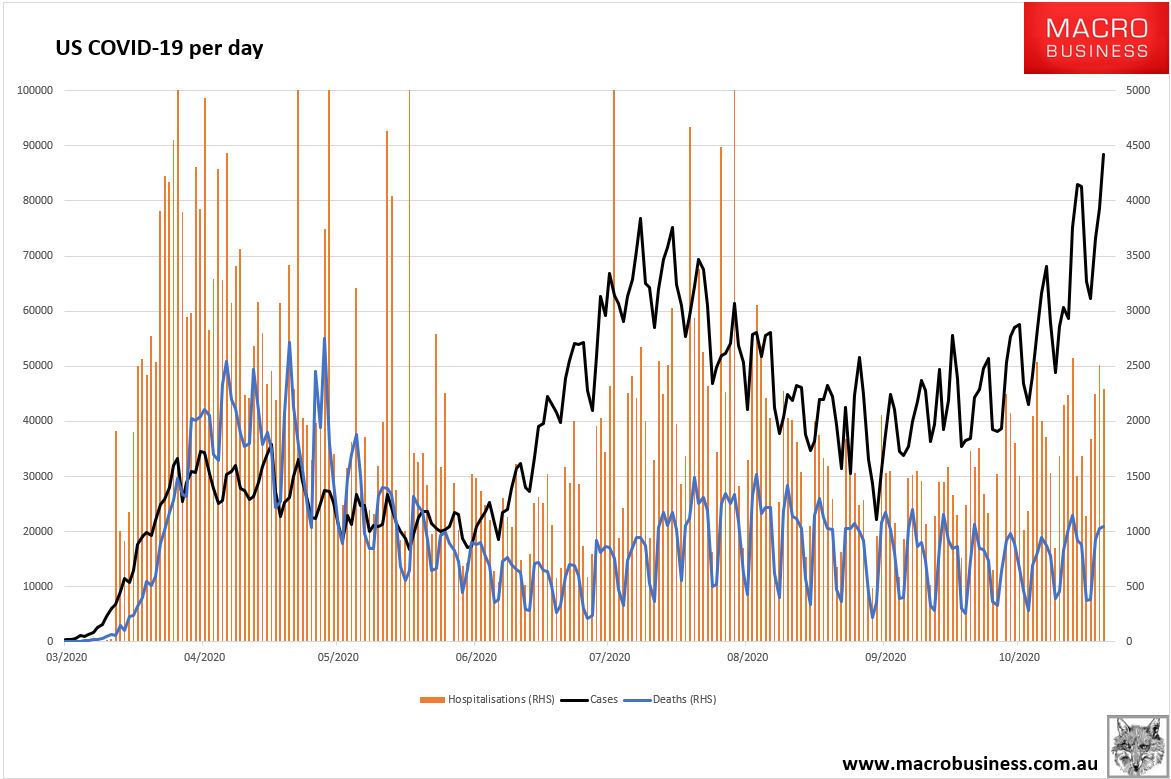 Which is gutting Trump support in battleground states, at FT:
Donald Trump's chance of victory in next week's presidential election rests on a dwindling number of swing states as a spike in coronavirus cases across the Midwest dents his ratings in crucial battlegrounds, according to pollsters.

Mr Trump will continue his tour of battleground states on Thursday, with planned visits to Florida and North Carolina, before returning to the Midwest on Friday with campaign stops in Wisconsin and Minnesota.

But the president's hopes of winning the upper Midwestern states that propelled him to victory in 2016 — Pennsylvania, Michigan and Wisconsin — have taken a blow in recent weeks as a third surge of Covid-19 cases ravages the region and focuses voters' attention on his administration's handling of the pandemic.
Nobody could have foreseen that killing your own base would cost you at the polling booth.
Still, Trump's hopes for stealing the election got a boost this morning:
BREAKING: Because of LAST MINUTE ruling, Minnesota DO NOT put ballots in mail any more.
In the middle of a pandemic, the Republican Party is doing everything to make it hard for you to vote. Stand up for YOUR rights:

Vote in-person or take mail-in ballot directly to ballot box https://t.co/rPlAwN8K0q

— Amy Klobuchar (@amyklobuchar) October 29, 2020
And 538 has outlined his coup methodology:
Take Pennsylvania, arguably the most important swing state this election as it's currently the likeliest "tipping-point state" in our forecast, or the state that could determine the winner of the Electoral College. About 2 million mail-in ballots have already been returned so far, almost one-third of the total number of votes cast in the state four years ago. But because the state can't begin processing mail ballots until 7 a.m. on Election Day, it could be awhile before we get full results in Pennsylvania. State officials have said that it could take until Friday to finish counting most ballots. And between Tuesday and Friday, there could be a pretty big shift in terms of which party is favored in the vote tally, given that Biden supporters are far more likely to vote early or absentee than Trump supporters, who are far more likely to vote on Election Day

In other words, we need to brace ourselves for a "blue shift" in states like Pennsylvania. That is, states that primarily report Election Day results first could show Republicans with an initial lead on election night only to then shift toward Democrats as more mail ballots are counted. To be clear, this won't be true everywhere. Some states, like Florida, are already counting early votes and will likely report a lot of its early in-person and mail votes ahead of many Election Day votes.
Declare the victory on the night then try to shut down the postal vote count that contains the "blue wave".
It's going to be one hell of a day.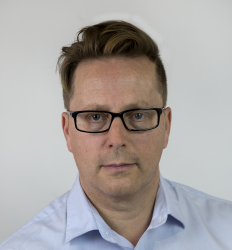 Latest posts by David Llewellyn-Smith
(see all)