Via The Fake Left:
A former New South Wales judge has called for "independent" to be dropped from the name of the state's planning commission after it approved the controversial Narrabri coal seam gas development, arguing the body is effectively controlled by the government.

The commission on Wednesday gave what it described as "phased approval" of the $3.6bn project in the state's north. The decision, which included 134 conditions, was welcomed by the proponent, oil and gas company Santos, and the federal and state governments, but criticised by local farmers, conservationists and Indigenous traditional owners.

Paul Stein QC, a retired court of appeal judge now speaking as a committee member of the Centre for Public Integrity, said he was "deeply concerned" that the NSW Independent Planning Commission had been diminished by changes introduced by the government in March following complaints by mining and resources interests.

They included allowing the planning minister, Rob Stokes, to impose a tight timeframe in which a decision had to be reached and appointing new members to the commission.

"We believe the IPC shouldn't have the word independent in the title anymore because they're essentially under the control and direction of the minister," Stein told Guardian Australia.

"This was a massive inquiry, highly technical, and it was ordered to be finished in 90 days, and that was only extended to 120 days because [Santos] put in further submissions. It is very hard for a tribunal or commission to withstand such intense political pressure."

Stein said he did not want to comment on the development itself, but believed the process had been compromised.

He said a decision of the complexity of the Narrabri development could need up to six months to properly consider under normal circumstances, and feared that future applications for mining and resources developments that came before the commission "might be seen as a bit of a foregone conclusion".
No shit. There is still a way to kill the project. Via Chanticleer:
…the Santos board will have to factor in the impact of the Port Kembla gas import terminal (up to 100 petajoules per annum) and the Port of Newcastle gas import terminal (about 110 PJ per annum).

The Port Kembla gas terminal could deliver substantial quantities of natural gas as early as 2022 – possibly more than 75 per cent of NSW's gas needs. It has planning consent, the major engineering work is complete, the owners are in discussions with customers and the construction should be finished within 16 months of the final investment decision.

Narrabri is forecast to deliver 150 TJ of gas per day or 70 petajoules a year, and to supply up to half the gas demand in NSW.

Santos has told the market it has signed memorandums to supply gas from Narrabri to Perdaman, Brickworks and Weston Energy. It has not given details of these contracts but analysts believe it needs to earn $6 to $7 a gigajoule for its gas to make the project profitable.

Domestic gas currently sells for about $4 a gigajoule.
N0, it doesn't. That's spot gas, maybe 5% of the market. 95% of it sells on contract above $8Gj on a 14% slope to Brent: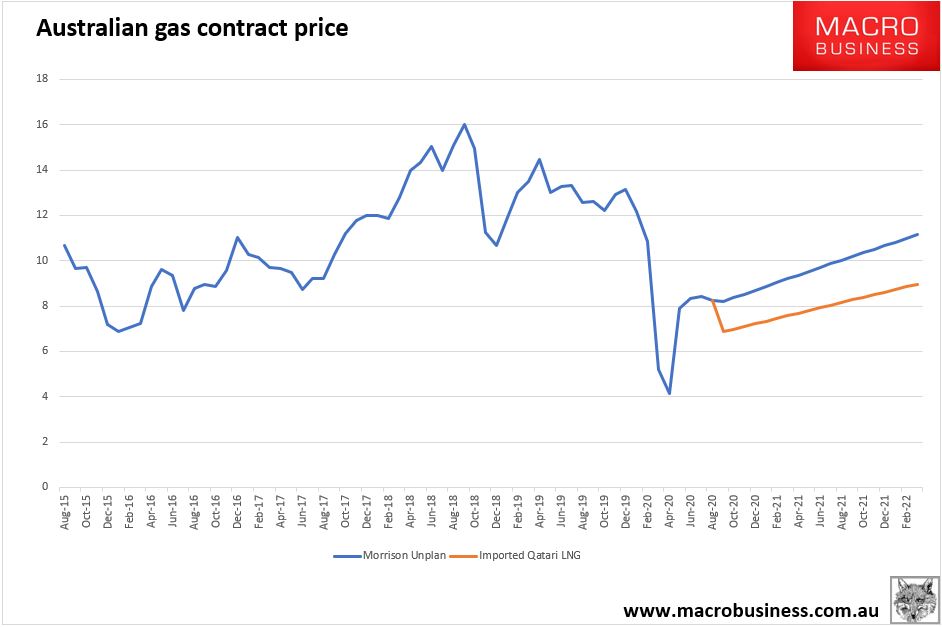 Which offers manufacturers an insight into how they can work the gas cartel over here.
Narrabri is still out of the money at $8Gj. Indeed, I think it will need more like $10Gj over the long run and STO can deliver it as Brent prices rise back to $50-60 and it shifts more volumes to export as Narrabri comes online, keeping the market tight.
But, the chart offers an insight into how to beat it. If we have LNG import terminals up and running, Asian spot prices can deliver spot gas here today at $4-5Gj. Even contract gas can be secured from places as far distant as Qatar on a 10% slope to Brent, getting it here for a consistently cheaper price than Morrison unplan gas.
There is a risk in a falling AUD but that is offset by the likelihood that oil will probably also be weak during any period of AUD weakness.
Manufacturers should fund the terminals into existence urgently.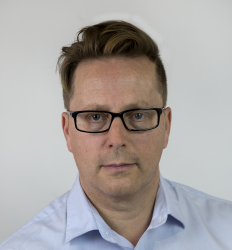 Latest posts by David Llewellyn-Smith
(see all)