Via The Fake Left:
Demand for food relief has risen by 47% on average during Covid-19, Australian charities say, with the trend driven by growing numbers of international students and casual workers asking for help.

In a report to be released on Monday, Foodbank surveyed about 500 charities once a month between April and September, as well as 1,000 Australians aged 18 and older who had experienced food insecurity in the past 12 months.

Despite the doubling of the jobseeker payment and the introduction of the jobkeeper subsidy, Foodbank said casual workers and international students were among two "newly food insecure groups emerging as a result of the pandemic".

The report found 39% of charities providing food bank services had seen an increase in demand among international students, who are barred from access to jobseeker or jobkeeper payments.

One group, the Kingborough Family Church in Hobart, said it had seen a 20%-25% increase in demand, though members had also helped another church start a charity to assist international students.

"We would have literally doubled our demand if we had not helped them set up," a church member told the survey.

Guardian Australia has reported on how thousands of international students have turned to foodbanks to survive, with some research suggesting as many as one in six have relied on charity for emergency food relief.
The question is, why is the Fake Left focussed on the foreign students? Here's what the report says:
DEMAND FOR FOOD RELIEF IS UP COVID-19, and its flow on effects, have changed the face of food insecurity in Australia. The global pandemic has impacted the lives of all Australians, however, those who were already struggling before coronavirus hit felt the effects more quickly and more seriously. Prior to COVID-19, the main groups accessing food relief were families living on a low income, the unemployed, single-parent families, the homeless and people with mental illness. Since March this year, some of these groups have become even more vulnerable and are needing to access food relief more often. Young Australians are much more likely to be doing it tough as a result of COVID-19. With this generation more likely to be working casually, many have lost their source of income or had their income reduced.

Many disadvantaged people live week to week and as a result are much less likely to have safeguards against sudden changes in the external environment.

Early in the pandemic, when some Australians began panic buying and stockpiling, vulnerable Australians faced increased food insecurity as many of the basics disappeared from the shelves and they did not have the resources to stockpile themselves or purchase more expensive alternatives.

Charities have seen a significant increase in the frequency of demand for food relief. In 2019, 15% of Australians experiencing food insecurity were seeking food relief at least once a week. In 2020, this has doubled to 31%.
If the crisis is so acute, why are "1 in 6" international students, 120k mouths, being allowed to stay, dependent upon charity? They are literally taking food from the mouths of impoverished Australians.
This is completely arse backwards. International students are constantly referred to as our second-largest export. A booming sector that supposedly pours untold wealth into Australia. Below is a chart showing the dramatic rise in international student 'exports' using the latest available Australian Bureau of Statistics (ABS) data: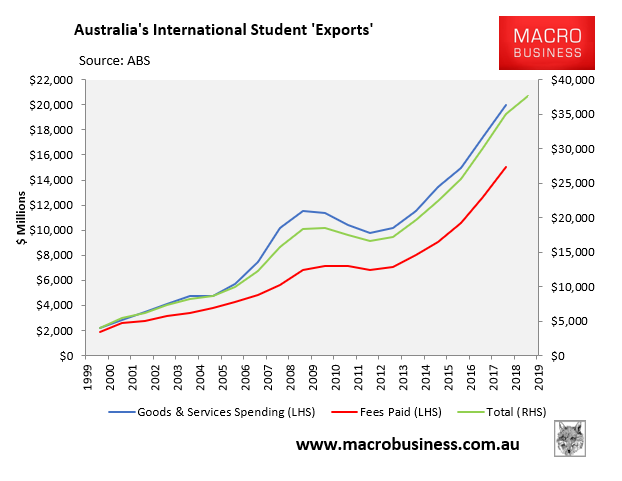 And next is the breakdown by the three largest source nations – China ($12.1 billion), India ($5.5 billion), and Nepal ($2.6 billion):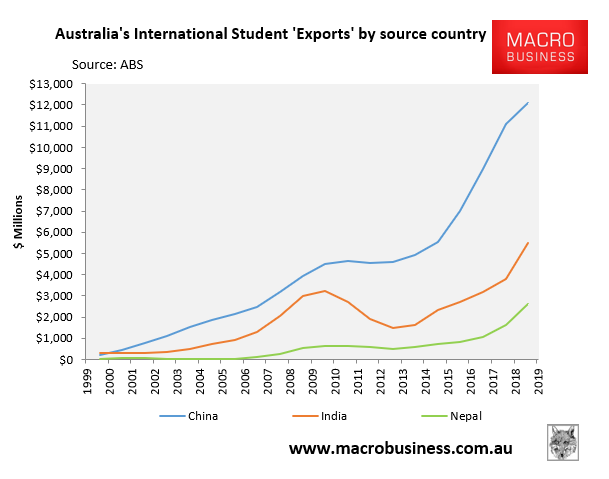 While Australia's international student 'exports' sound impressive, they are wildly exaggerated, since they include both tuition fees and expenditure while studying in Australia.
As shown in the first chart above, spending on "goods & services" by international students ($20 billion in 2018) far outweighs spending on enrolment fees ($15 billion in 2018).
A significant share of this expenditure would have been paid for via earnings by international students from within Australia. To that extent, they are no more 'exports' than a domestic university student that lives out of home an supports themselves via paid employment. Now, of course, as Australians struggle with record-high unemployment, rather than go home, we have this underclass of foreign students asking up charitable resources as they compete for what jobs there are.
Even worse, any money earned in Australia is often sent back home by international students also represents an import and should be deducted from the export count. On this point, there was a US$5 billion net outflow of migrant remittances from Australia in 2017, some proportion of which would have originated from international students studying in Australia: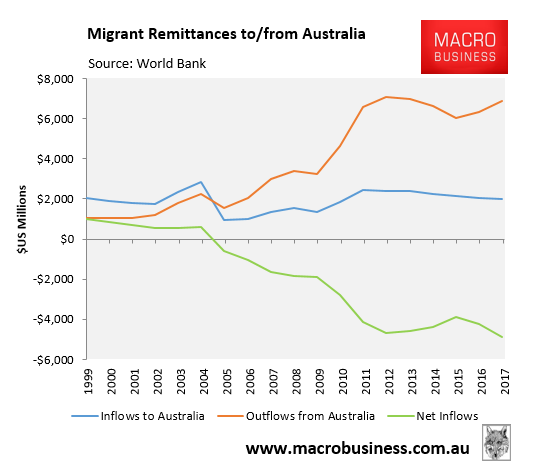 Don't just take my word for it. Associate Professor Salvatore Babones' also debunked Australia's bloated education 'exports' figure in a recent paper for the CIS:
International students are clearly important for Australia's universities, but their importance to the economy as a whole is frequently overstated. One oft-quoted statistic is that educational exports have risen to become Australia's third-largest export after iron and coal. That doesn't really capture the full story, since exports in different sectors are reported at different levels of granularity.

Figure 5 compares the size of Australia's educational exports to that of other major sectors from across the economy, using data from the Australian Bureau of Statistics (ABS). Additional historical data going back to 2002 are reported in Table 5 in the Appendix. Educational exports overtook receipts from all other travel (tourism, family, and business combined) in 2008, but are still smaller than Australia's exports of agricultural or manufactured goods. Moreover, more than half of Australia's reported educational exports (53.7% in higher education and 57.2% for the education sector as a whole) consists not of student fees, but of goods and services bought by students while in Australia. Since this spending is at least partly generated by income that students earn from working in Australia while studying, the true net value of education exports to the Australian economy is likely lower than the headline figures reported by the ABS and DET…
The only reason international students are so popular with the government is that they enable lower public spending on universities and boost property demand. That these factors are heavily offset by externalities is deliberately ignored. In short, this is politics not national interest economics.
That said, international students still have a contract with Australia. They are here to add the economy, including having sufficient savings to support themselves, while receiving an education leg-up for future income prospects.
If they break that contact amid what is already questionable benefits for Australians and start taking food off the plates of the poor instead, then it's time to go home.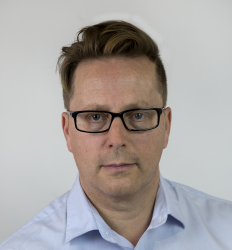 Latest posts by David Llewellyn-Smith
(see all)