See the latest Australian dollar analysis here:
DXY was strong last night:

The Australian dollar sagged:

In fact, the entire EM and commosities complex sagged:

Treasuries rallied hard:

Stocks only go up:

Not much in data but US core inflation remains very weak:

And the virus very strong:

Two vaccines are now offline with Johnson&Johnson and Ely Lily in pauses as mysterious illness strike patients.  Vaccine efficacy is waning anyway:

The economic recovery is fading:

And the election is approaching:

Followed by:

So, still plenty of risk in the chamber for forex to calculate and weigh on the Australian dollar.
The major offset is stocks where robots keep buying robots but even that has its limits, from Nomura's Charlie McElligott:
…the market "gets" the Dealer "short Gamma" dynamic in mega-cap single-names with very large open interest outstanding (remember, the large Oct expiries from the Aug Calls / Call Spreads were in AMZN, ADBE, GOOG and NFLX) and are in the process of self-fulfilling near or even through the strikes which the Dealer(s) is short and thus forced to aggressively Delta hedge…

…just like the Aug / Sep "pivot" from extreme grab to extreme vomit, if we were to continue rallying into Friday's expiration, there will continue being a ton of stock to buy for the Dealers to remain delta hedged and extend the melt-up (i.e. late Aug)—but if we roll over and the individual stocks trade well below the strikes and the options again look "worthless" (back to last week's levels, LOLOL), there then would be a massive puking of all that Dealer delta hedge, just like the Aug turn into Sep expiry (Note: the same thing would occur if the client were to unwind the position).

In my eyes, we are not quite at that same "vol up, spot up" red-flag level just yet as said Aug / Sep swing, particularly bc the delta hedging is still far too "real" here as judging by NQA +103bps early today vs ESA -6bps and RTYA -92bps – there is just too much convexity out there and it is forcing the standard "short Gamma" into a rally perversion of "buying more to stay hedged the higher it goes"

As I said yesterday however, next week – post Op-Ex – could see spot markets get very "binary," with the latest index-level options analysis showing that 32% of the Gamma in SPX / SPY is set to come off, and an incredible 60% of the Gamma in QQQ set to roll-off after this expiry – and all with $Delta back at historical super-extremes (SPX at $452.2B – 97.5%ile, QQQ at $20.8B – 100%ile).
Robots also sell robots, when robots sell robots.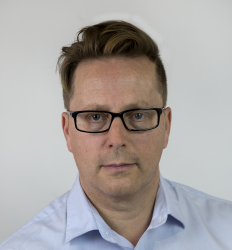 Latest posts by David Llewellyn-Smith
(see all)