Economist Jason Murphy believes the unwinding of emergency income support from the end of this month will expose the fragility of Australia's recession economy:
In just 14 days time, hundreds of thousands of Australians will have their weekly earnings slashed – and then the real financial pain will begin.

The most important graph in Australia right now is this one:

It comes from the Commonwealth Bank of Australia and it shows how much more money Australians are making than the year before. It's a lot. We're flying.

The black line is now at 16 per cent, which means we're making 16 per cent more money in 2020 than last year.

Think about it like this: Australians who were banking $1000 per week last year are banking on average $1160 now. That's a lot of extra money each week…

The surprising thing is the government payments are so big they're enough to actually increase the amount of money being earned by Australians on average. That makes this a very surprising recession. Normally in a recession people get poorer. Not this time.

So far anyway. That's why this graph is so vital to understand right now. Because those government payments have expiry dates.

The two $750 payments are done and dusted, for starters. Then there is JobSeeker. That's the payment we used to call the dole. It was doubled back in March, via a "coronavirus supplement" of $550 a fortnight. That will go for just one more fortnight, before adjusting to $250 a fortnight.

Thousands of Aussies will see their fortnightly income fall by $300 on September 24. JobSeeker will also be means-tested from that date, so people with a lot of wealth won't be eligible. They'll be booted off the payment.

When that happens, the overall income of Australians will fall for the first time this recession. And it might start to really feel like a recession. Mark the date: September 24.

It doesn't help that just four days later, on September 28, the JobKeeper payment will also change. Not only will it get smaller ($1200 a fortnight instead of $1500, and reduced to $750 for part-timers), far fewer businesses will qualify for it. People will no doubt be let go by their employers once JobKeeper stops…

Since March, companies have been able to run up debts and not repay them. Normally doing that would be enough to make a business go broke. But this year, to try to keep businesses alive, the government relaxed all the rules.

A business could run up more debts and not repay them for longer without the law getting involved. That was due to snap back in September too. But now it has been extended to December 31…

These sudden shrinkage in these government payments will make that graph look very different, as incomes suddenly fall. And we could be experiencing a much more grim mood on the way into Christmas.
Too right. The June quarter national accounts confirmed the above CBA chart.
While aggregate wages & salaries fell by 3.3% in the June quarter: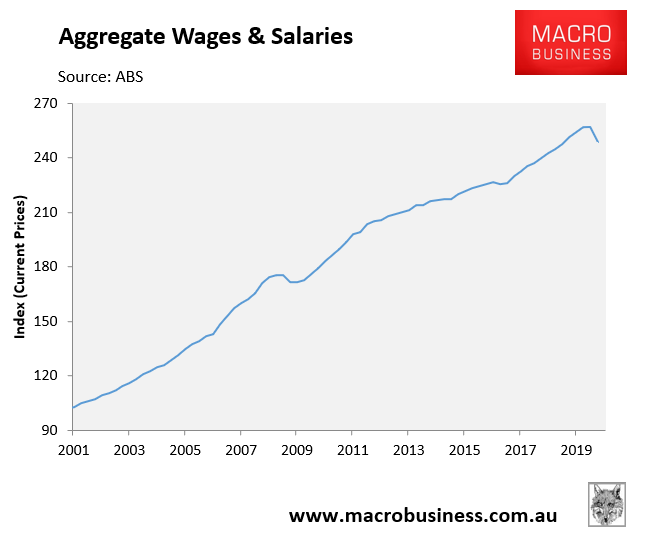 Household disposable incomes surged by 2.8% in the June quarter in real per capita terms: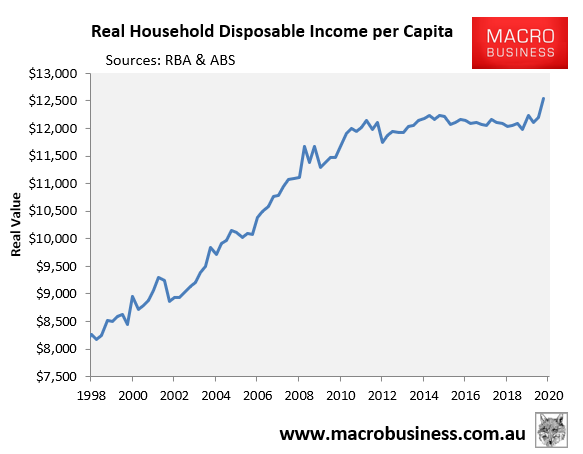 The difference is obviously made up by the factors Jason Murphy mentions above, as well as the early withdrawal of over $30 billion of superannuation savings and repayment holidays on some $167 billion worth of mortgages.
All of these artificial supports are scheduled to be unwound progressively over the next seven calendar months, which will necessarily drain household income.
For example, the Grattan Institute estimates that the tapering of emergency income support alone will reduce support from $18 billion a month (10.7% of monthly GDP) to $3 billion a month (1.9% of GDP) for the six months beyond: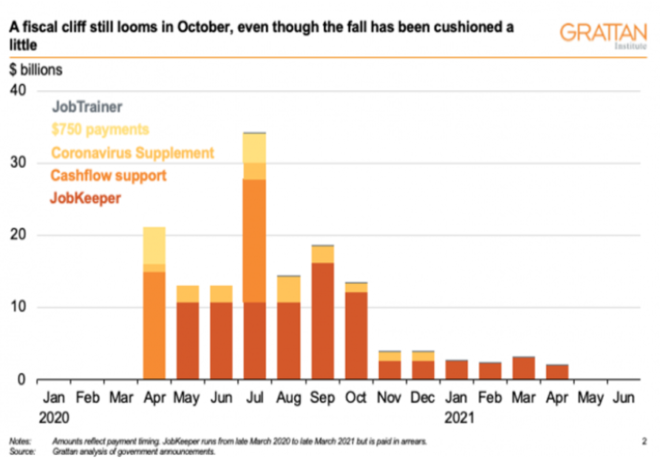 Household consumption – the biggest driver of domestic final demand – already collapsed in the June quarter: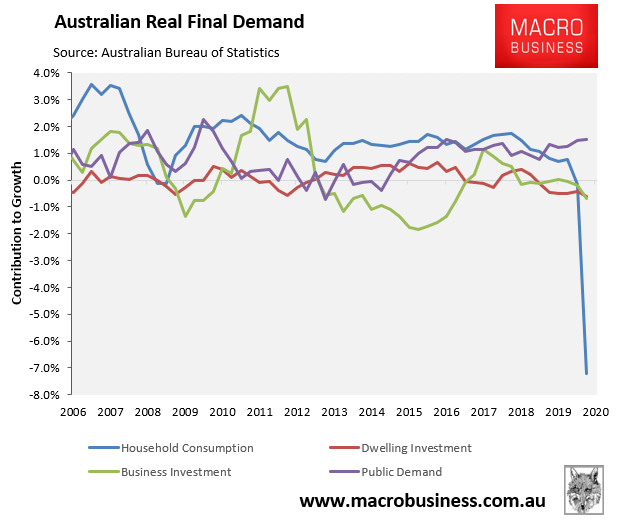 Thus, as household disposable income falls as emergency stimulus measures are withdrawn, the Australian economy will struggle to recover.
Nobody should expect a V-shaped recovery for the Australian economy. It will be a slow grind characterised by a chronic demand deficit, high unemployment, and a gaping output gap.
What was already a lost decade for Australian households could turn into a lost generation.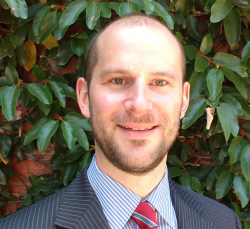 Latest posts by Leith van Onselen
(see all)