A nationwide survey of international students and temporary migrants reveals anger at being excluded from welfare payments like JobKeeper and JobSeeker. Accordingly, many would not recommend Australia as a destination:
A nationwide survey of 6000 visa workers and overseas students found that 70 per cent had lost work during the pandemic and 28 per cent had been unable to pay for meals and food at some period since March.

Three in five said they were less likely or much less likely to recommend Australia due to their experience, the study by two senior academics found, including about three quarters of students from major education markets China and Nepal.

The survey results will fuel fears of a dramatic fall in international enrolments next academic year, even though numbers have so far held up relative to expectations at the start of the pandemic…

UTS Law Associate Professor, and study co-author, Lawrie Berg warned the survey suggested Australia would bear the diplomatic and economic consequences of its policies for decades to come.

One Indian international student said she felt feel the federal government "doesn't think of temporary visa holders as human beings but merely a money making machine".

"It's appalling to see the PM consoling the citizens saying that we are all in this together but at the same time telling migrants to go back home in a pandemic."
Let's get back to basics here. The primary initial purpose of Australia's temporary visa program was to plug "skills shortages" across the economy and to provide flexibility.
That is, the migrant intake would expand when skills are needed, but then in times of economic dislocation and high unemployment those on temporary visas should return to their home countries. In turn, temporary visas were designed to act as a shock absorber for the Australian economy.
Instead, this program has been mercilessly abused by employers to hire low and semi-skilled migrants over locals, and in the case of international education, used as a gateway for backdoor permanent residency.
It is quite frankly absurd that in a country of less than 26 million people, we had well over 2 million temporary visa holders in Australia at the end of 2019, most with work rights: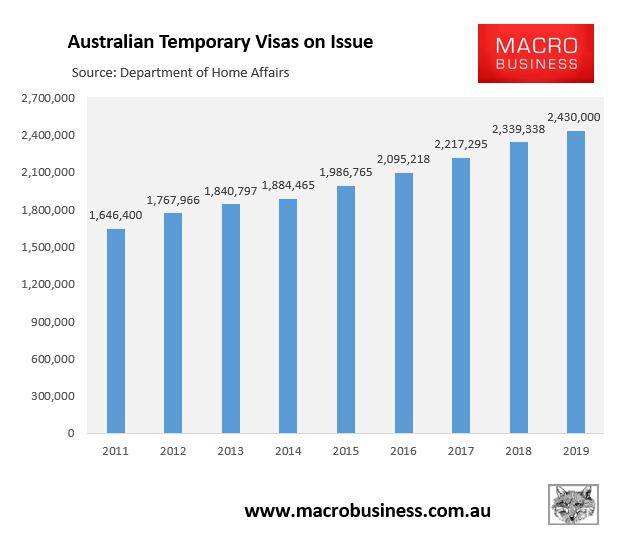 With the Australian economy facing its biggest contraction since the Great Depression, and labour underutilisation surging, allowing migrants to remain in Australia to compete against locals for scarce jobs would only worsen the unemployment queues and further depress wages, smashing Australia's working people and households: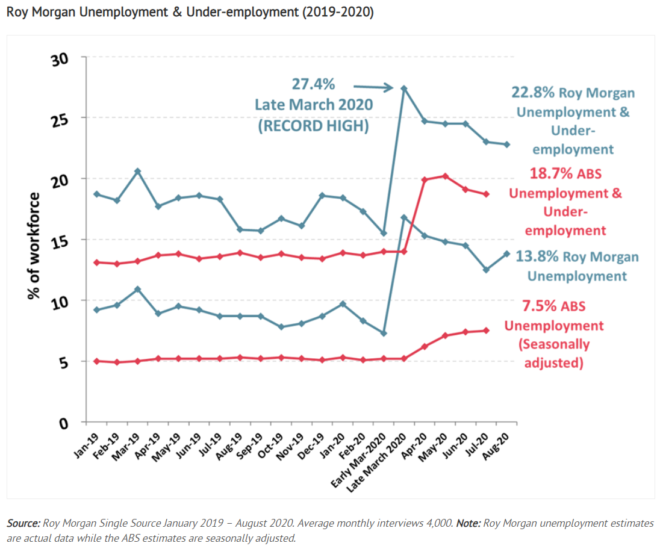 Extending welfare support to temporary migrants would also cost Australian taxpayers tens-of-billions of dollars.
If temporary migrants cannot find employment and cannot support themselves, they must return home.
The migrant workforce should never have been allowed to grow so large in the first place. It must be allowed to fall away with the economic cycle.
Temporary visas are precisely that: temporary. It is the obligation of Australian governments to prioritise the welfare of Australian citizens.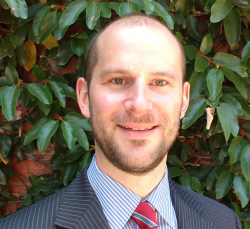 Latest posts by Leith van Onselen
(see all)