The NASDAQ (FAANGM) bubble has made the history books:

But she just carn take ut, cap'n:

Or, is to all just this, via Bloomie:
There are a few jokes going around Wall Street to explain the wild ride for the U.S. stock market this summer: Why did the huge rally suddenly stall out on Sept. 2? Because all the phone-app day traders had to go back to school. Or maybe because the NFL season (and football betting) was approaching.

It's no surprise that professional traders—hardly paragons of rationality—would point to ordinary investors when things get weird. But it's true that there seems to have been more driving the Covid-era bounce than rate cuts and government stimulus. The rise of commission-free trading, the ease of fractional share ownership, and maybe the gloomy-giddy feeling that there's nothing better to do fueled a new public fascination with the stock market. Retail traders now account for 20% of equity trading, up from 15% last year, according to an analysis by Larry Tabb of Bloomberg Intelligence.

So perhaps the end of summer and the easing of pandemic lockdowns really did have some psychological effect, contributing to the 5% slide in the S&P 500 since the recent high. "Whether you're a teacher, a restaurateur, gym owner, or even a sports handicapper—September comes around, you're probably going to return to your day job," says Julian Emanuel, chief equity and derivatives strategist at the brokerage BTIG. "So your focus on trading the market is, by definition, going to diminish."
Finally, the robots are also positioned. Nomura's quant necromancer, Charlie McElligott, reckons the Gammaquake is still shaking:
The relentless gamma meltup of late August, early September is now ancient history, and following today's "quad witch" expiration, Nomura's Charlie McElligott writes that the "Nasdaq is open to a MUCH larger trading range coming-out" following what he calls a "staggering collapse" in dealer gamma, with 63% running off and now totaling a negative -$564.5mm, which is not only the lowest since late 2018 when the market suffered its first mini bear market of the post crisis period, but is also just a 2.3 percentile since 2014…

… while dealer Delta is -$15.5B, just 2.8%ile since 2014…

And unlike just two weeks ago, when spot was solidly in positive gamma territory, dealers are now near the extremes of "short gamma" territory vs spot, with QQQ spot at $272…

… far below the "gamma neutral" line at $281.64.

To McElligott, this matters "because the QQQ $270 strike probably needs to and probably will be well-defended today by market-makers short this monster in size", but if selling persists and the $270 "trigger" in QQQs is taken out, that's when "things could get sloppy to the downside into next week."
Technicals have described a large head and shoulders top retraced right to the neckline:

Look out.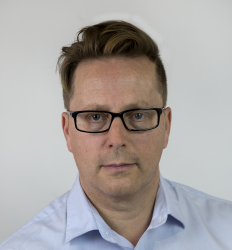 Latest posts by David Llewellyn-Smith
(see all)