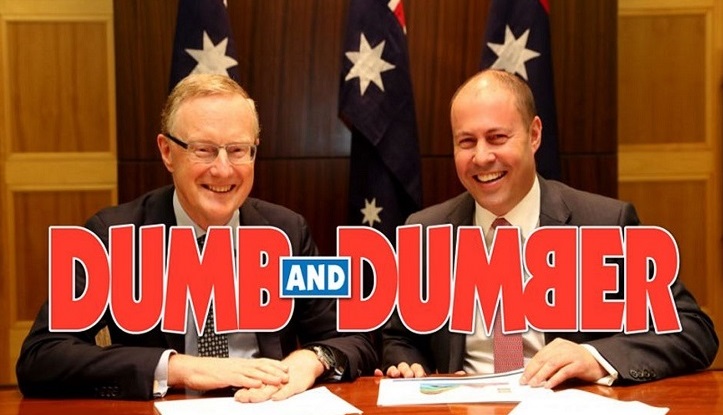 Last week was a seminal one for the Australian economy and investment outlook. We now have a clear view of what the post-COVID world will look like from the point of view of Australian policymakers.
For the last few years, that outlook has been a War of Stupid between overly tight monetary policy versus overly tight fiscal policy. The RBA refused to ease for years, demanding instead that Josh Depressionberg spend more on productivity-enhancing investment. Depressionberg pointedly did the precise opposite, in the hope of forcing the RBA into further rate cuts that would trigger another round of house price inflation and consumption.
Australians have been pressed gammon as the economy did nether. House prices managed a bounce out of the 2018 credit crunch but consumption and private investment ignored it, even with the aid of large tax cuts which were saved. Meanwhile, Depressionberg ran public investment into the ground, exacerbated by the end of the NBN build, so that the economy was effectively at stall speed and the private sector in recession as we entered the COVID-19 shock.
The War of Stupid has persisted over the past six months of COVID chaos as a recalcitrant RBA has screamed for Depressionberg's aid, who has completely ignored the howls such that infrastructure investment has cratered:

Last week the War of Stupid was finally won. Josh Depressionberg made it clear that he has no intention of investing in Australia. His new recovery plan is the same as the old, failed plan:
increasingly poorly targeted tax cuts that will be saved even more;
fiscal tightening to proceed at breakneck speed;
reboot immigration even though it's impossible;
invest a rounding error $10bn into infrastructure;
reboot house prices via…what…magic?
This a-bomb of stupid came as a shock to RBAHQ. Just six weeks earlier, its senior general in the War of Stupid, Deflation Phil, had confidently declared victory:
While monetary financing is not an option in Australia, the Reserve Bank Board continues to review overseas experience with other monetary options. We had another discussion on this at our meeting two weeks ago.

Central banks around the world have all moved in the same general direction, but they have configured their monetary support packages differently. Using international experience as a guide, it would have been possible to configure the existing elements of the RBA package differently. For example, the various interest rates currently at 25 basis points could have been set lower, at say 10 basis points. It would also have been possible to introduce a program of government bond purchases beyond that required to achieve the 3-year yield target. Different parameters could have also been chosen for the Term Funding Facility.

After discussing these possibilities, the Board concluded that that there was no need to adjust our package of measures in the current environment.
Clearly he underestimated the nuclear-scale arsenal of stupid inside the Morrison Government and so the RBA's own deep reserves of stupid are now exposed.  We caught a glimpse of it in last week's minutes:
The Board is committed to do what it can to support jobs, incomes and businesses in Australia. Its actions, including today's extension of the Term Funding Facility, are keeping funding costs low and assisting with the supply of credit to households and businesses. The Board will maintain highly accommodative settings as long as is required and continues to consider how further monetary measures could support the recovery.
We can now expect the following:
another rate cut;
the move to outright QE from yield curve control and and "operation twist" that pushes out the bond curve to to pressure funding costs and the currency.
But these are only the beginning. The fallout from Depressionberg's a-bomb of stupid will irradiate inflation and the RBA will find itself even more paralytically behind the curve. Eventually, it will be forced into:
negative interest rates, and
QE for the people, even if only via the states.
So, the short term bounce in the Australian dollar driven by short term high iron ore prices and smarter central banks elsewhere will, before long, be choked off.
There will be marginally cheaper funding costs for mortgages ahead but it remains doubtful it will matter to house prices and consumption in the context of no mass immigration and our glorious Chinese de-coupling.
The conclusion for investors is that Australian growth and profits will radically underperform any and all global recoveries and so, therefore, will the ASX.
Use the culmination of the War of Stupid to push your investments offshore.
---
David Llewellyn-Smith is Chief Strategist at the MacroBusiness Fund, which is powered by Nucleus Wealth. The fund holds extensive offshore positions and intends to build more as opportunities arise.
The information on this blog contains general information and does not take into account your personal objectives, financial situation or needs. Past performance is not an indication of future performance. Nucleus Wealth Management is a Corporate Authorised Representative of Nucleus Advice Pty Ltd – AFSL 515796.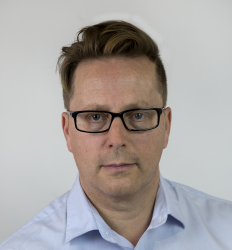 Latest posts by David Llewellyn-Smith
(see all)