According to the ABC, the federal government's use of contractors, consultants and labour-hire firms has exploded under the Coalition:
Today, Defence employs about 17,400 public servants. However, its outsourced civilian workforce is far larger than that — documents published under freedom of information (FOI) law show it has about 28,600 contractors.

These extra employees often have the same titles as public servants and even sit next to them in the office — but they work for private businesses, not the government.

Several former senior officials are now questioning not only the costs and consequences of this trend, but whether it is legal.

'Private servants' the new norm in government staffing

Defence's "private" workforce may be unusually large, but outsourcing is the norm in Canberra.

Most Australian Public Service (APS) agencies now employ people via labour-hire firms, a practice that allows them to stay within the government's official staffing cap but still get their work done.

No-one knows how big this outsourced workforce is — not even the Finance Department, which exists to control how public money is spent.

However, an ABC analysis of about 120,000 federal government contracts — for services such as consulting, staffing and recruitment — suggests the Commonwealth's market for "private" labour has doubled in the past five years, and is now worth more than $5 billion a year.

The biggest spenders are the biggest workplaces: Defence, the Australian Taxation Office and Services Australia (which runs Centrelink and Medicare offices).

And the biggest winners are similarly unsurprising: global firms such as Manpower, Serco and Datacom (which runs call centres)…

Staffing cap to blame, former APS chief says

One of Mr Woolcott's predecessors, Andrew Podger, said he was surprised by the size of the government's reliance on the private sector, warning "it might reflect the loss of expertise that ought to exist among APS employees".

"I fear that the numbers [of private-sector workers] are partly due to the APS staffing cap," he said.

"This is leading agencies to use contract staff when APS employees would offer better value for money."

The Coalition imposed the staffing cap in 2015, saying the government workforce should not grow larger than it was at the end of John Howard's prime ministership in 2007…

'There is no way in to the public service anymore'

One former public servant considering his next steps is Melbourne lawyer Geordie Wilson.

Mr Wilson was a temporary junior officer at the Administrative Appeals Tribunal (AAT), where, by his count, "probably half or even more than half of the people at my level were on labour-hire contracts".

"It was all casual employment, even though they were there for years in some cases," he said…

Mr Wilson, 25, said the outsourcing of government work had another effect: it had left young people like himself with far less hope of ever becoming a public servant.

"It's kind of disappointing to realise that there really is no way in, aside from a tiny number of spots in the graduate program," he said…
MB has raised similar concerns for years.
Australia's public service has been stripped raw by decades of government outsourcing, waves of senior redundancies, as well as a preference for governments to seek advice from paid consultants, erroneously named 'think tanks', and political staffers.
The end result is that the "frank and fearless advice" that the public service was once renowned for has vanished, replaced by spin and purchased analysis designed to support a pre-conceived political agenda.
Nowhere is this propaganda more obvious than the Australian Treasury, which has become a blatant shill for the Federal Government, as evidenced by the department's dodgy Budget forecasts, dodgy modelling around company tax cuts, as well as dodgy propaganda around mass immigration.
Further examples of the corruption of the Treasury can be found here and here.
The situation will only get worse under changes announced by Prime Minister Scott Morrison in December 2019:
Scott Morrison is poised to put an axe through the public service today with plans to dramatically cut the number of government departments with another round of mandarins set for the chopping block.

…several more super-departments will be created in a move to dramatically cut bureaucratic red tape.

Senior government sources said it was expected to be the biggest realignment and reform of the public service since Bob Hawke cut the number of departments from 28 to 18 in his reforms to the machinery of government in 1987…

Mr Morrison, on becoming prime minister, appointed himself as minister for the public service in a signal that he was planning sweeping changes to the "mandarin" club in Canberra…

"We don't expect the public service to run the government. That's what we were elected to do," Mr Morrison said.
This "reform" agenda is basically Scott Morrison telling the public service to "do what they are told" and to not question government decision-making. And with it, we should expect the public service to morph entirely into government shill "yes men/women".
It is also unlikely to save taxpayers in the long-run with public servants' wages replaced by expensive external consultants and labour hire, as we have witnessed since the Howard Government's downsizing in the late-1990s.
Sadly, it is also younger Australians seeking work in the public service that have been most impacted by outsourcing.
As shown below, the share of younger Aussies working in the APS has collapsed while those aged over 55 has risen: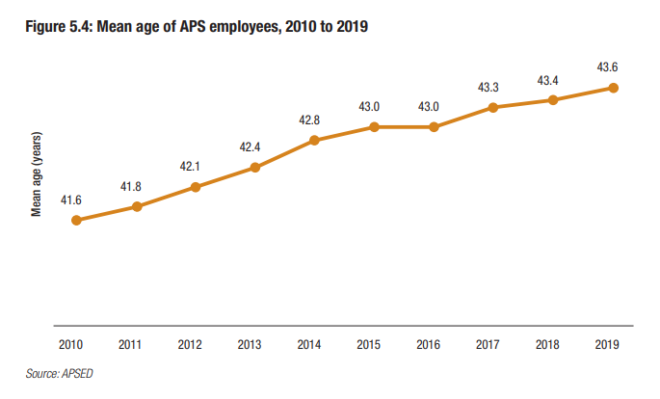 This outsourcing is effectively a form of 'cash for comment', whereby policy development is outsourced to consultants to support a pre-conceived political agenda.
Rather than cracking down on the insecure 'gig economy', the federal government has become a key player.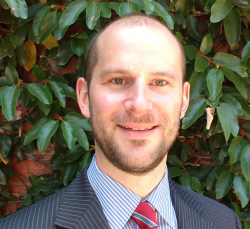 Latest posts by Unconventional Economist
(see all)