Bloomberg reports that Sydney's fast growing west is becoming increasingly hot:
Out west of Sydney it gets hot. Really hot. Like 50 degrees Celsius (122 Fahrenheit) hot. Stand in a car park and the radiant heat from the tarmac can push the mercury to 80C—approaching the temperature of a slow cooker.

It's these new suburbs that the government is banking on to accommodate almost half of the 1.8 million people who are expected to swell the city's population over the next 20 years…

Housing estates are rising for those pushed out by the center's high property prices…

What the glossy brochures fail to mention is the challenges that come with living in a region where the number of days over 35C—a level dangerous even for the fit and well—is forecast to keep rising as global temperatures increase.

"Australia is ahead of the curve when it comes to warming," said Liz Hanna, an expert in heat and health at Australian National University. "We need to be really serious about not having houses where people sit and cook and die"…

So why is Sydney building here? Simply put, it has little choice…

The more they build the worse it will get. As the volume of hard surface increases, so does the temperature…

"It is going to be stinking hot with lots of people", said Sebastian Pfautsch, a researcher at Western Sydney University… "I call them [new suburbs] the Australian nightmare"…
Part of the problem is that Western Sydney's extreme population growth and development is causing a loss of green space, thus exacerbating the urban heat island effect. As reported in The ABC:
Bureau of Meteorology (BOM) records show annual mean maximum temperatures in the western Sydney suburb have increased by approximately 1.1 degrees Celsius since 1980.

"In summer you can't leave the house until about 5:00pm," [mother Sophie Combs] said…

The 47-year-old said finding shade while playing outdoors with her young son, Asher, was getting harder.

"It's just getting overdeveloped, so there's less trees than there were," she said…

A lack of new trees, along with the removal of established trees, has angered western Sydney residents.

Lisa Harrold, who has lived in the area for four decades, said the heat had become unbearable.

"Some days you literally cannot go outside," she said.

"We find with the increased density of houses [and] road systems, it doesn't cool down overnight"…

"They're removing trees faster than they can potentially ever replace them and to exacerbate that issue, the green spaces are disappearing too under a mountain of concrete," she said…
Climate researchers noted similar:
Last weekend was no exception with temperatures in Penrith, in the city's west, peaking at 47.3C while the area by the Harbour Bridge topped out more than five degrees cooler.

But far from this being simply a natural quirk of geography, human interference has actually exacerbated the boiling temperatures in our inland suburbs, experts say, by creating a "heat dome" blocking cooler air.

And often, it's less affluent areas that feel the worst of the heat while richer enclaves enjoy an altogether more comfortable day…

"There's much more solar radiation absorbing materials in built-up areas, such as black asphalt and concrete, lots of anthropogenic heat from cars, airconditioning and industry and less greenery and water, and this increases the temperature and has a serious impact on energy consumption, productivity, health and morbidity," [Mattheos Santamouris, a professor of high performance architecture at UNSW] said…

"Especially in western Sydney, we were able to make the close association that high-density housing developments had cleared land and lacked tree cover, and dark roads were corridors where heat just couldn't escape," [Dr Brent Jacobs, research director at the Institute of Sustainable Futures at the University of Technology Sydney] said.
Before COVID-19 hit, the ABS projected that Sydney's population would nearly double to almost 10 million people over the next half century, with most of this growth occurring in Sydney's West: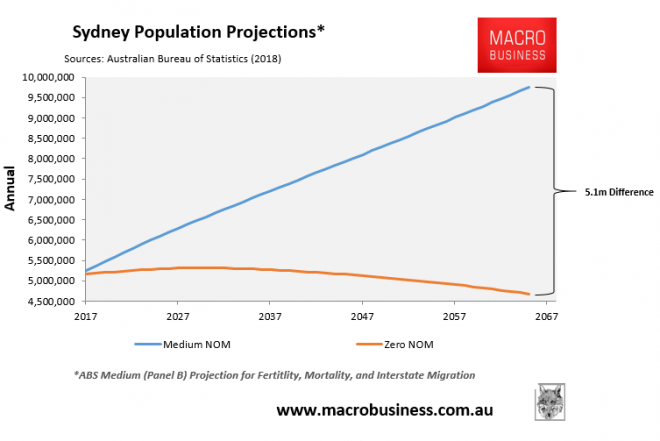 In addition to crush-loading infrastructure and services, the population flood was projected to see Sydney transform into a high-rise city, with the Urban Taskforce projecting that only one quarter of dwellings will be detached houses in 2057, down significantly from 55% currently: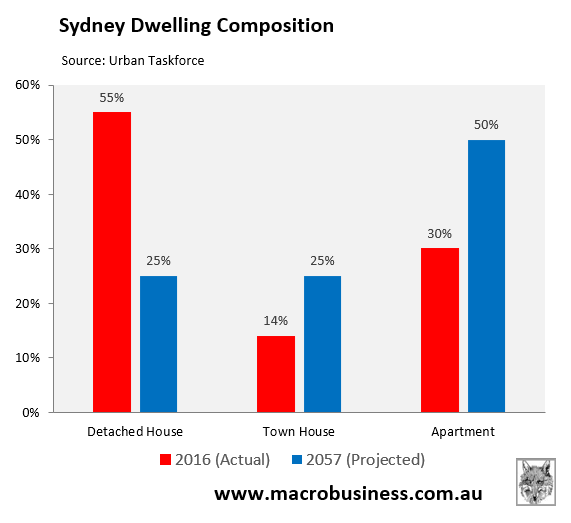 This transformation would obviously also see reduced access to green space, according to Infrastructure Australia's modelling (see last row below):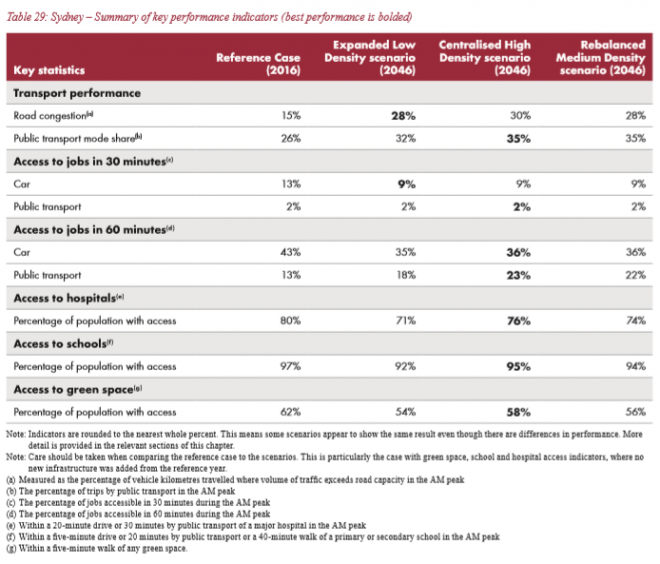 Not to worry. The former head of the Greater Sydney Commission (GSC), Lucy Turnbull, saw an "exciting" future for Western Sydney as it is crush-loaded with another 1.2 million people:
GSC's chief commissioner Lucy Turnbull… said places such as Parramatta and Bankstown represented the "future of Sydney and Australia" with a youthful and diverse population making them "exciting" corners of the wider city…. "1.2 million people in western Sydney in the next 20 years is a reasonable forecast"…
In reality, the GSC is running a form of economic apartheid whereby Western Sydney shoulders the lion's share of immigration and population growth to provide cheap foreign labour and inflated demand to the wealthy barons in the East.
This model enables the Elites in the East to profit from the rentier services of over-priced ghetto apartments and postage stamp houses, inflated land banks, as well as higher volumes of mortgages and retail sales, while not having to share in the downsides of congestion and eroded amenity.
For the ordinary folk in Sydney's West, the urban infill utopia of jamming millions more people into the existing urban footprint necessarily means chewing-up green space as backyards, trees and open space are removed to make way for high density living. And this will necessarily exacerbate the 'heat island' effect afflicting West, in turn eroding living standards and raising energy use (think air conditioners).
There is an easy alternative: abandon the mass immigration 'Big Australia' policy and don't create the problem in the first place.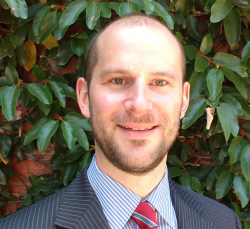 Latest posts by Leith van Onselen
(see all)