August saw the market continue the recovery as investors cheered positive news of a potential COVID-19 treatment and welcomed a month-long succession of upbeat economic data. The month's recovery was underpinned by a series of better than expected economic reports, including an increase in manufacturing activity, better-than-anticipated factory orders, and a lessening of new jobless claims as well as the Fed's inflation policy shift, suggesting that interest rates may remain low for longer than expected. September has started more shakily with an early correction from the stellar run of tech-heavy Nasdaq Index, and emerging second wave COVID statistics weighing on the market.
Our portfolios are not set up for rapidly rising markets, which capped our rise over August but has helped over September so far.   Our international portfolio did manage a 2.3% increase but we have chosen not to chase this market and remain comfortable with our more defensive stance as we head towards the uncertainties of the  4th quarter. We continued to take profits on a number of our long term bond positions and park the proceeds in cash.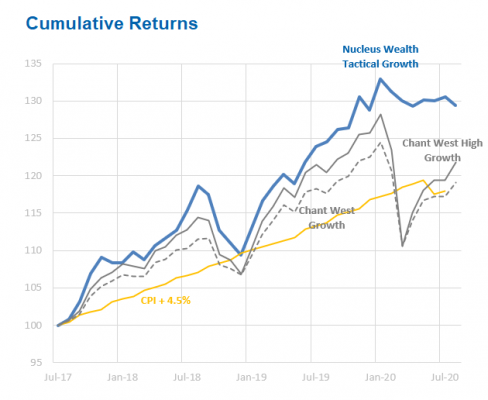 Risk / Reward & peers
We recently passed our three year inception anniversary, which means the rating agencies such as Morningstar now publish our Risk metrics. Overall we are pleased with the results that highlight our ethos of striving for higher returns but not at the expense of accepting higher risk.
Below we have our annual returns versus the Standard Deviation of our returns, all calculated by Morningstar. The Standard Deviation of Returns is one of the few measures of Risk that can be used to compare funds. We have also plotted a sample of competitor funds.
Fund Tactical Growth Risk/Return vs Peers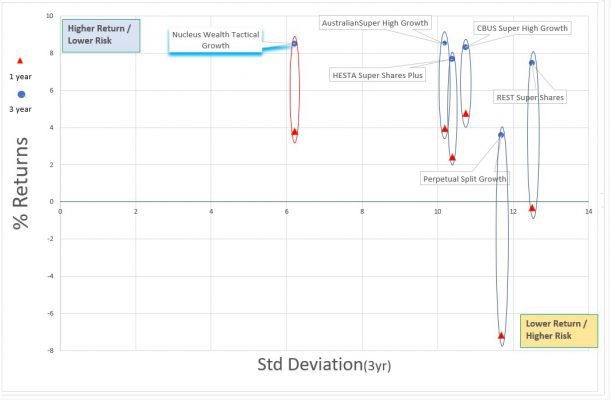 The graph shows MB Tactical Growth portfolio has returned consistent above-average returns at a significantly lower Standard Deviation. The range of the three vs one year returns (shown as the ovals) also illustrates the lower volatility of our returns.
Core International Risk/Return vs Peers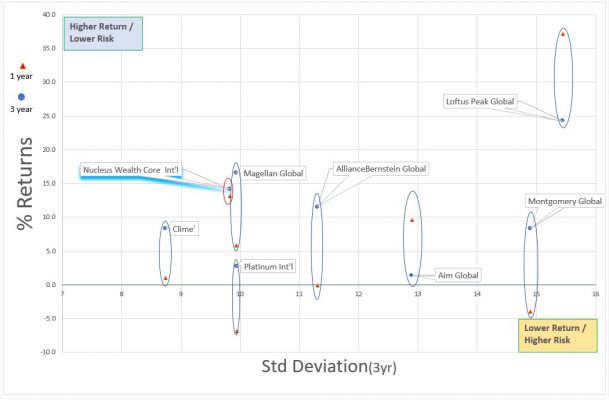 Source: Morningstar Fund Report
Our MB Core International Fund shows similar trends with attractive returns at a lower risk. The variability of returns is emphasised by the range of the three vs one year returns where the MB  Fund has the tightest grouping.
Bubbling along
The economic and virus progress has mainly been as we expected. So, our asset allocation and superannuation portfolios remain conservatively positioned.
In the direct holding stock portfolios, our virus-sensitive positions have driven outperformance. Since the crash, we found value in commodities. First oil, then iron ore, and now gold miners. We remain very wary of banks. However, the economy and the stock markets have disconnected. The stock market is at valuations that discount no risk.
Performance Detail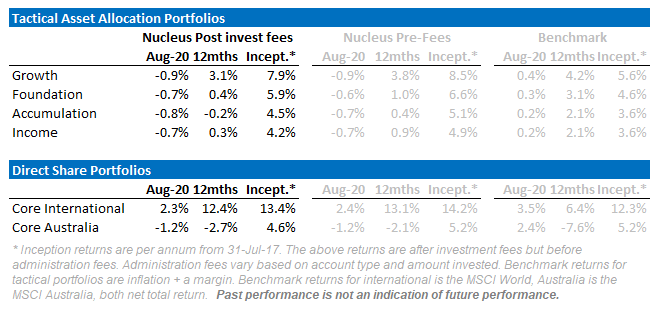 The charts below show some of the risk characteristics of our international fund over the 12 months: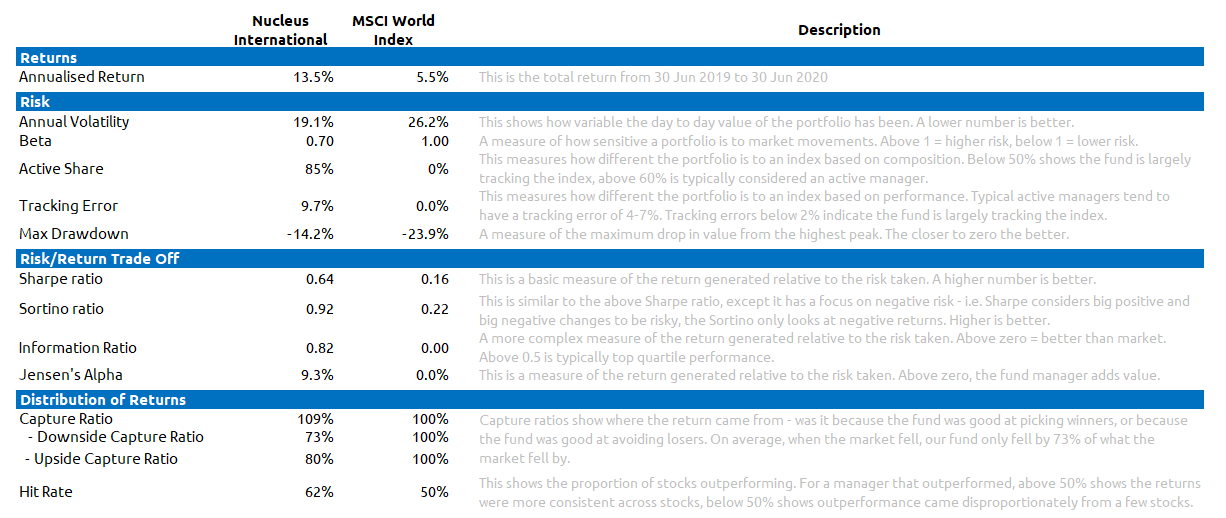 Asset Allocation
Our portfolios "went to ground" before the crisis hit, selling stocks and investing in bonds/cash/international currencies. All of our funds have a low weight to shares. This is a significant deviation and one that we have not undertaken lightly.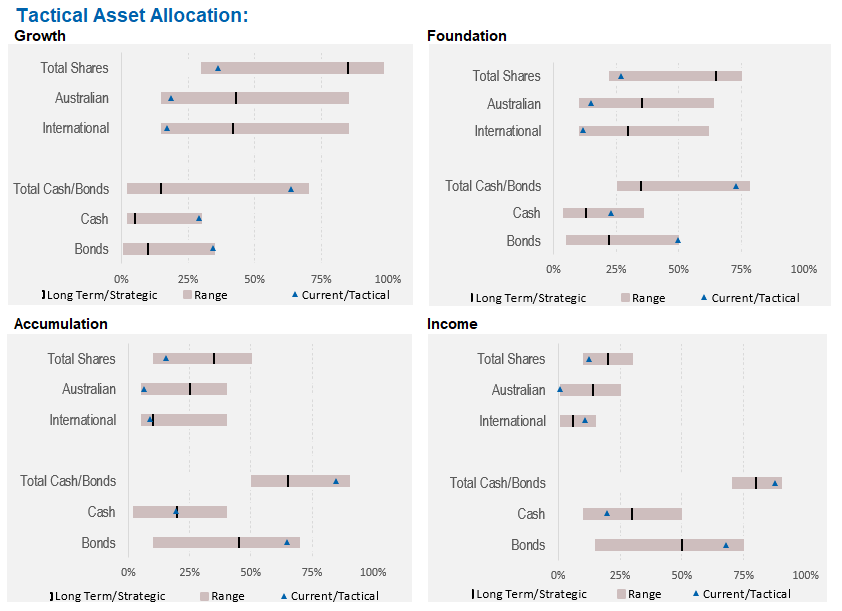 Wrap up
We changed most of our quant models a few months ago to put much less focus on the last 12 months of earnings, or the next year. The focus instead is on a mix of inflation-adjusted historical earnings and the earnings from the second year of earnings. The problem with this is:
Historical earnings don't capture growth companies very well.

Analysts are not very good at forecasting the second year of earnings in the best of times. We are not in the best of times.
Which is an indication of the environment. You have to understand the limits of your models. The key to navigating as we exit the eye of the storm will be to not lose track of the principles of good investment while changing models enough to reflect that times are not normal.  
We have a shopping list of high-quality companies that we want to own for our investors at lower prices for the very long term. Which is easier said than done. We picked up a few in March, but the problem with these companies they also bounce back the fastest once panic subsides.
Given a toxic mix of low-interest rates, volatility and expensive markets, investors will need to be significantly more nimble than in the past.
————————————————-
Damien Klassen is Head of Investments at the Macrobusiness Fund, which is powered by Nucleus Wealth.
Follow @DamienKlassen on Twitter or Linked In
The information on this blog contains general information and does not take into account your personal objectives, financial situation or needs. Past performance is not an indication of future performance. Damien Klassen is an authorised representative of Nucleus Wealth Management, a Corporate Authorised Representative of Nucleus Advice Pty Ltd – AFSL 515796.
Latest posts by Damien Klassen
(see all)