A report from Deloitte Access Economics, commissioned by the Australian Council of Social Service (ACOSS), has concluded that scrapping the coronavirus supplement for JobSeeker recipients would cost 145,000 jobs over two years and reduce GDP growth by $31.3 billion. Moreover, regional areas would be hardest hit.
The supplement is slated to be reduced from $550 per fortnight to $250 on 25 September, and abolished altogether at the end of 2020:
"In the two years to 2021-22, ­removal of the coronavirus supplement is projected to cost the economy $31.3bn in gross domestic product," the report states.

"Between 2020-21 and 2021-22, around 145,000 (full-time equivalent) jobs are projected to be lost, on average. This equates to an ­average reduction in employment of around 1.28 per cent during this period. As with GDP, most of the employment losses occur in 2021-22."

Deloitte estimates the number of people eligible for the COVID-19 supplement will peak in December at 2.34 million, up from 2.25 million in July.

If the payment were continued, there would be 1.73 million eligible Australians by June 2022.

Removing the supplement would be "more damaging" and "compound" the disadvantage ­experienced by Australians in regional areas, while regions with the lowest incomes before the pandemic have the most to gain from its extension.

"As a policy, it would have been one of the single largest measures to reduce inequality in Australia," the report states. "With the economic consequences of COVID-19 most harshly impacting lower- ­income households, the benefits now are likely to be even greater."
There's no denying that a significant permanent lift in JobSeeker is needed. MB believes that the Morrison Government should make the $250 supplement permanent and then raise it in line with the Aged Pension over time. This would make it $810 a fortnight indexed.
Before the coronavirus supplement was implemented, Australia's support for the unemployed was the equal lowest in the developed world: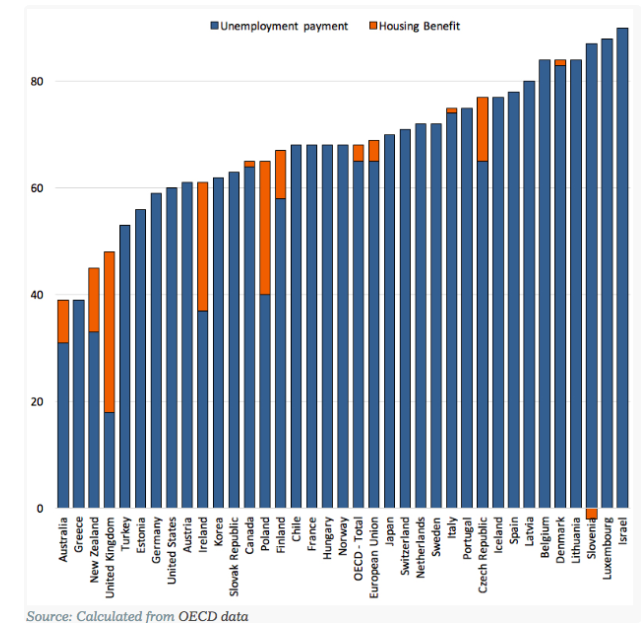 Thus, if JobSeeker is returned to its former level of around $40 a day, it will once again fall well below the poverty line and push many Australians back into destitution: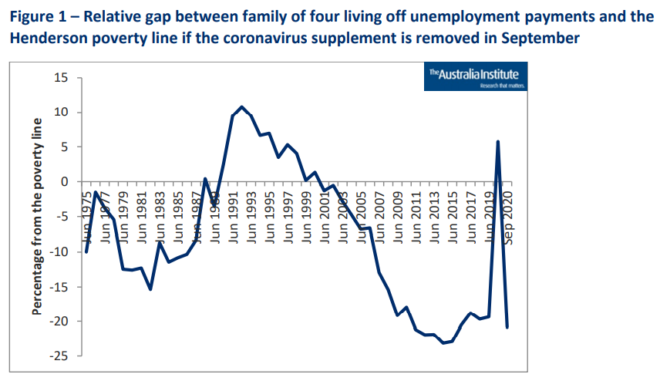 Permanently lifting JobSeeker would not only boost the social safety net, make the tax-transfer system more progressive and reduce inequality, it would also create an important automatic stabiliser for the Australian economy.
The unemployed are among Australia's poorest residents and almost every dollar of addition income would be spent. Thus, it would provide much needed stimulus during a time of high unemployment and chronically weak domestic demand.
Rather than hosing tens-of-billion of dollars on poorly targeted tax cuts, which are far more likely to be saved than spent, the Morrison Government should instead provide a generous permanent lift to the Jobseeker Allowance.
It's a no-brainer from an economic and social equity perspective.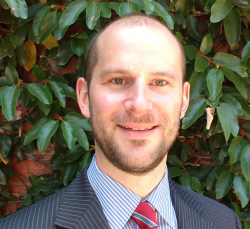 Latest posts by Unconventional Economist
(see all)