MB has frequently questioned the odious links between international students and university rankings.
In a nutshell, a system has been created by the federal government and Australia's universities to encourage strong growth in full fee paying international students via:
The Australian government offering the world's most generous student visa working rights and opportunities for permanent residency; and
Australia's universities dropping entry and teaching standards.
The bounty from exploding student numbers (see next chart) has then been funneled into research aimed purely at propelling Australia's universities up international rankings.
As gaining a higher ranking equates to more prestige and is a sign of quality, these rankings were then used as a marketing tool to further grow international student enrolments, alongside justifying higher fees.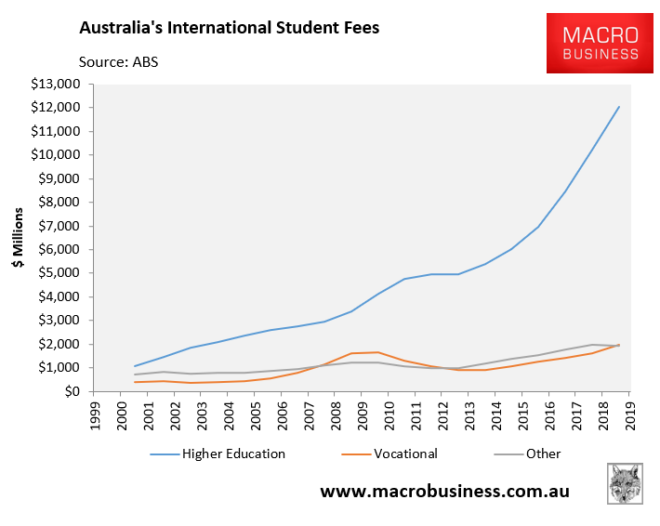 Higher education analyst, Andrew Norton, explained this process recently, which he believes has been halted due to COVID-19 [my emphasis]:
When Australia's borders closed a long international student boom finally ended. It had been very lucrative for Australia's universities. Between 2000 and 2018 international student revenue increased by nearly 500 per cent in real terms…

Research expenditure has boomed this century, nearly tripling in real terms between 2000 and 2018. This is spending on a scale well beyond what was needed to fill funding gaps left by domestic policy changes. Research could only have been financed at this level by profits on international students.

To explain why universities felt the need to recruit so many international students to finance their research a global factor needs to be considered: the rise of university rankings. Universities have long been concerned with status, but the establishment of the Academic Ranking of World Universities in 2003 (often called the Shanghai Jiao Tong rankings), and the Times Higher Education Rankings in 2004, put brutally (if spuriously) precise numbers on where each university stood. Other rankings followed...

Target rankings are now common. In the Group of Eight universities, the University of Sydney wants to be first in Australia in the best-known rankings. The University of Melbourne wants to be consistently in the top 40 of the ARWU and the top 25 of the THE rankings. UNSW developed a composite index of different rankings, and aims to be in the top 50. The University of Queensland wants to be 'well inside' the top 75…

The trouble is that many universities around the world hold similar ambitions…

This competition for an inherently limited number of top ranks means that enhancing research quality and quantity is not enough. Universities must improve by more than their competitors. Rapid growth is necessary to get ahead. This is one reason why the Group of Eight universities, which have the most ambitious research targets, ended up highly exposed to the international student market…

For years, the Group of Eight universities were on a virtuous cycle. International student surveys show Chinese students are particularly motivated by rankings, their willingness to pay high fees helped universities increase their research and boost their rankings, which in turn attracted more Chinese students…

Australian topics are disadvantaged, since research on Australia is cited less than topics of global significance or concerning countries with larger populations…

The risk now is that the virtuous cycle turns vicious; that fewer Chinese students means less research, which means lower rankings, which means fewer Chinese students.

…even before COVID-19 arrived, university international student practices were attracting plenty of concern and criticism on both financial risk and academic (English language standards, soft marking, cheating, influence of the Chinese Communist Party) grounds.

Nobody wanted university priorities to be re-oriented in the rapid and destructive way that is now happening. But in the medium to long-term, less emphasis on global rankings, and some moderation in international student numbers, may not be all bad.
According to a new report by the Centre for the Study for Higher Education at Melbourne University, up to 6,100 full-time research jobs could be lost at Australian universities due to the loss of revenue from international students, while some universities could lose their research capacity:
Australia's biggest universities face an "extremely high" risk of losing their research capacity as COVID-19 and the loss of foreign students strip as much as $7.6bn from higher education…

University of Technology Sydney, Macquarie University in Sydney and Deakin University in Melbourne face the biggest hits to their research funding because of their exposure to the international student markets. Sandstone universities also face big research funding shortfalls…

"Without the same level of discretionary funding available for the next few years there is likely to be a significant loss of research momentum," the report states. "This outcome will have enduring national and international economic and social consequences…

The University of Sydney and Melbourne University also were found to be highly exposed to the loss of foreign student income, with their reliance on those fees for research running at 86 per cent and 68 per cent respectively.

Federal Education Minister Dan Tehan has spent the past three months negotiating a research rescue deal with the sector and said on Monday more would be revealed in the budget.
Let's be honest for a moment. A lot of the university research is of questionable value and is aimed squarely at catapulting universities up the bogus university rankings, as explained above.
What is lost in this whole debate is the impact on domestic students.
While universities have ploughed the international student bounty into research to boost their rankings, actual teaching quality has been destroyed.
This is evidenced by the ratio of students to academic staff rising materially across Australia's universities during the long international student boom: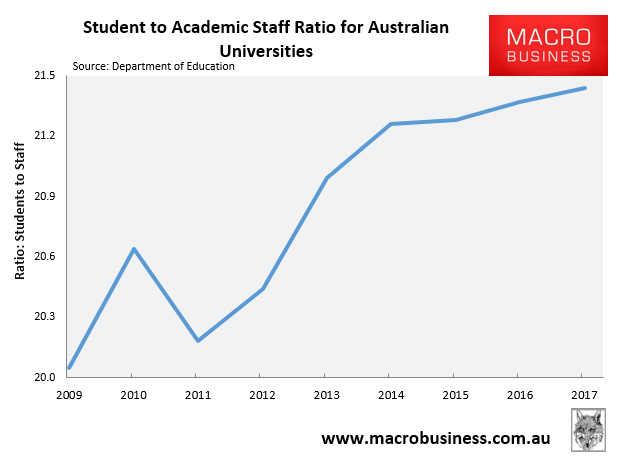 The majority of international students come from Non-English Speaking Backgrounds (NESB), and require more teaching assistance than domestic students. Accordingly, the bigger student loads, alongside the higher maintenance of international students, indicates a significant decline of both teaching capacity and quality across Australia's university system.
We have also witnessed domestic students carrying NESB students through their courses via group assignments, alongside an increase in soft marking scandals and cheating scandals as international students have ballooned.
Instead of worrying about the losing research capability and falling down the bogus world university rankings, Australia's universities must get back to their primary role of providing high quality education to Australians.
Operating low-quality degree factories for maximum revenue was never in the national interest.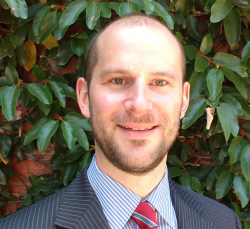 Latest posts by Unconventional Economist
(see all)