Historically low interest rates and government incentives are prompting more first-home buyers (FHBs) to enter the housing market. However, according to Robert Gottliebsen, renewed talk of reintroducing death taxes will sap the confidence of FHBs:
After lying dormant for many years, death taxes are suddenly re-entering the speculative arena. And so to treasurer Josh Frydenberg I say: Don't be tempted!.

…it is paradoxical that the latest death tax speculation comes when, after years of decline, first home buyers are returning to the dwelling market. First home buyers have been declining in numbers for over 10 years partly because couples have been afraid that they would never be able pay off the loans. There's no doubt that low interest-rates are a significant force now driving young couples to stop renting or living with mum and dad. But also part of that attitude turnaround is the comfort that their parents have the savings, led by the family home to enable their children's debts to be repaid when they reach retirement…

Its taken a long while for first home buyers to remerge and death taxes will curb their confidence.
As usual, Gottiboff has drawn a very long bow. Death taxes would have precisely zero negative impact on FHB confidence.
If anything, the introduction of death taxes would boost FHB demand at the margin, since parents would be encouraged to gift their children funds in order to lower their taxable bequeathment when they die.
An inheritance tax existed in Australia until the late-1970s and early-1980s. In 1978, Queensland Premier Joh Bjelke-Petersen abolished the state's inheritance tax, which was followed by the governments of other states. Prime Minister Malcolm Fraser then followed suit and eliminated the federal inheritance tax.
Inheritance taxes exist in many other developed countries, such as the UK, USA, Germany, Belgium, the Republic of Ireland, France, and Japan (see next chart via Fairfax).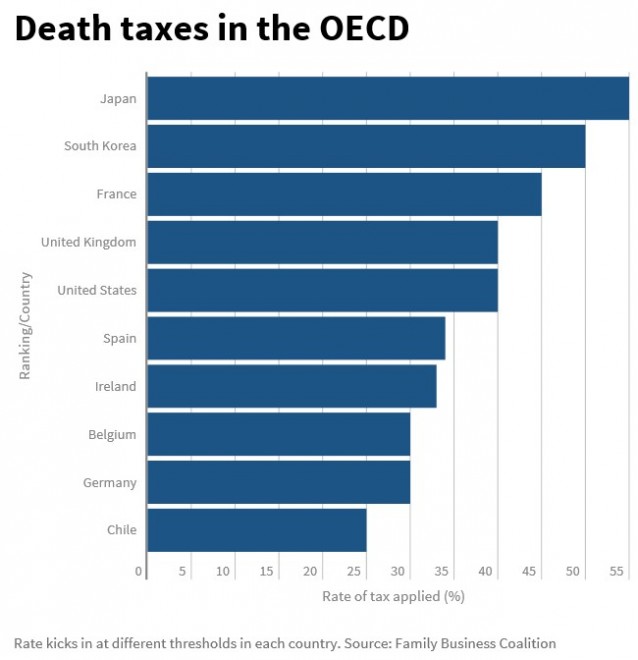 The Henry Tax Review gave in-principle support for an inheritance tax (called a "bequest tax" in the report), noting that it would be economically efficient and equitable. Still, it shied away from outright recommending re-introducing a bequest tax because of its controversial history:
A bequest tax would be a relatively efficient means of taxing savings. Decisions to save taken solely to fund consumption later in life would be unaffected. But decisions to save motivated by the desire to leave a bequest would be affected and this would impose some efficiency costs. In aggregate, though, bequest taxes are not likely to introduce large biases into donor behaviour. A bequest tax could increase labour supply and savings by recipients and prospective recipients, though the effects would be limited.

Such a tax could also be a progressive element of the tax and transfer system. Because the distribution of wealth in Australia is so uneven, most of the revenue available from a bequest tax could be raised from the top 10 per cent of households by wealth.

A tax on bequests would fit well with Australia's demographic circumstances over the coming decades. Over the next 20 years, the proportion of all household wealth held by older Australians is projected to increase substantially. Large asset accumulations will be passed on to a relatively small number of recipients. On the other hand, a bequest tax would be complex. There would be a need for anti-avoidance provisions, including a tax on gifts. There would, inevitably, be significant administration and compliance costs.

A tax on bequests should not be levied at very high rates. People should not be unduly deterred from saving to leave bequests. A substantial tax-free threshold combined with a low flat rate beyond that point would be an appropriate structure for a bequest tax. Bequests to spouses should be concessionally treated.

Another design issue is whether to tax the whole of the donor's estate or the inheritances received by individual recipients. There are arguments on either side, but on balance, they probably favour taxing each estate as a whole. A large number of other design issues would need to be considered. The more concessions and exemptions in the bequest tax, the greater its complexity and the greater the risk to efficiency and equity goals.

The Review has not sought to recommend the introduction of a bequest tax at this time, but believes that there should be full community discussion and consultation on the options.
The Grattan Institute also gave its support last year:
The wealthiest 20 per cent of Australians get 38 per cent of inheritance money; the poorest 20 per cent get only 8 per cent.

It means the growing wealth of Baby Boomers is likely to end up concentrated in the hands of a select group relatively well-off Generation Xers and Millennials rather than being widely spread…

If (as is possible) inheritances rather than lifetime earnings end up becoming the dominant route to wealth in Australia, there will be less incentive for ordinary Australians to attempt to get ahead through individual endeavour.

We will have entered what French economist Thomas Piketty calls a "Jane Austen world"…

Australia is one of only seven OECD countries without any inheritance, estate or gift taxes. Despite their economic worth, there seems to be little appetite to bring them back…

If anything, we subsidise them… given that many retired Australians do not draw down on their capital, the super tax concessions boost the size of bequests…

We recommend a higher tax on super bequests paid to non-dependents to better capture the value of the super tax breaks that are passed on rather than used for retirement. The cap on post-tax super contributions should also be lowered, to limit the re-contribution strategies.
Given the extreme pressures on the Budget as the population ages, along with the growing tax burden being placed on the diminishing pool of workers, it would seem appropriate to at least place an inheritance tax on the Budget reform agenda.
OECD countries raise on average 0.41% of total taxation revenue from inheritance taxes. Even if this low rate was replicated in Australia, it could raise around $1.6 billion of additional Budget revenue each year.
That said, the political barriers are formidable. This leaves closing Australia's inequitable and fast growing tax expenditures (concessions), as well as adequate taxation of land and resources, as worthwhile alternatives to help broaden the tax base, improve equity, and remove the burden from productive effort – especially labour income – to raise Australia's growth potential.
As recommended by Grattan, a very easy first step would be to make money from superannuation that is inherited taxable. After all, the (now deceased) recipient was given generous tax breaks so that their retirement could be funded. So, why should those tax breaks be passed on to their heirs who are already getting their own tax breaks on superannuation?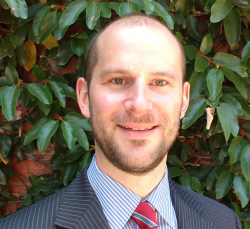 Latest posts by Leith van Onselen
(see all)