The latest rental data from CoreLogic reveals that apartment rents across Sydney and Melbourne have been hammered since the onset of the COVID-19 pandemic, falling by 4.2% and 4.4% respectively between March and August: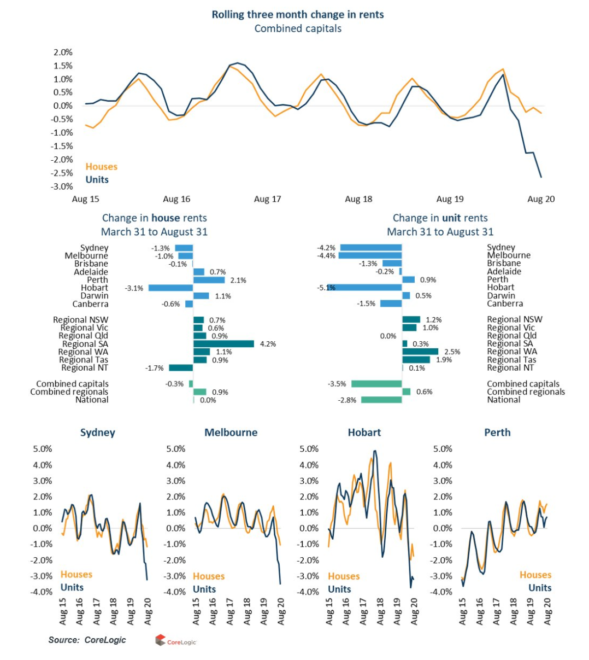 CoreLogic's head of research, Eliza Owen, has released additional data showing that properties closer to the city are more likely to see a decline in rent values, due mostly to their higher reliance on immigration (including international students):
The onset of COVID-19 may be creating a two-speed rental market, with inner-city rents declining faster than those in the outer suburbs. CoreLogic data confirms that there is a positive correlation between changes in rent values and distance to the CBD. This means that the closer a region is to the CBD, the more likely it is that rent values have fallen.

CoreLogic rent values were analysed across SA3 regions of Brisbane, Sydney and Melbourne. For each region, the median property distance to the CBD was compared with the change in total rental market values from the end of March (which marked national, stage 2 restrictions) to the end of August.

The results are plotted below. Each graph shows the change in rent values for houses and units across the horizontal axis between March and August, and the distance to the CBD along the horizontal axis.

The scatter graphs show a positive relationship between distance to the CBD and growth in rents. For SA3 regions where the typical property is less than 10km from the CBD, the average decline in house rents was 2.3%, and 3.6% across units. For rental markets 10km or further from the CBD, house rents had actually increased 0.1%, while unit values declined a relatively mild 0.4%…

Why have inner city markets been more affected?

As has been noted in previous research from CoreLogic, there are several distinct factors of the COVID-19 downturn that have made inner city rental markets particularly susceptible to a decline in rental values.

These include the relatively high exposure to overseas migration as a source of housing demand. A summary of average net overseas migration alongside distance to CBD is presented by SA3 region below.
With immigration likely to remain stunted for an extended period, inner-city apartment landlords in Sydney and Melbourne are facing more pain.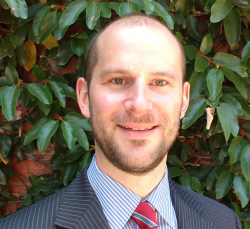 Latest posts by Leith van Onselen
(see all)